It was a very clever printing trick. The Ant-Man #1 Shrinking Variant was individually numbered, featuring a different sized Ant-Man on every single cover. Like this.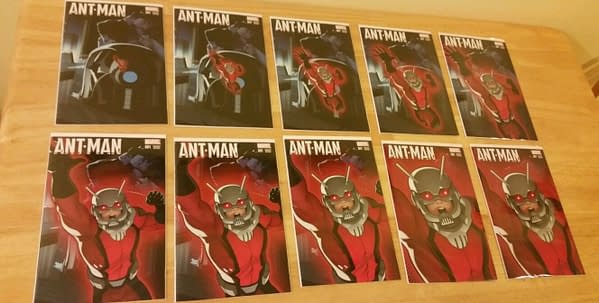 Now Marvel is doing it again. But in a way I can't quite fathom.
The Howard The Duck #1 Evolution Of Howard Variant, will again see every issue uniquely different. With Howard shown in a different evolutionary phase on every single cover, each again individually numbered.
Some kind of morphing program maybe, that can create thousands of different looking Howards? I have no idea.
But retailers who order 150% of their total orders of Original Sin #8 of their standard order of Howard The Duck #1 can order as many of the Evolutionary Variant as they like on top…
The ICV2 estimate (which doesn't include Non-North American sales) gave Original Sin #8 an estimated order number of over 90,000. If every retailer took advantage of this offer, orders would have to be 135,000 with any Evolutionary Variants on top of that…
Enjoyed this article? Share it!