Marvel Drops "Stan Lee's" Venus, More on Marvel Unlimited for Valentines Day
Marvel has added some new classic comics to Marvel Unlimited this week, ones which weren't advertised in their February press release. Included are issues #2-9 of Venus, the 1948 Timely series which ran for 19 issues.
Marvel was apparently spotty with their credits at that time. None of the issues have the creators credited on the pages, and even the normally reliable ComicBookDB seems unsure of who drew what. They credit George Klein as inker, but this very interesting blog post by Dr. Michael J. Vassallo about the series believes Klein did the pencils, and doubts that Stan Lee wrote any of the stories, even though Lee is the lone writer credited on most of the issues on Marvel Unlimited, with "various" and Don Rico occasionally listed as well. Of course, it wouldn't be the first time Stan the Man was credited for work he didn't necessarily do (*ducks for cover*). Vassallo does say that Stan himself said he wrote some Venus stories at one point. Lee was the Editor-in-Chief at the time.
The series also featured occasional Hey Look one-page comics by Harvey Kurtzman, according to Vasallo's blog, but those appear to have been cut from the Marvel Unlimited versions, along with any pin-ups at the back. Too bad. In any case, the first issue was already on Marvel Unlimited, but now you can read #2-9 as well. It's a magazine for lovers…it says so right on the cover! Also, 10 cents! What a bargain!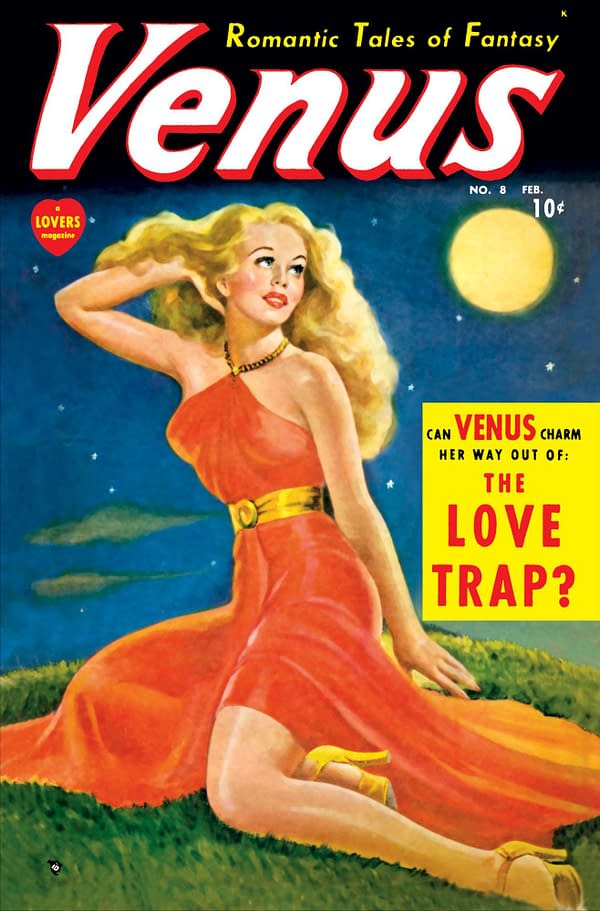 Another addition to Marvel Unlimited this week is Marvel Universe, the 1998 anthology series written by Roger Stern and featuring artists such as Steve Epting, Mike Manley, Brett Blevins, and more. The concept of the series was to tell stories set in the Marvel Universe before Fantastic Four #1, and the first story features The Invaders, with The Monster Hunters following. A series from 20 years ago set 50 years prior. Definitely worth a look if you're a Marvel Unlimited subscriber.
Also added is the entire 6-issue run of The Order by Kurt Busiek and Matt Haley from 2002, a follow-up to Busiek and Erik Larsen's Defenders series, and a three-issue Man-Thing series written by Hans Rodionoff, who wrote the script for the 2005 Man-Thing movie, with art by Kyle Hotz.
If you're not familiar with Marvel Unlimited, the digital subscription service gives you Netflix-like binge access to more than 20,000 Marvel comics, with classics and time-delayed modern comics added weekly. Check out this week's titles here.