Earlier today, we were kinda wondering why Marvel hadn't yet posted on their website about the comics that would be joining Marvel Unlimited in August, as it's something they usually do a few days before the end of the previous month, ahead of a press release containing that same information. So we checked the website and noted a few new additions this week, including Marvel Two-in-One, Spider-Woman, and some Punisher graphic novels added to the service's catalog of classic comics.
Well, just a few hours later, Marvel finally sent out their press release, and it looks like we can look forward to a slew of new classic content hitting Marvel Unlimited in the coming weeks. First up, Marvel Team-Up #2-22, twenty-one issues from the 1970s series featuring team-ups between Spider-Man and the Human Torch, Morbius the Living Vampire, the X-Men, The Vision, The Thing, Thor, Iron Man, The Cat, The Inhumans, Captain America, Namor, Ghost Rider, the original Captain Marvel, Ka-Zar, Black Panther, Doctor Strange, and Hawkeye, in stories by creators such as Gerry Conway, Gil Kane, Ross Andru, Jim Mooney, Len Wein, Sal Buscema, and more.
Additionally, Marvel is adding Marvel Premiere #4-14, a set of Doctor Strange centered issues from the 1970s anthology try-out series, with stories by Roy Thomas, Archie Goodwin, Barry Windsor Smith, Jim Starlin, and others, with a well-remembered run by Steve Englehart and Frank Brunner starting in issue #9 that led to a bit of religious controversy for Marvel. A similar anthology series from the 70s, Marvel Spotlight, also sees thirteen issues added with Marvel Spotlight #12-24, these issues all featuring Daimon Hellstrom, Son of Satan, who, like Doctor Strange, moved onto his own ongoing series after that (though that one lasted just seven issues). As you can imagine, this one also kicked up a bit of controversy for Marvel back then, due to the whole Satanism thing. In any case, it's good to see these issues hit the binge-reading service ahead of the debut of the Hulu TV show, with work by Gary Friedrich, Herb Trimpe, Steve Gerber, Jim Mooney, Gene Colan, Sal Buscema, Chris Claremont, and more.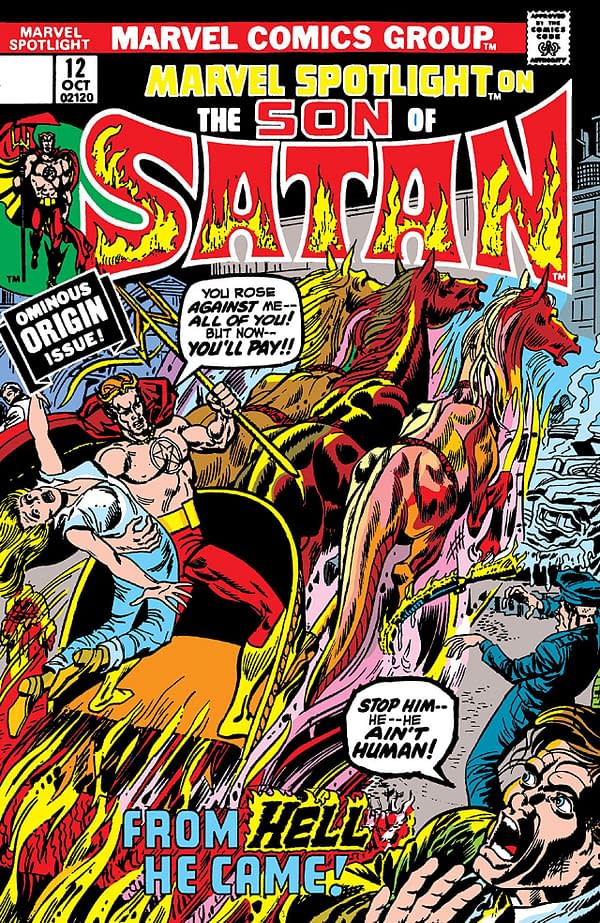 Finally, Marvel will also add Amazing Scarlet Spider #1-2, a series whose sole purpose was to tie into the epic(ly long and convoluted) Clone Saga, and which really only fit as part of that larger 1990s narrative, though they do feature work by Tom DeFalco, Mark Bagley, and others.
In addition to those classic books, Marvel may add more without notice throughout the month, and of course there is the regular listing of recent titles added, which you can see below:
Week of 8/5

AGE OF X-MAN ALPHA #1

THE AGE OF X-MAN DAWNS…AND THE X-MEN CANNOT STOP IT.

AMAZING SPIDER-MAN #14

BLACK PANTHER VS. DEADPOOL #4

CAPTAIN AMERICA #7

DAUGHTERS OF THE DRAGON MARVEL DIGITAL ORIGINAL #3 SERIES COMPLETE!

DEAD MAN LOGAN #3

DOCTOR STRANGE #10

EXILES #12 SERIES COMPLETE!

JOURNEY INTO UNKNOWN WORLDS #1

ALL-NEW SCI-FI STORY! In celebration of Marvel's 80th anniversary and the comic books that captivated hearts and minds across generations, join us for two scintillating sci-fi stories – the first an extraterrestrial adventure by Cullen Bunn the likes of which haven't been seen in this or any other decade, and the second a tale of terror by Clay McLeod Chapman that could take place in your very own back yard! The secrets of the universe lie waiting to be discovered, True-Believers, on a JOURNEY TO UNKNOWN WORLDS!

MAN WITHOUT FEAR #5 SERIES COMPLETE!

MARVEL KNIGHTS 20TH #6 SERIES COMPLETE!

MS. MARVEL #37

SOLO: A STAR WARS STORY ADAPTATION #4

SPIDER-MAN/DEADPOOL #45

STAR WARS: DOCTOR APHRA #28

THE PUNISHER #7

THE UNSTOPPABLE WASP #4

WEAPON H #12 SERIES COMPLETE!

WEST COAST AVENGERS #7

X-FORCE #2

Week of 8/12

AGE OF X-MAN: THE MARVELOUS X-MEN #1

ENTER THE AGE OF X-MAN! The perfect heroes for a perfect world! The X-Men have helped make the world into a utopia where living in fear and hatred is a thing of the past. All people are united under the banner of mutantkind, and all of mutantkind idolizes the X-Men. Jean Grey! Colossus! Storm! X-23! X-Man! Nature Girl! Magneto! And of course, the amazing Nightcrawler! When danger threatens the world, the Marvelous X-Men set things right for the good of all. And no one dares say otherwise.

ASGARDIANS OF THE GALAXY #6

AVENGERS #14

CHAMPIONS #2

DAREDEVIL #1

KNOW FEAR.

DEADPOOL #9

IMMORTAL HULK #13

KILLMONGER #4

OLD MAN QUILL #1

THE FAR-FLUNG SAGA OF THE ONCE AND FUTURE STAR-LORD BEGINS! Meet Peter Quill. He used to be Star-Lord – you know, the legendary outlaw – but it's been quite some time since he's gone by that name. Taking over for his father as the Emperor of Spartax, Quill put the life of spacefaring adventure behind him for one of leadership and responsibility. Quill grew up. But things didn't go as planned. Decades have passed, and Peter is haunted by tragedy. Down and out, Quill's existence means nothing…until the former GUARDIANS OF THE GALAXY drag Peter out of his funk for one last mission! The heist of a lifetime – and Quill's harrowing quest for redemption – begins here!

STAR WARS #61

STAR WARS: AGE OF REPUBLIC – ANAKIN SKYWALKER #1

AN UNTOLD ANAKIN ADVENTURE FROM THE HEART OF THE CLONE WARS! A chance to strike a devastating blow to the SEPARATIST cause comes with a high cost. Will ANAKIN choose the darker path, or hold true to the CODE OF THE JEDI? Guest-starring OBI-WAN KENOBI!

THE GUNHAWKS #1

For Marvel's 80th anniversary, we've set our sights on bringing some old titles back into the herd, and we've brought in Stray Bullets' David & Maria Lapham for a bullet-riddled saga of violence, vengeance and Western justice. In the days of the Old West there were plenty of fearsome folk… cowboys, rustlers, lawmen and outlaws…but few were as fearsome as THE GUNHAWKS!

TONY STARK: IRON MAN #8

UNCANNY X-MEN #11

WOLVERINE: THE LONG NIGHT ADAPTATION #2

X-23 #9

Week of 8/19

AGE OF X-MAN: NEXTGEN #1

ENTER THE AGE OF X-MAN! In an age of utopia, the Summers Institute for Higher Learning is the premiere school for the mutant community across the globe. Attendance is mandatory for all mutant children, as they learn to become the next generation of marvelous X-Men. But even in a utopian society, teenagers will always find a way to rebel… Follow Glob, Armor, Anole and Rockslide as they discover what it really means to live in an age of peace and harmony!

AMAZING SPIDER-MAN #15

AVENGERS NO ROAD HOME #1

The team that brought you AVENGERS: NO SURRENDER REUNITES for an all-new weekly AVENGERS adventure! Night has fallen across the universe. Now seven Avengers — and one new addition — journey forth to bring back the light. But when the threat they face has destroyed even the gods…will anyone make it home?

CAPTAIN MARVEL #2

DEAD MAN LOGAN #4

IRONHEART #3

MARVEL SUPER HERO ADVENTURES: SPIDER-MAN – WEB OF INTRIGUE #1

MARVELS ANNOTATED #1

Celebrating the 25th anniversary of the series that changed the way we look at super heroes, the landmark MARVELS is back! In the year 1939, young photojournalist Phil Sheldon attends the sensational unveiling of the fiery android Human Torch — little knowing he is witnessing the dawn of the Age of Marvels! Prepare to relive Marvel's Golden Age from a whole new point of view as Phil covers the superhuman sightings of the 1930s and 1940s — from the terror caused by the Human Torch's epic clash with the Sub-Mariner to the patriotism stirred by the debut of Captain America and more! Packed with extras and completely remastered, you don't want to miss this unique look back at the MARVELS phenomenon!

MR. AND MRS. X #8

MS. MARVEL #38 SERIES COMPLETE!

RUNAWAYS #18

SHATTERSTAR #5 SERIES COMPLETE!

SPIDER-GWEN: GHOST-SPIDER #5

SPIDER-MAN/DEADPOOL #46

STAR WARS: AGE OF REPUBLIC – COUNT DOOKU #1

THE FORMER JEDI BEGINS LAYING THE GROUNDWORK FOR HIS SITH MASTER! However, an unexpected encounter with an old student threatens his plans. Caught between his old life and his new, will DOOKU be able to protect the secrets of the SITH? And does he control the DARK SIDE, or is he merely its tool?

STAR WARS: HAN SOLO – IMPERIAL CADET #4

THE PUNISHER #8

THE UNBEATABLE SQUIRREL GIRL #41

THOR #10

WINTER SOLDIER #3

Week of 8/26

AGE OF X-MAN: THE AMAZING NIGHTCRAWLER #1

ENTER THE AGE OF X-MAN! From the Munich circus to Hollywood Boulevard, Nightcrawler is starring in his own solo series! Kurt Wagner is the biggest celebrity slash super hero since Dwayne Johnson! Juggling Kurt's responsibilities as one of the X-Men and a slate of summer blockbusters would be tough without the best support staff in the business: Stunt coordinator Magma! Personal trainer Kylun! And of course, his leading lady Meggan! But there's something rotten in Tinseltown…

AVENGERS #15

AVENGERS NO ROAD HOME #2

BLACK ORDER #4

BLACK WIDOW #2

DAZZLER #1 FACSIMILE EDITION

DOCTOR STRANGE #11

FRIENDLY NEIGHBORHOOD SPIDER-MAN #3

GUARDIANS OF THE GALAXY #2

HULKVERINES #1

At last! It's Weapon H versus his predecessors—Wolverine and the Hulk! Once, the Weapon X program sought to recreate the world's two greatest hunters. They ended up with Weapon H, a man of Adamantium claws and gamma-juiced blood. Now, Wolverine and the Hulk are back in action — and coming after the dangerous creation made in their name!

JESSICA JONES: PURPLE DAUGHTER #2

LOVE ROMANCES #1

LOVE STORIES THAT CAN ONLY BE TOLD IN A COMIC BOOK! Can robots fall in love? Is romance just a fantasy? Can love breach the corridor of death?

MARVEL'S AVENGERS: ENDGAME PRELUDE #3 SERIES COMPLETE!

MILES MORALES: SPIDER-MAN #3

OLD MAN QUILL #2

RETURN OF WOLVERINE #5 SERIES COMPLETE!

SHURI #5

SOLO: A STAR WARS STORY ADAPTATION #5

THE UNSTOPPABLE WASP #5

UNCANNY X-MEN #12

VENOM #11

WOLVERINE: INFINITY WATCH #1

REVEALED AT LAST! HOW WOLVERINE GOT THE INFINITY STONE! Wolverine has finally returned, disentwined from the evil clutches of Soteira…but hang on, didn't he have an Infinity Stone? How did THAT happen?! And wasn't he popping up all over the place for a little while? The answers you seek are finally revealed as Logan goes cosmic alongside everyone's favorite god of lies and stories, Loki Laufeyson!
Enjoyed this article? Share it!