Marvel to Unveil "Most Ambitious Series Ever" by Busiek, Ross, and Cinar Next Week… But We Already Know What It Is
Marvel Comics has teased a new series launching in May from Kurt Busiek, Alex Ross, and Yildiray Cinar, dubbed "the most ambitious series ever to hit the Marvel Universe." The house of ideas promised to reveal the details next week. But Bleeding Cool already has them.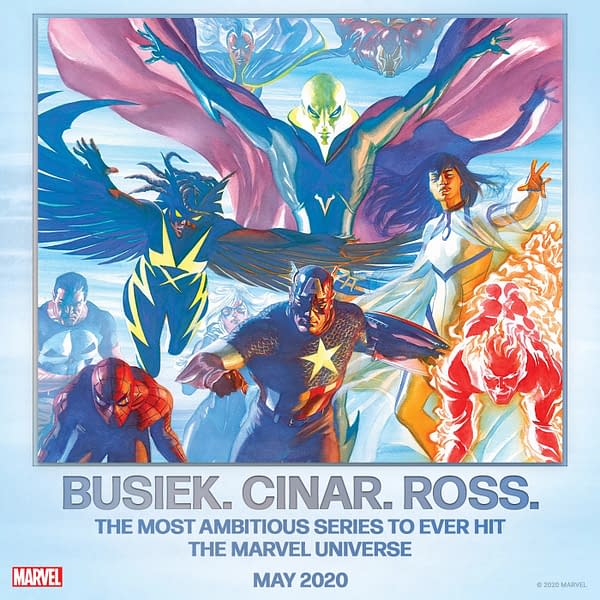 Back in November, Busiek may have already spoiled Marvel's big reveal while discussing the Marvels podcast on another podcast. There, Busiek talked about an upcoming project with Ross called The Marvels. Here's what he had to say:
Our tagline is anyone, anywhere, anytime. Marvels isn't a team, its a category, it's a noun, if you have superpowers, if you have a costume, if you are an adventurer, you are one of the Marvels. We're going to tell multi-threaded stories, you'll have characters from different parts of the Marvel Universe all taking parts in the same story but arent always necessarily always going to meet if there's some big sprawling story, where Captain America dealing with a piece of it over here and the Punisher is dealing with a piece of it over here and the X-Men are dealing with a piece of it over here, maybe the X-Men meet Captain America along the way and maybe they meet Punisher but Cap and Punisher never cross pasts, that kind of Tom Clancyesque storytelling with a lot of how does the Marvel Universe work, what is the experience of being a hero, bystander, whatever, in some ways its a series that has lots of Marvels in it, lot of Avengers Forever in it, lots of Untold Tales of Spider-Man, it's a culmination of everything I've done at Marvel. It should be fun.

There'll be new characters in it, there'll be classic characters, and storylines can take any time. In the first storyline, we'll see a little bit of when Reed Richards working with the military before he ever starting building the rocket, we're going to see cutting edge events of today, we're going to see stuff that goes all the way back to World War II, we're telling the stories that don't all take place now, that spill through time, that possibly the future.
Certainly sounds ambitious to us. Pip pip!