Marvel Two-in-One #8 Review: The Pain Catches Up
[rwp-review-recap id="0"]
The Thing and the Human Torch are stranded on another world where Captain America and Iron Man's Civil War destroyed everything. They've hidden away in a small town, and the Spider, a maddened version of the Amazing Spider-Man, is searching all over the country for them. Johnny is taking care of their new house, and Ben is working a factory. This world's Amadeus Cho uses his tech to search across the multiverse for the Fantastic Four. Will Ben and Johnny ever make it home?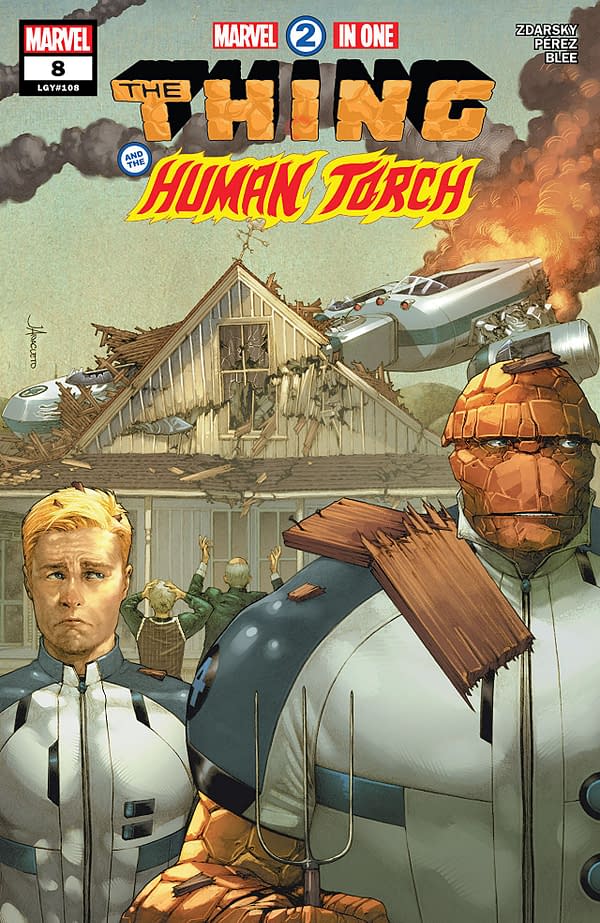 This is a toned-down issue compared to the recent cosmic bombast of Marvel Two-in-One. The comic focuses on the lives that Ben and Johnny have rooted out in this world and the state of their relationship.
It's still building to something though, and the back half of the issue explodes into a fight that I can't really describe without giving everything away. I don't want to do that here, which does make talking about this one a little difficult.
That said, this comic is very emotionally weighty, and Chip Zdarsky handles it with aplomb. It's not overstated, but it still reaches the intensity necessary to make the book cathartic. It's sad, and it reminds you why you care about a rock man and a flying guy on fire.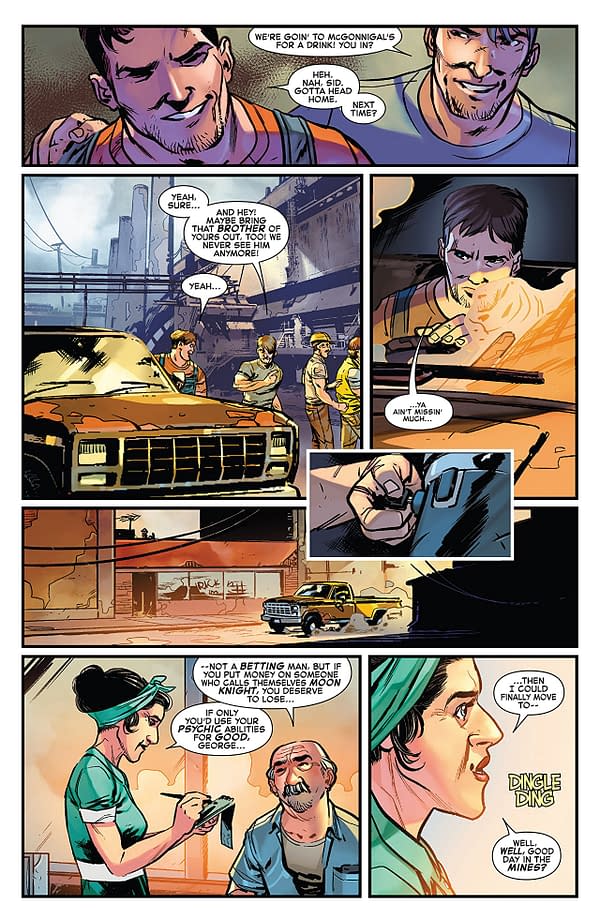 Ramon K. Perez's artwork is a bit of a different story. The book tries to be visually gritty, but it doesn't quite stick. In fact, the detailing can be downright off, and a lot of the lines are far too thick for the figures they're intended to depict. It's off-putting for much of the comic, even if about half the panels still look decent. However, it doesn't entirely turn me off of the book. Federico Blee is the color artist and brings a somewhat rustic palette to the small-town setting, and it's alright. It suits the setting, but it doesn't look all that pleasing.
Marvel Two-in-One #8 packs an emotional punch, and I found myself as engaged in this issue as any of the recent high sci-fi installments of the series. It reminded me why I care about these characters. The art isn't great, but it isn't awful either. It doesn't sink the comic, and I can still recommend this one with confidence. Check it out.
[rwp-review-ratings id="0"]
[rwp-review-form id="0"]