Tomorrow sees the much-hyped Marvel Declassified series of articles by Bleeding Cool's General Manager, historian and paper expert Mark Seifert who has been looking at the origins of Marvel Comics and discovered a number of surprising facts that will change the way people see the creation of Marvel Comics – and indeed American history of the day. We're talking about the rewriting of the history of American civil rights, the work of the secret services and the inalienable truth that then, just as now, politics and comic books were entwined.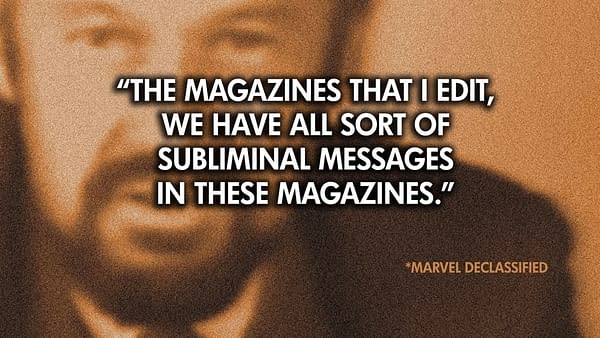 And it all begins tomorrow. Whether you are at home, out and about, or on a flight or train back from San Diego Comic-Con, come by Bleeding Cool for something truly extraordinary. If you are a journalist, maybe consider getting in touch in advance?
Because the biggest news on San Diego Comic-Con 2018 weekend… will be what happened on Bleeding Cool in the days afterwards.
Oh and here is Mark Seifert's comment on yesterday's Howard Hughes tease.
Hughes as Tony Stark #marveldeclassified supplement: Serious fans have always had a sense of this, and they made the connection between Hughes and Stark more directly in the films. The Department of Defense even mentions it up front in the PR for their own role in assisting the production of the film, interestingly enough.

But then you realize, that Hughes — one of the most famous men in the world, and the wealthiest — had dropped off the face of the Earth for awhile, at just the time Iron Man's first appearance and origin in Tales of Suspense #39 was being developed.

Then you realize that many of Iron Man's supporting cast are based on people in Hughes' life. For sure. No question about it.

And then you remember that in 2012, the CIA released documentation about that time Hughes helped them try to steal a Soviet Submarine.

And by that time, you're pretty far down a rather incredible rabbit hole.
Enjoyed this article? Share it!