Posted in: Comics | Tagged: adam west, Comics, Damon Orrell, kickstarter, MrNostalgia, pets
---
Marvelous Pet Heroes: Origins
Damon Orrell writes;
Since strapping a wash cloth around my favorite plush kitty's neck, I have been hooked on all things super hero. I remember watching "Batman" (1966 Adam West movie) and re-enacting scenes from the movie by turning my brother's teddy bear into the villain. I'll tell you what; Super Kitty could knock the stuffing out of that teddy bear!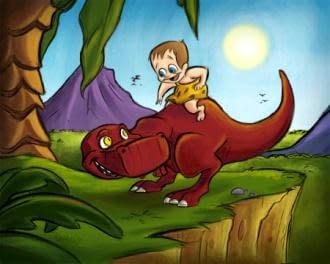 Over the years I moved on to collecting comic books. I spent many hours with pencil in hand working on my own illustrations of caped avengers, knights and heroes. I continue to work professionally in the world of design today. While I may not always work on the fun projects, I am still doing what I love: Creating.
The Marvelous Pet Heroes came about when MrNostalgia (the artist's Deviant Art handle) and I met a couple years ago. He created the following illustration for my son's first birthday and if you look closely, you can see Devil Dinosaur.
Mr. Nostalgia and I started talking about putting some Pugs in tights and capes: The Pugvengers came to be our first parody cover. We talked about other Pug heroes and then decided to add some other pets into the mix. Thus the Catastic Four, Spider-Bunny, X-Frogs was created. Our goal is to bring these creations to all ages in the comic lover's community. We want our prints to spark creativity in a person's mind by submersing them in the comic-culture.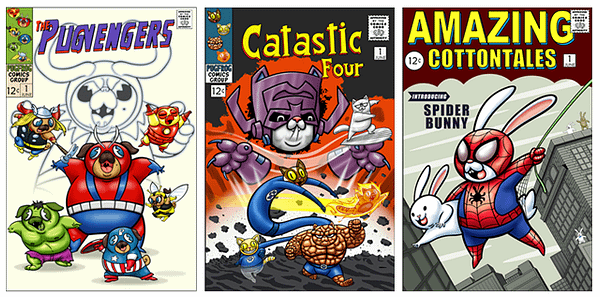 The core set of Marvelous Pet Heroes includes: The Pugvenger, The Catastic Four and Amazing Cottontales (Spider-Bunny)…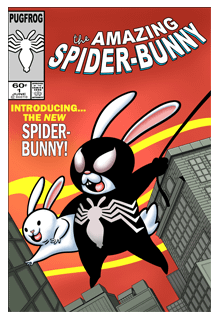 Only 10 limited edition, signed and certified, The Amazing Spider-Bunny prints available.
We will be giving away 1 copy of The Amazing Spider-Bunny cover, once we hit 100 likes on our Facebook page.
Go checkout our project for even more details: Stretch Goals, additional images of Pet Heroes and much more!
---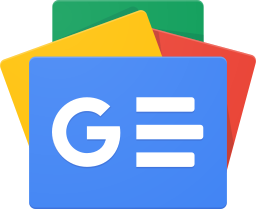 Stay up-to-date and support the site by following Bleeding Cool on Google News today!