It seems like it was just a few weeks ago when Marvel Editor-in-Chief C.B. Cebulski swore to reduce Marvel's reliance on shocking character deaths to boost sales. That's probably because it *was* just a few weeks ago when Cebulski said that to Swedish congoers. And yet, in this preview of the next chapter of The Vigil from Marvel Comics Presents #5, set in the 1990s era of X-Men, two characters die… in this preview alone!
Even more shockingly, these are new, retconned deaths that never happened, threatening to destroy Marvel continuity even more than this series' obliteration of "Marvel Time" already has (ten years have passed since the last story, set in the 1980s era of X-Men, as Wolverine explicitly notes… but we know the X-Men of today are 27 years old at most)! It starts with Wolverine prepping the X-Men for battle with demon and WWE 24/7 champion Ron "The Truth" Killings, and enlisting the help of Alpha Flight's Talisman.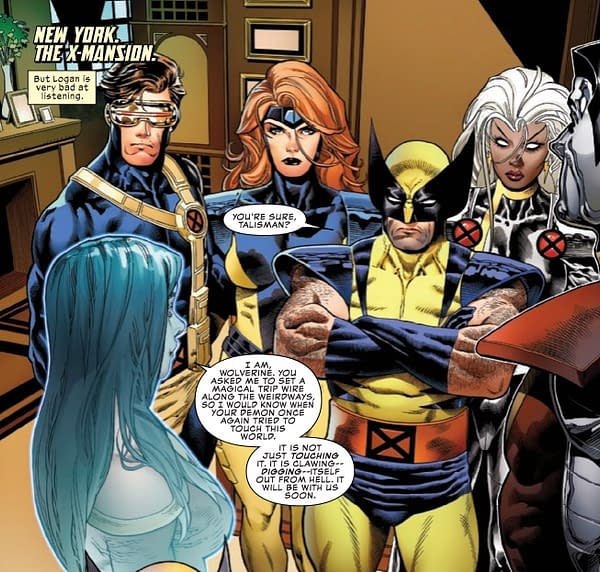 But when the battle kicks off…. things go south quickly, with Cyclops killed right off the bat.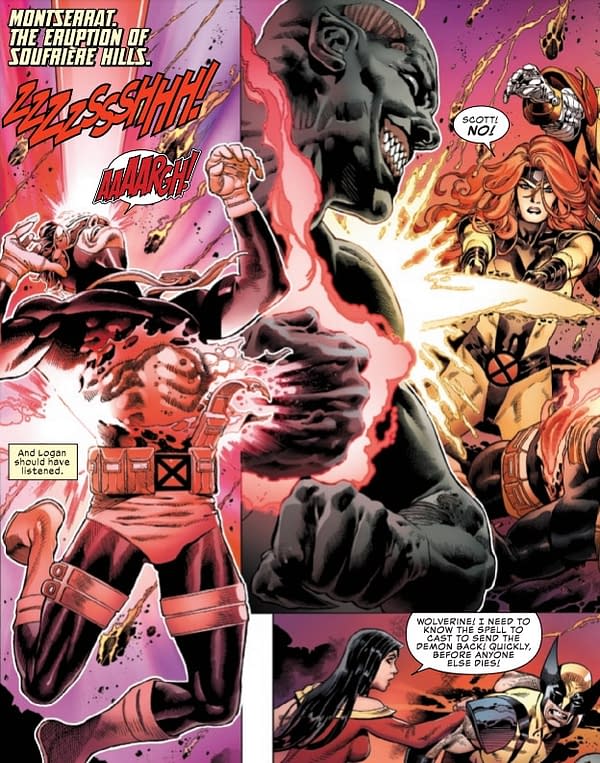 After that The Truth heads right for Talisman and snaps her neck, preventing her from possibly using her magic to send him back to hell.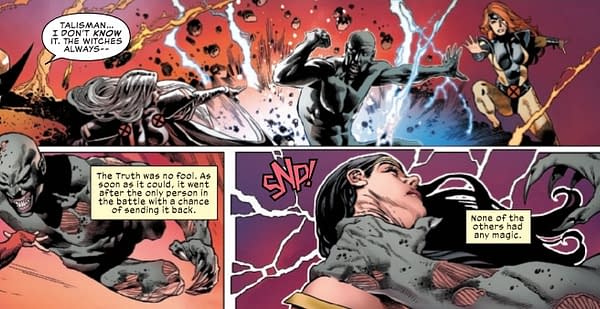 And we reiterate: this is just the preview. Marvel could kill off the entire X-Men team by the time the whole issue is done!
Marvel Comics Presents #6 hits stores on Wednesday.
MARVEL COMICS PRESENTS #6
APR190877
(W) Charles Soule, Tim Seeley, Ed Brisson (A) Paulo Siqueira, More (CA) Arthur Adams
Welcome to the 1990s, by far the most embossed, holographic and collectible era of them all! First up, that Adamantium foil
hero Wolverine gets a real shock during his Vigil! Then, Deadpool gets into the collectibles market at JUST the wrong time!
And finally, a new Marvel U status quo for Danny Ketch who caught fire as the Ghost Rider of the era!
Rated T+
In Shops: Jun 26, 2019
SRP: $4.99
Enjoyed this article? Share it!