Mata Hari #1 Review: An Interesting Dive into an Obscure Historical Figure
We join Mata Hari on the day of her execution by the French. She has been charged with spying on behalf of the Germans to help them in the Great War. We move back to various points in her life, moving ahead to the trial itself and then back to her childhood. The story returns to the trial after that.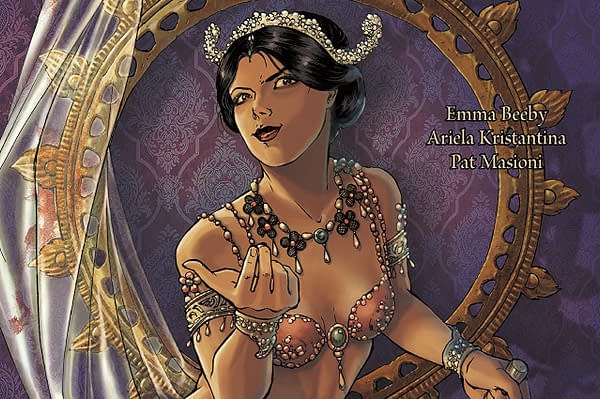 That narrative sounds very scattershot, and I will grant that it was difficult to maintain my bearings in some parts of the comic. That being said, this is a great opening issue, especially if the reader has little knowledge of Mata Hari as a historical figure. I fall in that category, by the way.
It gives a light sprinkling of what the various parts of her life were like: childhood, career as a dancer, career as a courtesan, and the end of her life at the hands of the French. It doesn't touch on what exactly she had done to earn the wrath of the French or why they think of her as a spy. However, there are weird moments here and there that imply that we are far from getting the whole story on Hari yet.
Mata Hari #1 seems more focused on giving the perspective others have of the titular character. However, it doesn't give us much introspection from her despite the thought captions spread throughout. We do know that she wanted to enjoy life above all else, and we know that she's unapologetic about how she lived her life. Those are major character traits, but they could have been surmised even without the thought captions.
That being said, I get the impression we will learn more of her inner thoughts and feelings in the issues to come.
There's something to be said about how Hari is presented symbolically too. She's a mixture of Mary Magdalene and Jesus Christ. She is a "virtuous whore" and a martyr. She is shown many times having sex, dancing, and nude while posing. She's also doomed to die and seems resigned to that fate. There's a notable scene in the courtroom wherein she's framed with the crucified Jesus on the far wall, and the fixture is spatially near her from our perspective.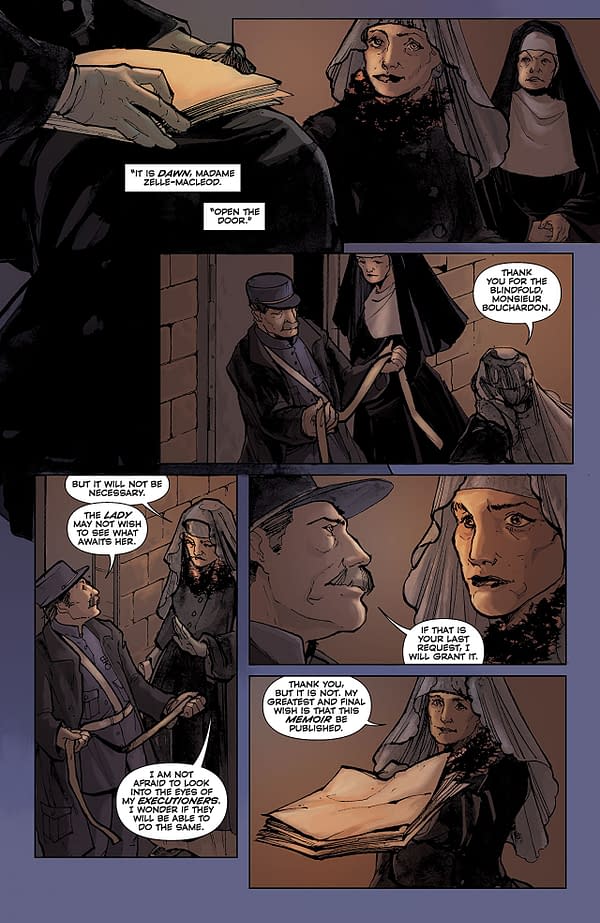 Ariela Kristantina's artwork makes for a beautiful book. Hari herself drawn to be the stunning woman she was. Expression is important in a character and drama-focused comic like this. Kristantina succeeds in presenting highly expressive characters, and body language is given a lot of attention too. Pat Masioni's color art focuses on warmer shades to with the appropriate exception of the darker moments in the narrative.
Mata Hari #1 plays out like the introduction to a biopic in comic form. We jump around to various points in Hari's life, we learn what others thought of her, and we get some hints at her as a person. It's intriguing storytelling, and it's bolstered by the artistic stylings of Kristantina and Masioni. This comic is recommended. Check it out.