 Jonathan Rich writes for BleedingCool.
Although there were some technical hurdles to overcome with the initial announcement, the Milkfed Criminal Masterminds comic company has launched a new website to allow fans to be in the know about new titles, developments, and works from the indie professionals publishing under their brand.
Saturday afternoon at Heroes Con 2016 in Charlotte, Matt Fraction and Kelly Sue Deconnick made the announcement with their publishing partners that www.milkfed.us is now live.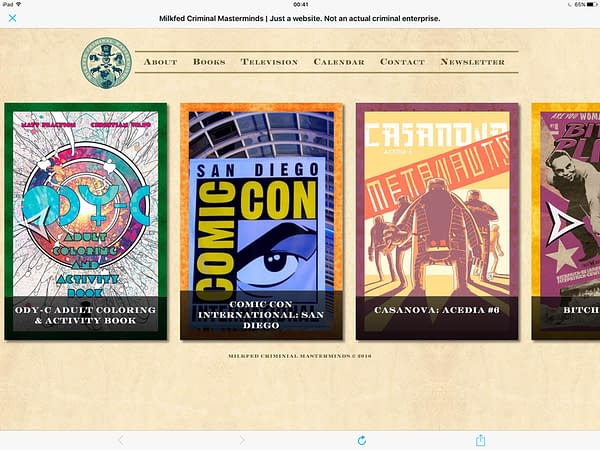 "There are discount codes good through June 25th appearing throughout the site, as well as hard-to find single-use codes good for 40%-60% off merchandise," DeConnick said.
When panelist for the MCM presentation arrived to discuss all they had to offer, they quickly realized their planned slide show would not get the quirky presentation they had intended. Last year theHeroesCon panel included a screen and digital projector to showcase their plans, but this year they forgot to request either so for the first 25 minutes the creators simply told the audience about their plans while a small laptop onstage awaited being hooked up. "We're professionals, but not at panels," DeConnick joked before the group led the audience in a sing-along of "Somewhere Over the Rainbow" in memory of the tragic events in Orlando a week earlier. "Last year we had the Paris attacks looming over our time here in Charlotte and this year the events in Florida are clearly on our minds. Next year before we get together again, please, none of this sh-t," Fraction said to the delight of the crowd."
Fraction also elaborated that the new milkfed.us will feature him writing a regular column where he looks back on his previous work over the course of 10 years with the critical eye.
"It's called 'The Me Decade,' where I read my own stuff and talk about it critically," Fraction said. "If anybody can take my critiques, it's me."
The first of those is about his first story for Marvel, an eight page short for X-Men Unlimited, drawn by Sam Keith. Who insisted on hand lettering a typoed Wolverine sound effect into the pages… Jonathan Rich is a freelance journalist, highschool educator, and self-professed comic book nerd working in the Blue Ridge Mountains of western North Carolina. He writes about entertainment and pop culture for various print and web publications, including bleedingcool.com.
Enjoyed this article? Share it!