It seems like just last year when we were all getting ready for the big relaunch of Uncanny X-Men. Actually, that's because it was just last year. November, in fact, less than six months ago, is when Matthew Rosenberg, alongside Kelly Thompson, Ed Brisson, and artists Mahmud Asrar, R.B. Silva, Yildiray Cinar, Mahmud Asrar, Mark Bagley, and Mirko Colak, kicked off the 10-part weekly X-Men Disassembled event that brought the beloved series back. After that, Rosenberg stayed on to write Uncanny X-Men on a bi-weekly schedule with artist Salvador Larroca, while Thompson continued to write Mr. and Mrs. X, ending in June, and Brisson launched a new X-Force series, ending, alongside this latest incarnation of Uncanny X-Men, in July.
After that, Jonathan Hickman will be relaunching the line, starting with a 12-issue weekly run consisting of two titles, House of X and Powers of X. Hickman will write the "flagship" X-Men title after that, but we don't yet whether that will be another Uncanny X-Men, or something else. We'll also likely get several other series, as we know Marvel likes to publish 4-5 X-Men comics per week. When Uncanny X-Men ends in July, it will be after 22 issues in 8 months, which is longer than many series last at Marvel, a company whose answer to pretty much everything is to relaunch with a #1 issue.
Rosenberg took to Twitter, which he quit several months ago, to say his goodbyes:
And I can finally say that July's UNCANNY X-MEN #22 is my final issue. It's been an honor and privilege to tell stories with some of the greatest characters ever created.

— Matthew Rosenberg (@AshcanPress) May 14, 2019
And the hugest of thanks in the world to @CBCebulski, @cracksh0t, and everyone at @Marvel for having me on UNCANNY. Getting to tell stories with people who are just as passionate and dedicated as you is something that every creative person strives for. I have been very lucky.

— Matthew Rosenberg (@AshcanPress) May 14, 2019
When @Marvel brought myself, @edbrisson, & @79SemiFinalist to write UNCANNY X-MEN we knew that our time was limited and that @JHickman was coming in to blow minds within the year. I couldn't be more proud of what we all did, and I couldn't be more excited about what's to come.

— Matthew Rosenberg (@AshcanPress) May 14, 2019
Of course, before he goes, he's got five issues left, as he notes. And as he's previously noted, two more characters to kill. We hear that Hickman's favorites are Sunspot and Cannonball… could Rosenberg be planning the ultimate revenge? We'll find out by July.
Uncanny X-Men #18 is in stores today.
Uncanny X-Men #18
(W) Matthew Rosenberg (A) Carlos Villa (CA) Whilce Portacio
• First…the X-Men lose one of their own.
• Then…the new Black King of the Hellfire Club makes a move.
Rated T+
In Shops: May 15, 2019
SRP: $3.99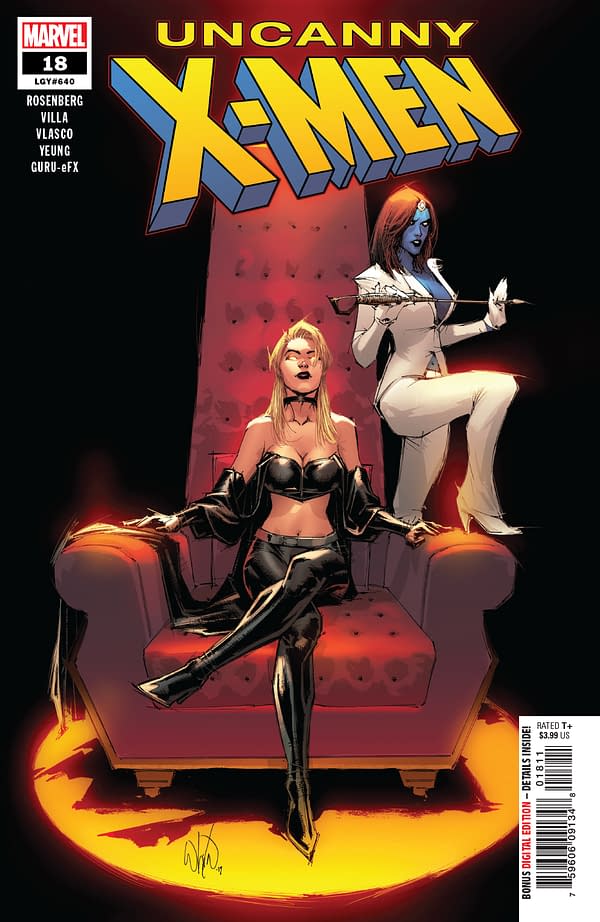 Enjoyed this article? Share it!