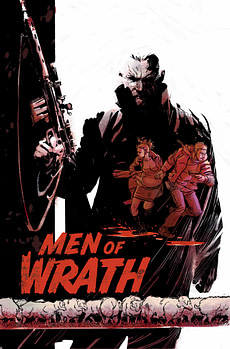 UPDATE: We have been informed that, no, the title of Men Of Wrath will be staying the same. And the incorrect information sent out by Marvel and Diamond to retailers, on which this story was based, will be amended…
The original, incorrect story, runs below…
Men Of Wrath, the new creator owned Icon book from Marvel by Jason Aaron and Ron Garney is getting a name change to Men Of Wrath By Jason Aaron.

Usually this change, as with Outcast changing to Outcast By Kirkman And Azaceta, is down to another publisher already having published a registered a comic with a similar title.

I can't find any other comic called Men Of Wrath however. Could it have been the Ultraverse's Wrath, a creator-participant comic now semi-(but not fully) owned by Marvel, raising an issue internally?

Because the only trademark registration I can find for Men Of Wrath is on behalf of Ron Garney and Golgonooza, Inc., Jason Aaron's personal company.

Ah well, another comic just got a longer name…

How odd.