Here we have the Archie Comics solicitations for December 2017. Some of the things to note is the premiere of a new Mighty Crusaders series from their Dark Circle imprint by Ian Flynn and Kelsey Shannon, a new issue of the Chilling Adventures of Sabrina and the second issue of the new Betty & Veronica: Vixens series. And the Marvel Comics Digest has the cover of Giant-Sized X-men #1, which they homage on one of the Mighty Crusader covers.
MARVEL DIGEST
MARVEL COMICS DIGEST #4
Script: Various Art: Various Cover: Gil Kane and Dave Cockrum
Marvel Comics' best-selling heroes are back in the ever-popular digest format! This fourth issue spotlights the X-MEN! This is a can't-miss collector's item that will only be printed once! ARCHIE HORROR
CHILLING ADVENTURES OF SABRINA #9 *RESOLICIT*
Script: Roberto Aguire-Sacasa Art: Robert Hack, Jack Morelli CVR A Reg: Robert Hack CVR B Var: Djibril Morrissette-Phan
"WITCH WAR" Part 3: "The Sacrificial Lamb" – Sabrina has brought Harvey's body back to life (along with her father's soul). But there is a cost to everything. Unless she wants the Gates of Hell to open, Sabrina must find a person to sacrifice in Harvey's place. But wait…Sabrina would never kill someone, would she? For TEEN+ Readers.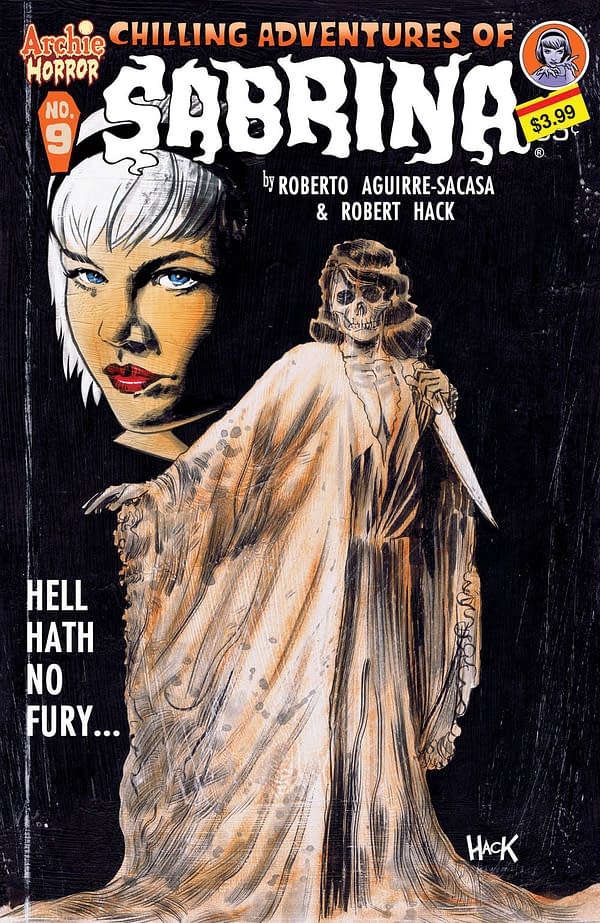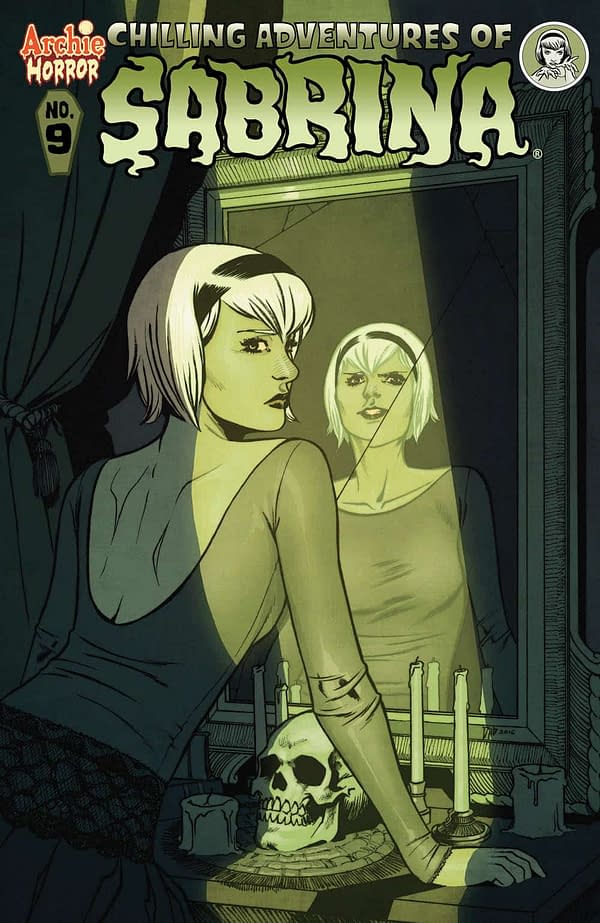 DARK CIRCLE
MIGHTY CRUSADERS #1
Script: Ian Flynn Art: Kelsey Shannon, Matt Herms, Jack Morelli CVR A Reg: Kelsey Shannon CVR B Var: Matthew Dow Smith
NEW ONGOING SERIES! "Back in the Saddle" – The mightiest team of superheroes are back! A throw-down with a prehistoric terror in the heart of Washington D.C. sets the stage for the dramatic return of a wayward hero! Meanwhile, half a world away, a sinister plan begins to awaken an ancient evil! HANGMAN VOL. 1
Script: Frank Tieri Art: Felix Ruiz, Kelly Fitzpatrick, Rachel Deering Cover: Mike Huddleston
They say the Hangman is nothing more than an urban legend. But those who encounter him know different. Join writer Frank Tieri (WOLVERINE, BATMAN) and artist Felix Ruiz (WOLVERINE MAX, HALO) for an ongoing tale of horror, the supernatural and violence… and learn why some men may never be redeemed. Collects HANGMAN issues #1-4. ARCHIE
ARCHIE #26
Script: Mark Waid Art: Audrey Mok, Kelly Fitzpatrick, Jack Morelli CVR A Reg: Audrey Mok CVR B Var: Sandy Jarrell CVR C Var: Thomas Pitilli
HEART OF RIVERDALE, Part 4! Everyone has had a different reaction to Betty's injury, but Archie's is unique. He's finding himself falling in love with her all over again—but where does that leave Veronica?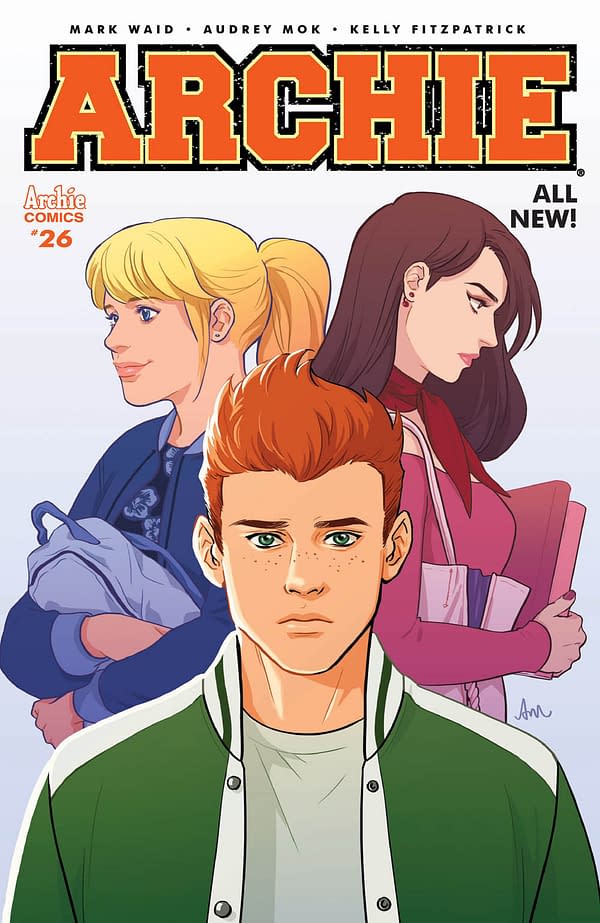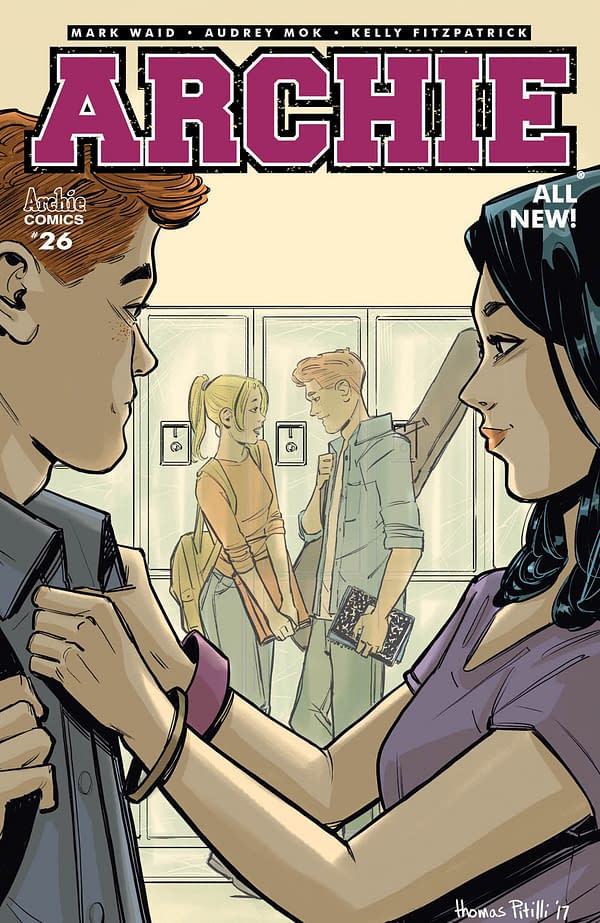 THE ARCHIES #3
Script: Alex Segura and Matt Rosenberg Art: Joe Eisma, Matt Herms, Jack Morelli CVR A Reg: Greg Smallwood CVR B Var: Jamie McKelvie
NEW ONGOING SERIES! FEATURING INTERNATIONALLY BESTSELLING ARTIST CHVRCHES! As The Archies face a rocky start to their first-ever tour, they find unexpected drama among the members! Can Betty and Archie reconcile their artistic differences? Can real-life indie pop trio CHVRCHES provide the guidance they need to weather the storm? BETTY AND VERONICA: VIXENS #2
Script: Jamie L. Rotante Art: Eva Cabrera, Elaina Unger, Rachel Deering CVR A Reg: Eva Cabrera CVR B Var: Sanya Anwar
NEW ONGOING SERIES! The Vixens assemble—Betty and Veronica can't take down a rival biker gang on their own; it's time to call in some reinforcements; meet the newest additions to their gang! LIFE WITH KEVIN VOL. 1 (TR)
Script: Dan Parent Art: Dan Parent, J. Bone, Jack Morelli Cover: Dan Parent
LIFE WITH KEVIN is a coming-of-age story that is both heartfelt and funny. Readers are introduced to an older, wiser and worldly Kevin Keller as he explores the life in NYC with his BFF Veronica. Written and drawn by Dan Parent, with inks from the legendary J. Bone. Collects the entire 5-issue run.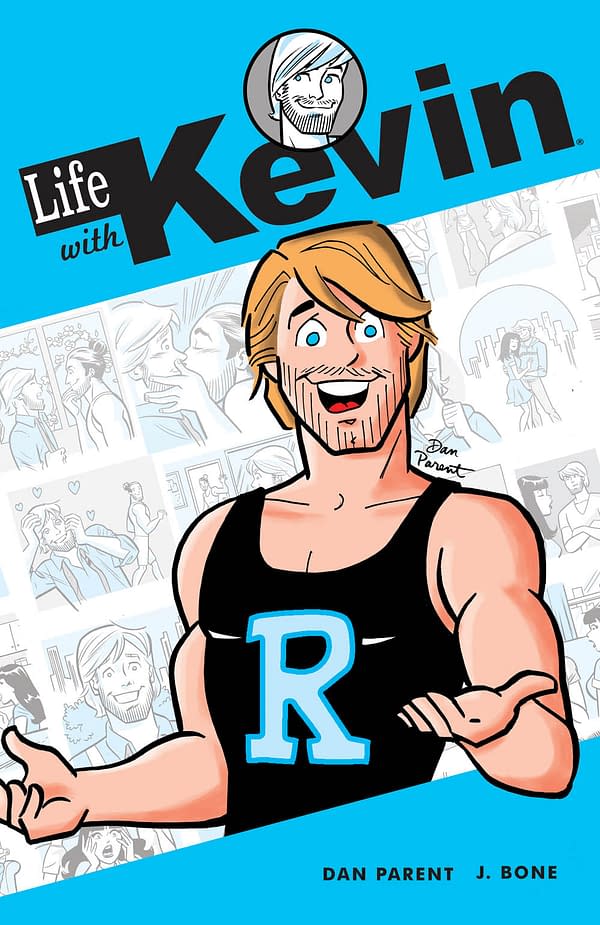 RIVERDALE #9
Script: Roberto Aguirre-Sacasa & Various Art: Thomas Pitilli, Andre Szymanowicz, John Workman CVR A Reg: Cheryl Blossom Photo CVR B Var: CW Photo Cover
From Roberto Aguirre-Sacasa and the writers of the new CW series Riverdale, this ALL-NEW, ongoing comic series features stories set in between episodes of the new CW TV series Riverdale.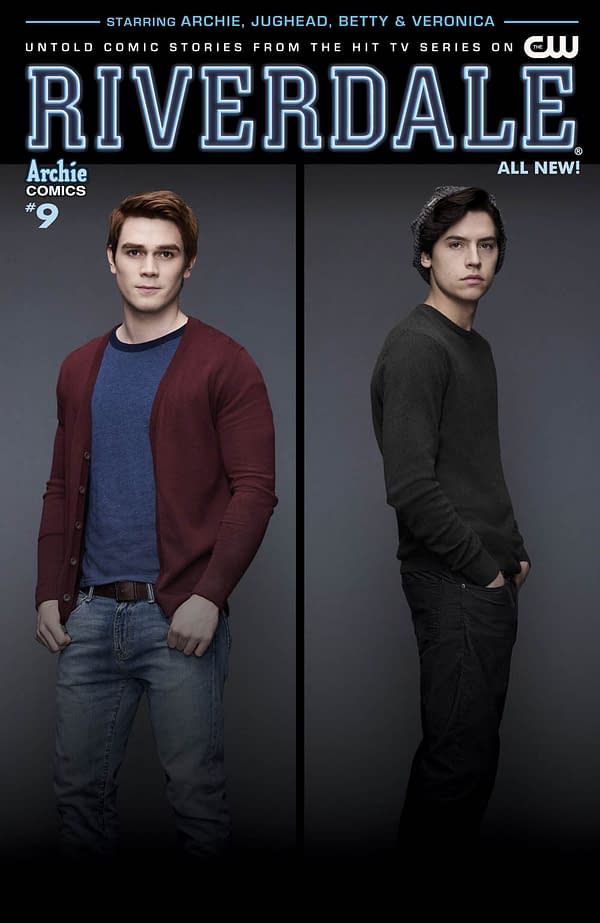 RIVERDALE DIGEST #5
Script: Various Art: Various Cover: CW Photo Cover
See how everything led to the CW's Riverdale TV show with this digest-sized collection featuring stories from our relaunched titles as well as classic Archie stories! ARCHIE CLASSIC
ALL-NEW CLASSIC ARCHIE: YOUR PAL, ARCHIE! #5
Script: Ty Templeton Art: Dan Parent, Ty Templeton, Jack Morelli, Andre Szymanowicz CVR A Reg: Dan Parent CVR B Var: Les McClaine
Everyone knows Betty Cooper is the sweetest, kindest, most helpful girl in town. At least she USED to be. How will Riverdale react to BAD GIRL BETTY? Plus, part 5 of the connecting variant cover image by Les McClaine!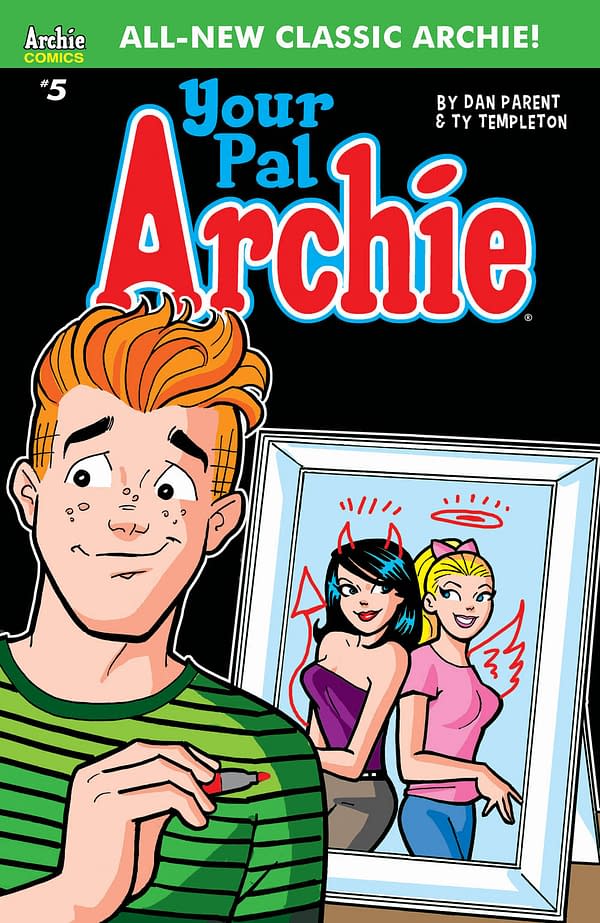 ARCHIE CHRISTMAS SPECTACULAR #1
Script: Various Art: Various Cover: Various
Get ready for a Christmas spectacular featuring some of Archie's most festively fun stories!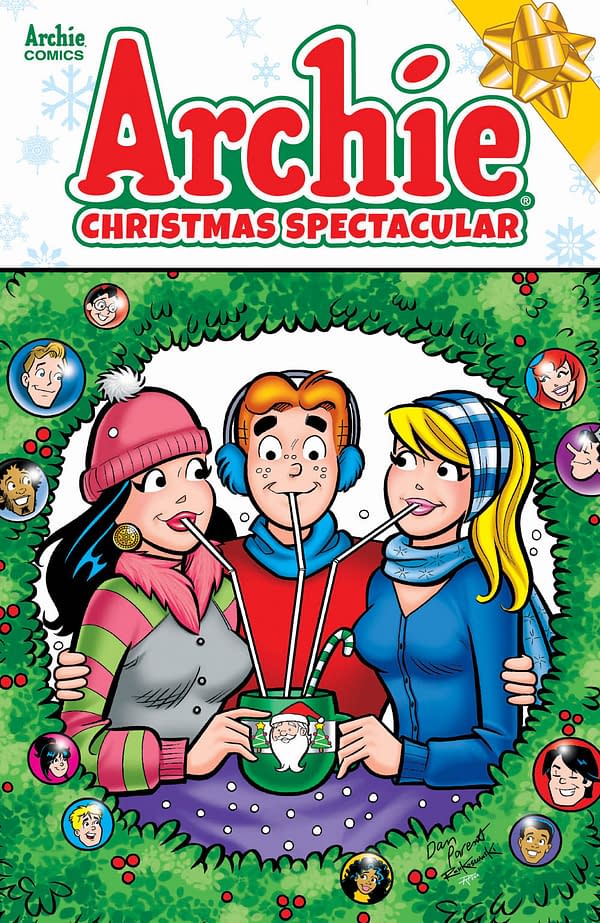 ARCHIE AND ME COMICS DIGEST #3
Script: Dan Parent Art: Bill Galvan Cover: Bill Galvan
In the BRAND NEW story "Something Fishy," some unlikely companions join Mr. Weatherbee on an ice fishing trip—and it looks like they might catch a lot more than colds! BETTY AND VERONICA JUMBO COMICS DIGEST #259
Script: Dan Parent Art: Jeff Shultz Cover: Bill Galvan
In the BRAND NEW story "Oh, Canada!," Betty and Veronica are excited to go to a charity event in Canada—but they're even more excited to meet the Canadian Prime Minister!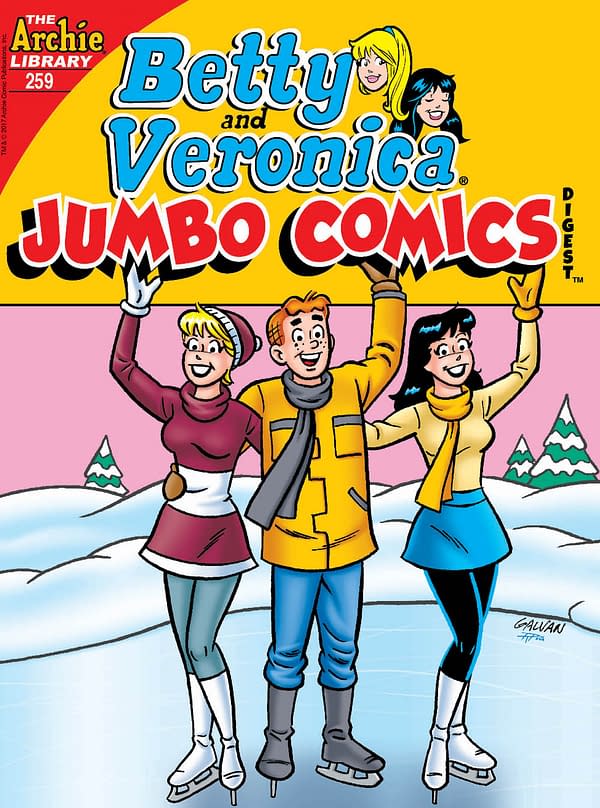 B&V FRIENDS WINTER ANNUAL #257
Script: Dan Parent Art: Jeff Shultz Cover: Bill Galvan
In the BRAND NEW lead story "Girls On Tour," Mr. Lodge gives Betty, Veronica, Ginger and Nancy a winter tour of the Lodge Estate—but no one could predict all of the chilly calamities that ensue! WORLD OF ARCHIE COMICS DOUBLE DIGEST #74
Script: Dan Parent Art: Bill Golliher Cover: Jeff Shultz
In the BRAND NEW lead story "Baby, It's Cold Outside," when Archie and Jughead win a prize pig in a contest, they have to find it a good home without turning every place they go into a pigpen! Enjoyed this article? Share it!