Obscure Comics: The Forgotten Blade Trinity Comic and Manga
There are comic book series almost every comic fan knows, there are comic book characters that most everyone knows, there are specific comic books most every comic reader knows, and then there are the more obscure issues that slip through the cracks. What makes obscure comics so interesting and vital is discovering those books that most don't know were ever printed, or that top tier creators worked on "that book" or on "that character." Obscure comic books are fun to find, interesting to know about, but that border between being great reads and terrible comics.
Obscure Comics: Blade Nightstalking
Blade Nightstalking is the first of two obscure comics that emerged from the Blade Trinity movie. Love it or detest it as a film, it was David Goyer's baby after writing the first two Blade movies. Goyer does deserve credit for writing and promoting the making of Blade, and it was Marvel's first character to get a successful film franchise. Goyer kept it from being "a blaxploitation movie" as many wanted to make it in the 1990s, but his reputation among comic book and movie fans is varied for many reasons. Nevertheless, he is the main feature in comic book movies and television projects, and he was the constant for all three Blade movies.
Serving as a direct prequel Blade Trinity, Blade Nightstalking fits seamlessly into the backstory the movie alludes to and elaborates on many details in 22 pages that Goyer hinted at. Taking the line, Abigail Whistler says halfway into the film, "when I came of age, I tracked my dad down and told him I wanted in. Been doing it ever since", Blade Nightstalking elaborates on Abigail's training under her father, Whistler. The story shows how she formed the Nightstalkers after meeting Hannibal King, played in the movie by pre-Deadpool Ryan Reynolds, and how the duo ended up at the police station in the film.
Packaged with the Blade Trinity Deluxe Edition DVD first pressings, the comic did get noticed when initially announced. Still, it is not the subject matter that makes the comic a notable obscure comic to know about. The creative team obtained to produce Blade Nightstalking was PaperFlims married duo Jimmy Palmiotti and Amanda Conner, along with writing partner Justin Gray. By this point in 2005, Palmiotti and Gray were best known for writing Hawkman for DC, with Jonah Hex soon in the future. Amanda Conner was an established artist but not the breakthrough commodity Power Girl, and later Harley Quinn would make her (though she had some excellent vampire drawing experience from Vampirella at this point). The most famous book Conner had worked on by this point was The Pro with Garth Ennis, and Palmiotti on inks, but the three took on Blade Nightstalking with significant effect and an ear for Ryan Reynold's dialogue in the movie. (Fitting since Palmiotti had written Deadpool already by this point for a great run of comics.)
(Warning the pages below from the comic do contain some very adult language.)
The book was published by Marvel Comics but advertised DC movies inside. Not too surprising considered New Line made the Blade Trilogy. Still, in 2020 it is interesting to remember a time where Warner Bros. owned the company that was responsible for the most successful Marvel movies of the time.
The comic is full of great characterization by Palmiotti and Gray, and beautiful artwork by Conner. Not an expensive book to find, plenty of copies on eBay (cheapest if you look for copies with the DVDs) and elsewhere, it is a great obscure book by great creators, but it isn't the most obscure Blade Trinity comic.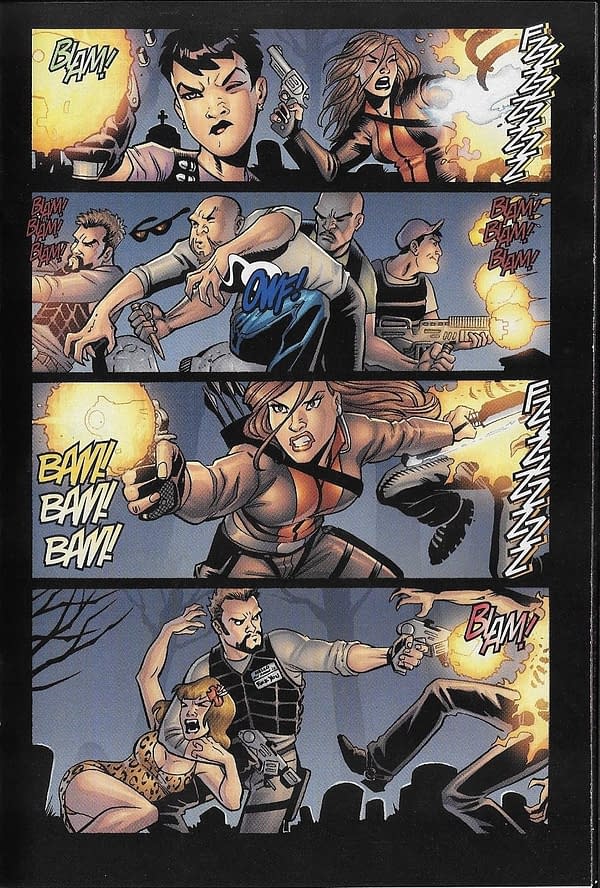 Obscure Comics: Blade Manga Dojinshi
As mentioned, Blade Trinity was David Goyer's baby, and his personal interests spilled over into the movie's soundtrack. Bringing in Wu-Tang Clan leader RZA to work on the soundtrack, every part of the music involved RZA, including two non-music elements that spun off from the soundtrack. An almost 6 minute animated movie called Blade Blood Thirsty was made staring Blade and RZA from ImajiMation Studios and included on a separate DVD included in the Blade Trinity Soundtrack Deluxe Limited Edition. You can watch it here:
In addition, a separate eight-page dojinshi was commissioned from Takashi Okazaki, creator of Afro Samurai, and published only in the booklet for the Blade Trinity Deluxe Limited Edition soundtrack. The eight-page manga titled "Day Walker Vs. Vampire Hunter" features Blade versus RZA, until the two realize that they should fight together against the vampires after them. It was published untranslated and only in the soundtrack booklet making this comic more of a manga then dojinshi, though it is labeled as both strangely. It is an obscure comic that Marvel didn't publish, from the creator of both the doujinshi and anime series Afro Samurai (which not surprisingly the anime of involved RZA) doing some great short form work.
A great book to look at, though even if you read Japanese, it is not a profoundly engaging read, the comic is definitely an obscure read. This comic is a bit more pricey sometimes to get and harder to find than the Blade Nightstalking comic. The deluxe edition soundtrack did receive some notice when released and was sold through Previews. Two obscure comics spinning out from one movie is rare, but these are definitely two of the most interesting obscure projects to come together.