Mike Young – The Rob Granito Of 2013 – At Buffalo Comic Con

There have been a few worthy claimants to this title… Nate Stemen is one… but I think this fellow just pips him to the post for the Rob Granito of 2013.
Jeff Watkins from Syracuse, NY, owner of Cloud City Comics and Toys has been in touch. This is a photograph he took at Buffalo Comic Con this weekend of Mike Young, exhibitor and artist at the show. He tells me;
His prints looked innovative, a bleach white ink on thick black paper.
The problem?
All of the artwork was stolen from other comic artists.
Nearly a hundred prints of various characters from Marvel and DC, as well as The Simpsons, Spawn, Looney Toons, and Disney, and not a single one was an original piece of artwork.
In every case, it was a pure tracing of someone else's work.
It was blatant and unapologetic.
Skottie Young's variants for Marvel were the most frequent of the prints. He literally just removed Skottie's name, and signed is own.
Among what I saw:
-Spawn directly stolen from Greg Capullo
-Cable directly stolen from David Finch
-Superman directly stolen from Ed McGuinness
and dozens of others. Original by Humberto Ramos Original by Skottie Young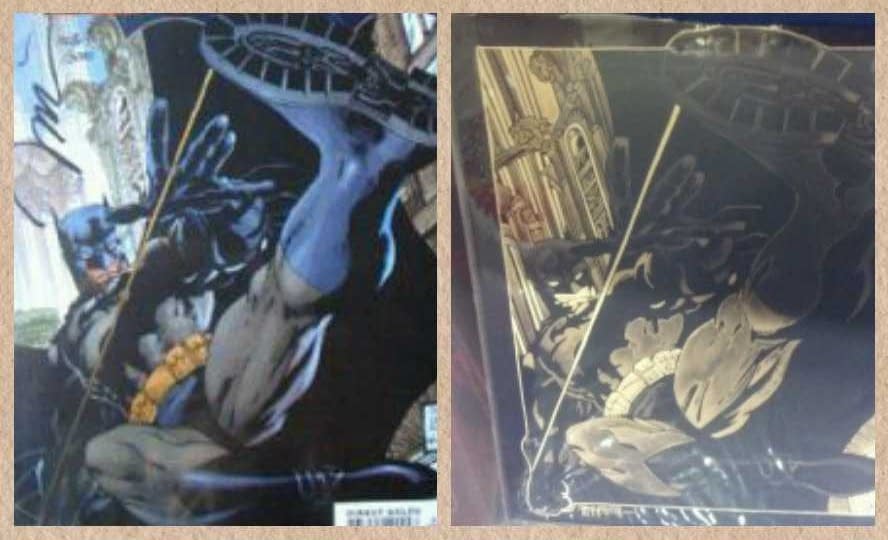 Original by Jim Le Original by Skottie Young Original by Stuart Immonen.
After watching this guy operate, and watching him sell a few prints to unsuspecting buyers, my friend Sean and I collected some photos and I approached him.
"Has anyone called you out on the fact that none of this is your artwork? That you stole this from other artists?"
"No."
"There is not a single piece of art at this boot that isn't directly stolen from someone else. I cannot believe how brazen you are. You are sitting here selling other people's art with YOUR signature on it."
He gave me a shrug and a 'prove it' face.
"This is a trace of Batman #608 by Jim Lee. That is a trace of Skottie Young's variant to Mighty Avengers #1. That is a trace of Todd McFarlane's Spider-Man. That is a trace of Mike Deodato Jr's Incredible Hulk. That is a trace of Skottie Young's variant to Infinity #4, and that just came out a week and a half ago!"
"So you know a lot about comics. We are all real impressed. You made your point. Move along."
"I don't care if you are impressed. I won't be moving along. You stole this artwork."
"It's public domain."
"No. It isn't."
"I set up at Toronto no problem. My lawyer says I can do it."
"I cannot believe for a single second that a legal professional would actually advise you to lightbox trace someone else's artwork, sign it, and sell it to unsuspecting clients. Either way, you are stealing from respected artists."
He yelled that he 'doesn't need to sit here and be insulted' and said he was leaving.
At that point I was joined by an organizer of the event, and he stated that the Buffalo Comic Con would not allow him to sell stolen artwork like this anyway.
He left the show, but I do think he will look to be at more conventions and events in the future.
I have emailed Mike Young, but have yet to receive a response. From his Buffalo Comic Con listing;
Mike is a talented artist who works at the New Era Cap company. He studied at The Art Institute of Pittsburgh. His comic art style is exciting and dynamic as seen in his sample art.
That art includes the following David Finch trace…
This looks like a Ramos Spider-Man – can anyone identify the original? And from earlier.. what may actually appear to be original pieces of art, dated from 1997 and 2000.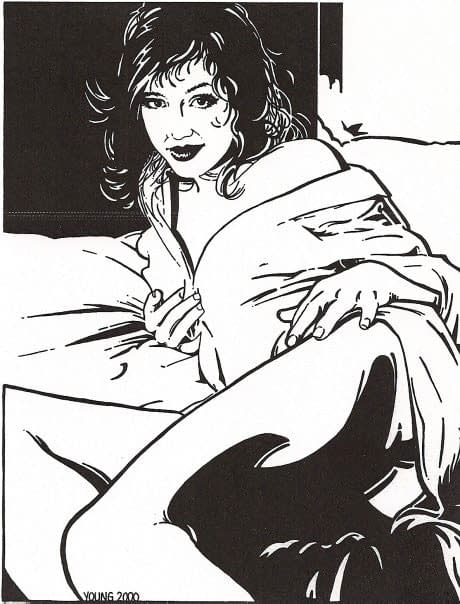 New Era Cap, of course, have fully licensed products…
[youtube]http://www.youtube.com/watch?v=Q5X9sILIe7s[/youtube]
It may also be worth pointing out that this Mike Young is not this Mike Young.