The upcoming Miles Morales: Spider-Man #10 marks the 250th comic book starring Miles Morales as Spider-Man. In-story, it's also the character's birthday though, so as not to tie themselves down too much, they get away with confirming he's a teenager but not actually how old he actually is. Clever. But it's also set months after the events of #9 which him being captured by The Assessor, prodded, probed and experimented on, until rescued by his former SHIELD Agent father and Prowler uncle. Which, yes, does have serious repercussions. And also answers the question as to why Miles Morales is called Morales – when his dad has a different surname.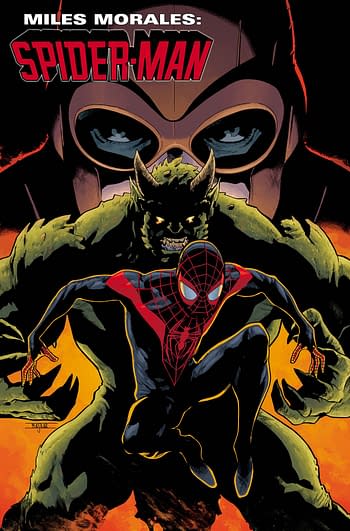 MILES MORALES SPIDER-MAN #10
(W) Saladin Ahmed (A) Javi Garron (CA) Mahmud Asrar
SPIDER-SEMIQUINCENTENNIAL OR BIG 250th ANNIVERSARY ISSUE?
That's right, it's our 250th issue and it's Miles Morales' birthday! But YOU'RE getting all the gifts! A mystery dating back to Miles' first appearance? Answered! A terrifying villain destined to become one of Miles' greatest adversaries? Revealed! Special guests, like maybe Peter Parker: Spider-Man? YOU KNOW IT! All busting out of 25 pages by main series storytellers Saladin Ahmed and Javier Garr n, PLUS a bonus back-up by Ahmed and a special guest artist delving into the history of your new favorite character, STARLING! Your FOMO is well-founded! DON'T MISS IT!
Rated T In Shops: Sep 11, 2019 Final Orders Due: Aug 19, 2019 SRP: $4.99
As the solicitation and cover shows, it does indeed have the Ultimate Green Gobin making his way from the Ultimate Universe (which yes, does still exists after Secret Wars, we know that).
And he's not alone, joined by a new character who seems to be channelling a variety of member of the Ultimates. Not the Giant-Man resemblance on the cover.
Given Wilson Fisk's involvement, it shouldn't be too hard to guess who this figure, returning from the Ultimate universe for Miles' birthday is. And why this may be an even-more-significant comic book than previously thought… and it's not The Maker.
FOC is today, folks.
Enjoyed this article? Share it!