Millar In Manila – The Fan's Point Of View
Jiggy Cruz writes for Bleeding Cool from the Philippines;
I've been fortunate to meet a lot of comic book people from the international scene because of Comic-Con and National Book Store. I've met Hickman, Quesada, Loeb, even Liefeld in San Diego. I met David Lloyd and CB Cebulski here courtesy of NBS. But the one guy I really had the chance to talk to and discuss fanboy things was Mark Millar. THE Mark Millar.
The man is a genuine nice guy and he's a true fanboy. You can discuss ANYTHING with him. ANYTHING.
To be honest, I felt like a groupie when he was here. I hung out with him, Leinil Yu, and the kind people of National Book Store.
I was invited to a dinner for him Friday along with Jonty and a number Filipino Artists like Harvey, Carlo, Jason, Heubert and Ian. The man sat next to me at dinner and that's when I found out how extra cool he was! He knows so much about movies plus he definitely knows his comics. Para siyang kabarkada mo lang. Seriously. He's like another fanboy in the group and finding out that he's down to earth makes him so much cooler, credible, and respectable. But what struck me the most was how polite he was. He'd never forget to say thanks to a waiter or say please. Such great manners! Was he funny? I laughed so many times at his stories and ideas. Too bad I can't divulge on the topics we discussed.
Saturday was the day of the interview, Jonty and I visited the NBS Glorietta 5 branch to interview him for "These Aren't the Droids You're Looking For" column (Out Friday in The Philippine STAR, YOUNG STAR Section) We got to ask all the nerdy questions we could ask and he even told us about Hollywood stuff you don't get to hear everyday. I brought a copy of Trouble #1 which was the first Millar book I read. Being a Spidey fan, I just had to have it signed. He told me that I was the first one to have him sign a Trouble #1. After that I went to Komikon to moderate some panels. But my interview ended late so I need to say thanks to Tony Tuason of Flipgeeks for covering for me.
Surprise! Surprise! What KOMIKON fans didn't know was that there was a preview of The Milla in Manila! Mark Millar visited Komikon for a special guest appearance!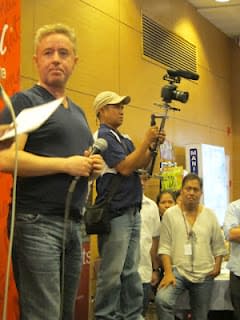 Who's that guy in the lower right? :)
Sunday was the BIG DAY. Mr. Millar had been so jet lagged the whole weekend plus he had tons of interviews. Yet, the professionalism he showed was just amazing. He signed like 1000+ books and he signed for all those who went to the event. I was happy with the fan turn out! A lot of fans really went to the NBS event to see him! It was probably the most successful and biggest comic event in Manila. EVER. I stayed at the sidelines of the stage just relaxing. Yes I have hosted some NBS events but someone with more experience and just as geeky had to be the guy. That's why I was happy it was RJ Ledesma who did it! Before the signing started, I called Mr. Millar and said my goodbye. I wasn't sure when I'd see him again. I said thank you for everything and for visiting the Philippines. It was really such a privilege and blessing meeting and hanging out with the man himself.

Happy Fanboy courtesy @nbsalert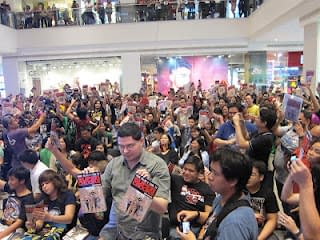 Fans raising their copies of Supercrooks #1

Fan Art courtesy of the awesome Apol Sta Maria
Thank you National Book Store for making this possible! I had the most awesome experience. Imagine a fanboy hanging out with one of his heroes? Man… I'll never forget it.
I don't know if Mr. Millar will ever stumble upon this small blog but Mr. Millar, MABUHAY KA! It was really such an honor :)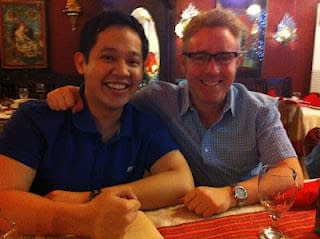 He was actually the one who thought of wearing my glasses.