Mister Sinister Plans Chimera on Krakoa? Incoming #1 Spoilers
Mister Sinister is one of the Quiet Council of Krakoa. The Victorian geneticist behind Madelyne Pryor. Inferno, Hope Summers and constantly messing with the Summers and the Greys, he's a bit of a baddie. But now part of the Great Krakoan Experiment. But in today's Incoming #1, from Jonathan Hickman and R.B. Silva, we learn some of the compromises he made to join the team. And the real plans he is hiding.
In House Of X, as part of the ninth timeline, we learnt about chimera.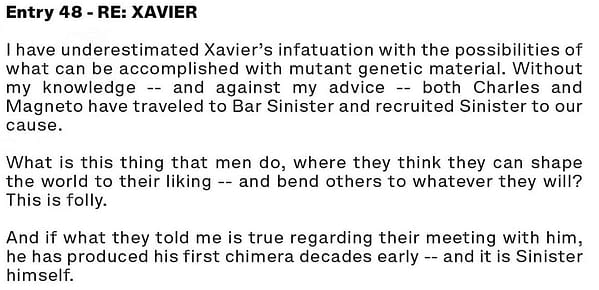 Mister Sinister, a chimera created using the body of Thunderbird? In the House Of X/Powers Of X series, we learn that Mister Sinister creates the chimera, combining DNA of mutants to create new individuals.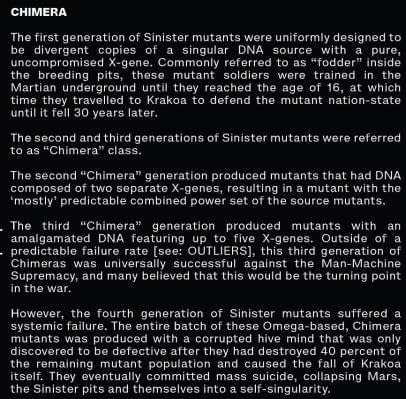 And we get a break down of one future chimera's DNA sources, Rasputin.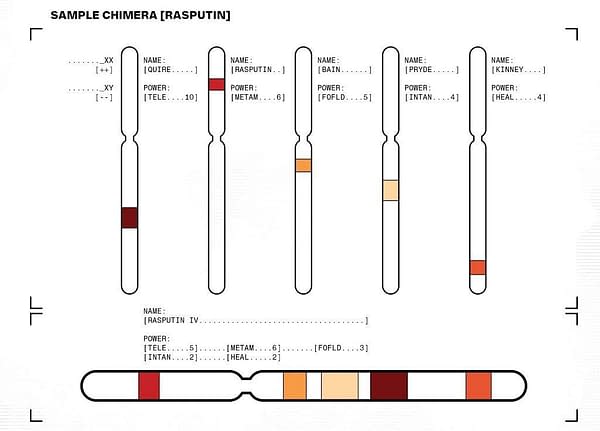 With the Krakoan system of resurrecting mutants, with the five creating new bodies and Charles Xavier bringing back their souls, there have been questions and suggestions as to what would happen if mutant minds were put into other bodies, or what if the process was carried out when a mutant was alive, creating duplicates. But it seems that Xavier has thought of this… and has forbidden Sinister from making copies of mutants, as he did creating Madelyne Pryor from Jean Grey.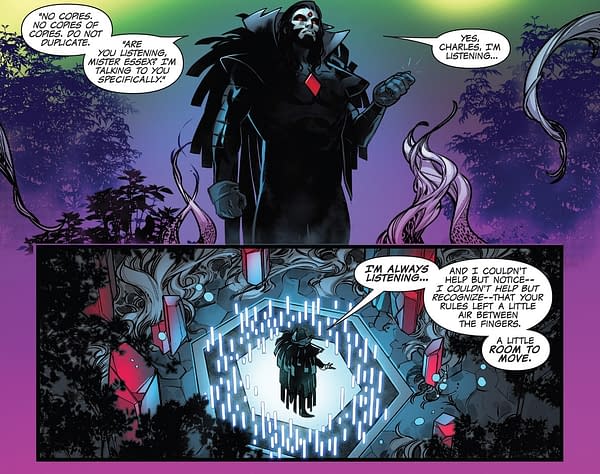 So he's not allowed to make copies, what can he do?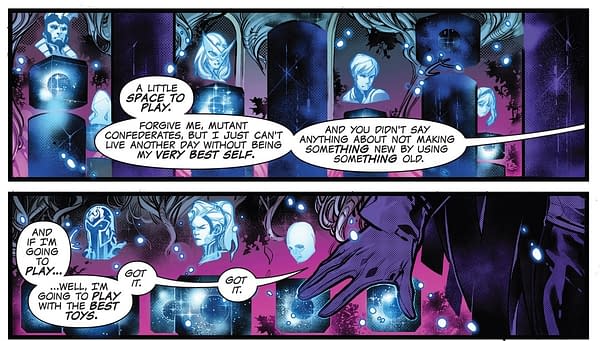 Making something new from something old. Chimeras on Krakoa now, not a hundred years hence. And what materials does he need?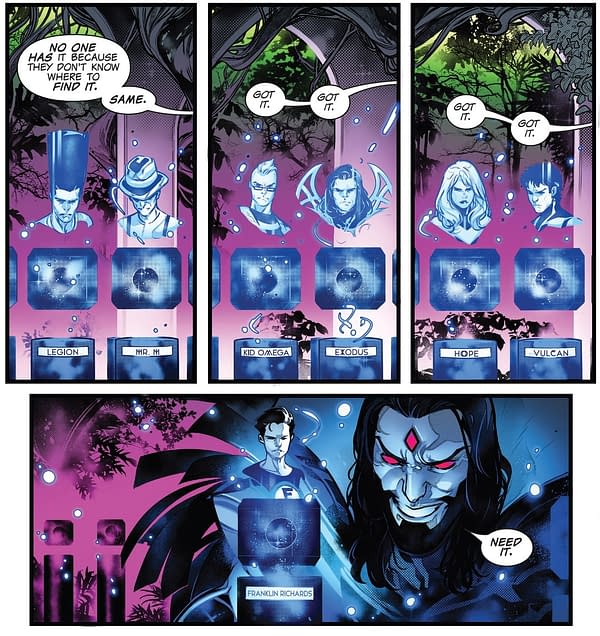 He has those on Krakoa too, all in one handy place. Lots of powers there, including Summers and Grey representation. Now what he needs is a Richards. Chip Zdarsky, Terry and Rachel Dodson may have the answers in February…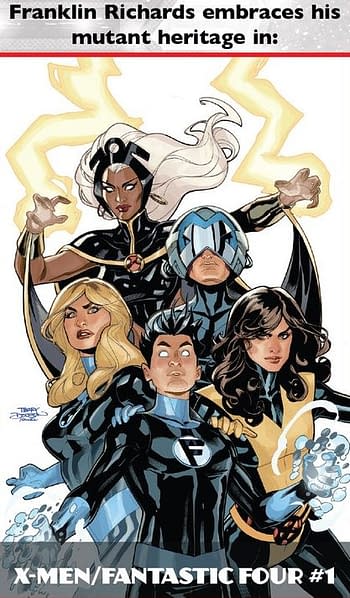 X-MEN FANTASTIC FOUR #1 (OF 4)
(W) Chip Zdarsky (A/CA) Terry Dodson
KRAKOA. Every mutant on Earth lives there … except for one. But now it's time for FRANKLIN RICHARDS to come home.
It's the X-MEN VS. the FANTASTIC FOUR and nothing will ever be the same.
Rated T+In Shops: Feb 05, 2020
SRP: $4.99

X-MEN FANTASTIC FOUR #2 (OF 4)
(W) Chip Zdarsky (A/CA) Terry Dodson
The world has been re-shaped by the X-MEN. But you can't reshape a world without encountering its true master … DOOM..
Rated T+In Shops: Feb 26, 2020
SRP: $3.99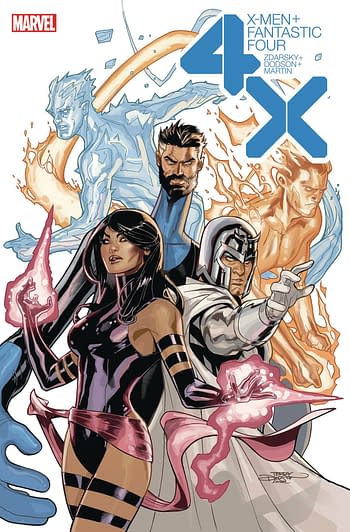 X-MEN FANTASTIC FOUR #3 (OF 4)
(W) Chip Zdarsky (A/CA) Terry Dodson
A nation of mutants' lives is at stake while FRANKLIN RICHARDS makes a momentous decision! Will the FANTASTIC FOUR and X-MEN just
stand by and allow it to happen?
Rated T+In Shops: Mar 25, 2020
SRP: $3.99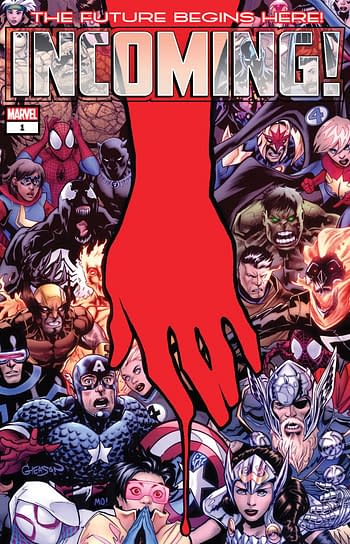 INCOMING #1
(W) Al Ewing, Jason Aaron, Saladin Ahmed, Ed Brisson, Donny Cates, Eve L. Ewing, Jonathan Hickman, Tini Howard, Greg Pak, Matt Rosenberg, Dan Slott, Kelly Thompson, and Chip Zdarsky. (A) Joe Bennett, Carmen Carnero, Jim Cheung, Mattia de Iulis, Jorge Fornes, Javier Garron, Kim Jacinto, Aaron Kuder, Francesco Manna, Carlos Pacheco, Humberto Ramos, R. B. Silva, Andrea Sorrentino, Ryan Stegman, Luciano Vecchio, and Annie Wu. (CA) Patrick Gleason.
ONE WILL UNITE THEM!
A mysterious murder brings together the heroes of the Marvel Universe in the search for a killer – but no one can imagine where the trail will lead, or how it will affect everything in 2020 and beyond! Who is the victim and who is the assailant?
The closing chapter to MARVEL's 80th year, which will connect the dots of everything that happened in 2019 and propel the narrative into the year that is to come! Featuring the Avengers, the Fantastic Four, the X-Men, the Guardians of the Galaxy, Daredevil, Spider-Man, the Champions, the Agents of Atlas, Valkyrie, the Immortal Hulk, Jessica Jones, Venom, Ghost Rider, the Masked Raider and more!
Rated T+In Shops: Dec 25, 2019
SRP: $9.99
Incoming #1 is published today from Marvel Comics. I bought mine from Piranha Comics in Kingston-Upon-Thames. Piranha Comics is a small south London comic store chain with a small south-east store in Kingston-Upon Thames's market centre, which runs Magic The Gathering nights on Fridays, and a larger south-west store in Bromley, which also runs Magic nights and has an extensive back issue collection and online store. If you are in the neighbourhood, check them out.