Mitch and Elizabeth Breitweiser's New Comics Publisher, in Walmart
DC Comics has had considerable success in the last couple of years, placing original titles in Walmart, in their Giant line. Marvel has joined them, with a new line of there-pack comic books, with original covers and a low price point. Now new publisher Allegiance Arts and Entertainment will be doing something similar. The company has been formed by comic creators and husband and wife team, Mitch Breitweiser and Elizabeth Breitweiser, with Arkansas businessman David Martin. Martin is the CEO of reputation management/crisis consulting firm Allegiance Consulting Group.
The publisher will see Walmart place endcap displays in over 3000 stores, around 70% of all Walmarts, with four launch titles, each priced at $4.98 for 24 pages of story, one cent less than DC's titles. Each display will have ten copies of each titles per store, with space to display back issues as well. And, in a move away from DC and Marvel's offerings, will also be available on Walmart.com.
Norah's Saga, written by Blake Northcott. Illustrated by Kelsey Shannon.
The Futurists: written by Patrick Stiles. Pencils by Butch Guice. Inks by Rick Magyar. Colors by Mitch and Elizabeth Breitweiser.
Bass Reeves, written by Kevin Grevioux. Pencils and Inks by David Williams. Colors by Kelsey Shannon.
Red Rooster, written by Mark Pellegrini. Pencils and Inks by Mitch Breitweiser. Colors by Elizabeth Breitweiser
Norah's Saga, Futurists and Bass Reeves were crowdfunded together on Indiegogo last year, Red Rooster two years ago. Backers had received copies of the first three but not of Red Rooster yet. All books were edited by Patrick Stiles and designed by Chris Kendrick. Purely by shelf space alone, that's a print run of 33,840 copies, and they will need more to cover crowdfunding, damages and online sales.
Mitch Breitweiser gained some controversy four years ago after he posted congratulatory pieces regarding Donald Trump's election, with a handful of comic book creators disassociating themselves from the Captain America and Punisher artist. Although a number of those seemed to have no problem working for Marvel, however, whose chairman Ike Perlmutter continued to be one of Trump's biggest political donors and a close personal friend. After the Breitweisers were tangentially linked to the Comicsgate activist group, they pulled out of the Lakes Comic Art Festival in Kendal, over personal safety concerns. While none of the books have claimed to be Comicsgate titles for promotional purposes (after all potentially they might need permission these days), they have been heavily promoted by Comicsgate figures and feature a number of creators are associated with or approved of by those using the hashtag. And if that brings them any problems, they have David Martin on hand.
Each comic will consist of 6 issues arcs, then collected as trade paperbacks. Addressing the issue that people would be able to buy Red Rooster in Walmart long before backers got the backed graphic novel would be ready through Indiegogo, Mitch and Elizabeth told one buyer "I can definitely understand why you and others might be bummed about the release schedule. I could either rush the product, not pursue the Walmart/publishing opportunity, or take the time to make everything just right. We chose the third option and I am glad to hear that the quality shined through to you."
As comic book stores have closed, shuttered and gone into lockdown, Walmart is one of the few places still selling comic books. Mitch Breitweiser told ICV2 that "the bet is that there's a large, underserved market of fans that would be readers of comic books but they just don't typically have access to them, or at least convenient access to them. As I asked all kinds of people my age, younger, store owners, how they discovered comic books, 9 times out of 10, the answer would come back to me as, "I discovered in the Kroger, at the grocery store while Mom was shopping, or in the drugstore," which was my case as a youngster. They typically aren't found there anymore, in very, very rare cases. The hunch is, the bet is that if we make them discoverable, accessible, beautiful, and make the stories extremely great (which obviously, we feel like we've done), then kids will pick them up, cherish them, find a new hobby. We'll ignite the chemicals in their brain that form this nostalgia for a lifetime bonding with creators and content. That's happened thousands, and thousands, and thousands of times before, and we feel that, if you put the right product in the right place in front of the right kids, then essentially, the lightbulb will go off and the chemical reaction will go off. We feel we'll be very successful in doing so. We certainly are proud to have excellent partners with Walmart and Readerlink, who both believed in this pitch and this vision. We feel very confident with both of their research and data, that we have a strong opportunity to win over all these customers and sell our books in mass market stores."
They also point out they the DC Comics and Marvel Comics titles appear in the Collectibles area of Walmart whereas, distributed into Walmart by Readerlink, these comics will appear in the book section. They also intend to expand from four titles to six by the end of the year.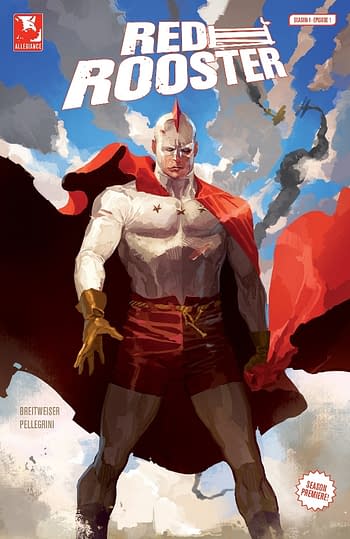 Red Rooster written by Mark Pellegrini. Pencils and Inks by Mitch Breitweiser. Colors by Elizabeth Breitweiser – "LIGHT BRAVES THE DARKNESS, DARKNESS FEARS THE DAWN." For centuries, the mantle of THE RED ROOSTER has passed from generation to generation to fight mankind's most ancient & terrible evils. Now Frank Cooper must rise to the challenge. Rockwell meets Lovecraft in this dust bowl-era, southern gothic cape & cowls mystery.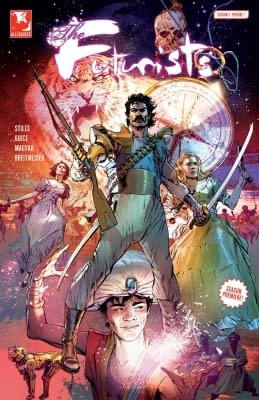 The Futurists written by Patrick Stiles. Pencils by Butch Guice. Inks by Rick Magyar. Colors by Mitch and Elizabeth Breitweiser. 1866. Stricken by an insidious curse, three outrageous egos race to unearth the mythical lost city of Shambhala. In their way is Teddy, a treasure-hunting rogue with a dark secret who must save the family he left behind. To rescue his daughter, Hannah, from dark magic, Teddy must forge an unlikely alliance with Harij, a beguiling young shaman who is much more than he seems. Together, they will navigate a war-torn landscape and face terrifying monsters, murderous cults, macabre plots, and the exotic mysteries of ancient India.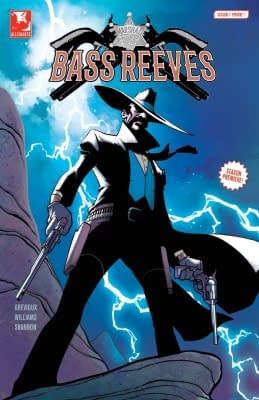 Bass Reeves written by Kevin Grevioux. Pencils and Inks by David Williams. Colors by Kelsey Shannon. There is no law west of St. Louis, and no God west of Fort Smith." So says Judge Isaac Parker. But "The Hanging Judge" will need a new breed of lawman to tame the badlands of the Oklahoma territories, a man who would walk into Hell to bring the law to the Devil himself. He needs Bass Reeves. Slave. Lawman. Legend. This is the true story of how the West was won.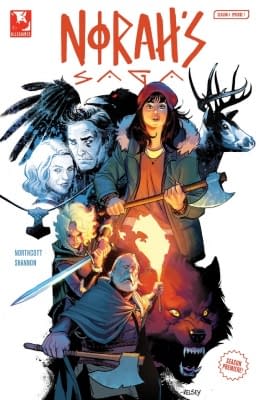 Norah's Saga written by Blake Northcott. Illustrated by Kelsey Shannon. New school. New World, literally. Sassy, book-smart Norah Karlsson's quest to fit in becomes an epic tale of survival when she crashes through the mists of time and into a realm of ice and Norse legend. The high school's mean girls had nothing on the god of mischief, and at least they never tied her to a stake. Bullies? Try trolls, and not the Internet variety. Forget sharing a table with the cool kids in the cafeteria; Norah would be just as happy if she didn't have to slay her lunch!