Motor Crush By Brenden Fletcher, Cameron Stewart And Babs Tarr Announced At #ImageExpo (UPDATE)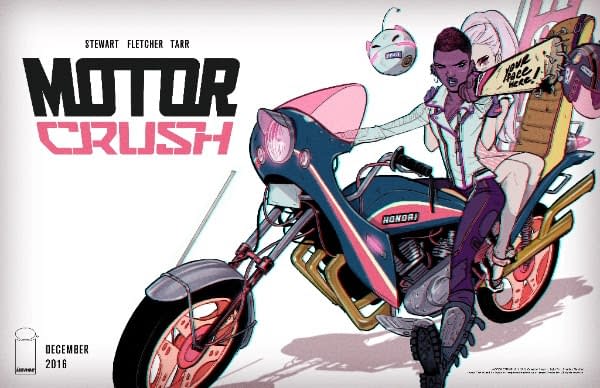 The BatgirlBurnside team of Brenden Fletcher, Cameron Stewart and Babs Tarr who saw their last Batgirl together published today announced at Image Expo that their next book, out in December, will be Motor Crush from Image.
A comic about Domino Swift, who races during the day but performs combat at night in illegal bike races to get what she needs. Tarr will be co-writing the series with Fletcher and Stewart and they are looking forward to working together without DC editorial interference….
UPDATE:
MOTOR CRUSH by Brenden Fletcher, Cameron Stewart, & Babs Tarr
From the creative team behind the popular, New York Times bestselling Batgirl of Burnside—Brenden Fletcher, Cameron Stewart, and Babs Tarr—comes MOTOR CRUSH—is a stylish, neon-soaked, revved up science-fiction action series.
"I'm thrilled to continue working with this team on our new series, where we'll really cut loose with our imagination and deliver a world with more style, more action, and more excitement than you've ever seen from us!" said Stewart.
By day, a Domino Swift competes for fame and fortune in a worldwide motorcycle racing league. By night, she cracks helmets of rival gangs in brutal, illegal bike wars on the city streets to gain possession of a rare and valuable contraband: an engine-boosting "machine narcotic" known as MOTOR CRUSH. But the origins—and ultimate purpose—of this mysterious substance are unknown, and could put her on a collision course with danger…
Fletcher shared his enthusiasm for returning for a new project, adding: "Working with your friends on the product of your collective, unfiltered imagination is the dream of every creative. And we're about to live that dream!"
"I am SO excited to continue to work with these boys and really show everyone what we have to offer on something original," said Tarr. "This book is gonna OOZE style and cool, your eyeballs will barely be able to handle it! I can't wait to show you guys what we've got!"
MOTOR CRUSH rides into town this December 2016.