Neil Gaiman & Mark Buckingham's Miracleman By Way Of Alan Bennett
Miracleman: The Silver Age #4 by Neil Gaiman and Mark Buckingham returns, not in heaven above but on Earth below, making the mighty mundane.
---
It's such a joy to read new Miracleman. Real Miracleman. Proper Miracleman, by Neil Gaiman and Mark Buckingham. The pressure on the pair must be fairly huge to match up with what they left off thirty years ago, with a small but committed audience who have been wondering what will come next for thirty years, as well as a new audience who don't have all that expectation built up in their heads. The previous issue, while unpublished all those years ago, had been written and drawn – and now redrawn. But with Miracleman: The Silver Age #4, we are into brand new territory, and so it seems fitting that before we meet the giant Qys, before we encounter the Miraclefamily, before we wonder what happened to Kid Miracleman, the new issue begins in a small English village church, with a scenario that seems to have been crafted from Alan Bennett.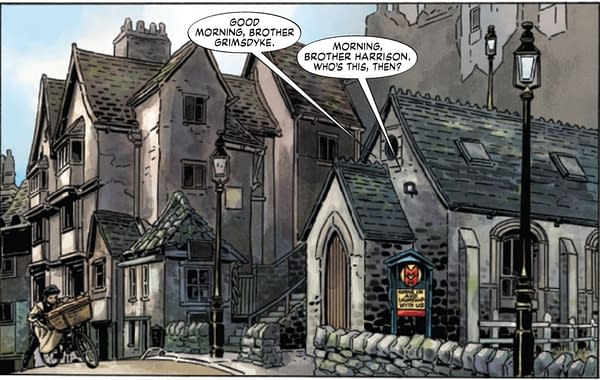 And we get something closer to the first arc from Gaiman and Miracleman, The Golden Age, in which the Miracle world is explored, finding the details of how the main story was reflected around the world. And the red and yellow of the chapel sign, shining out from the familiar stone grey, courtesy of the masterful work of Jordie Bellaire. I have a church not far from this directly opposite my house in Kingston Vale which has such a sign that I drew. And yes, there is stained glass and the beautification that shines out.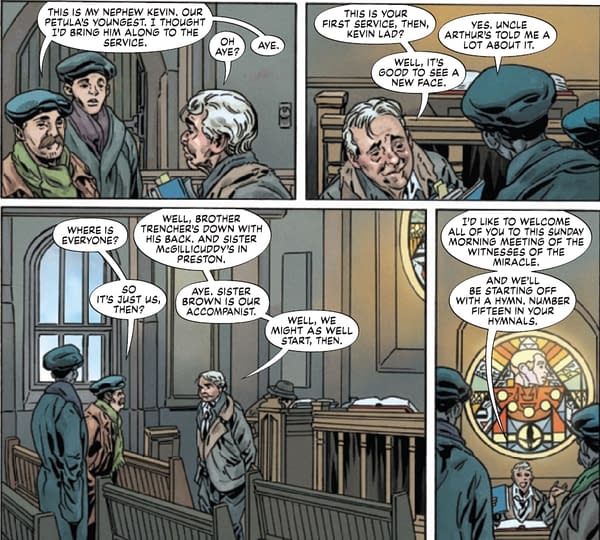 The feel is so familiar, the small congregation, the Church Of England litany, the ageing and medical issues with the volunteers in charge, but a structure for lives, for belief, for the expression of it, in a world in which Miracleman happened, and regarding him as a god would seem entirely natural. But the details are so mundane, in contrast to the actions being celebrated. This is the Anglican Miraclechurch, and it's all so very human. It's a tried and tested approach at making the mighty mundane, something to be conceptualised by mortals.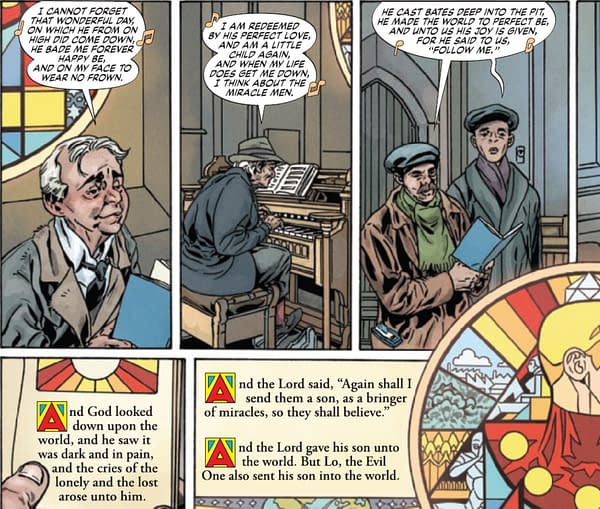 Although, even though this is very much of the Alan Bennett school of finding humour and pathos in the tiny, replicated details, condensed down yet ringing true there are also notes of the Monty Python as well.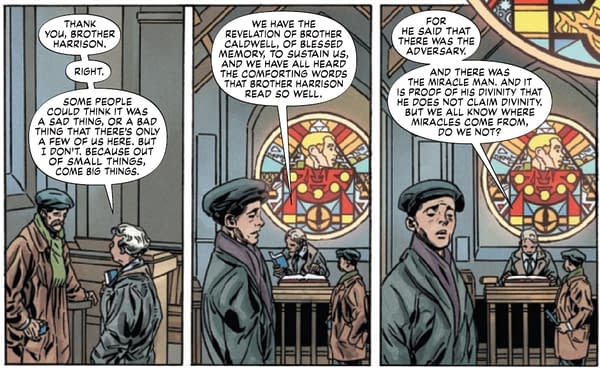 The proof of his divinity, that he does not claim divinity, is not only a theological argument over Jesus Christ, but also smacks rather of Life Of Brian's "Only the true Messiah denies his divinity". The whole thing is sad, understandable and inspiring, simultaneously. There is much to discuss. But an Alan Bennett church congregation is a great place to start.
https://www.youtube.com/watch?v=v0qOD9rtOEE
MIRACLEMAN SILVER AGE #4
MARVEL COMICS
OCT221123
(W) Neil Gaiman (A/CA) Mark Buckingham
What are the Black Warpsmiths? Young Miracleman's journey continues, and he finds companions on his quest to learn more about the world and about himself. They may not be the companions that Miracleman would have chosen, but will they be who Young Miracleman needs? Gaiman and Buckingham continue to reinvent not only this world, but all of comics while they're at it.
Mature In Shops: Feb 08, 2023
SRP: $4.99