New Identities for Captain America, Captain Marvel and Thor in Avengers Endgame Tie-In for FCBD 2019 (Spoilers)
Free Comic Book Day sees the release of 51 different official Free Comic Book Day comic book titles, including an Avengers comic from Marvel Comics. Which contains, as we have mentioned before, a lead-in to upcoming isues of The Avengers, as well as a new team Savage Avengers. You can catch up with all our Free Comic Book Day coverage right here.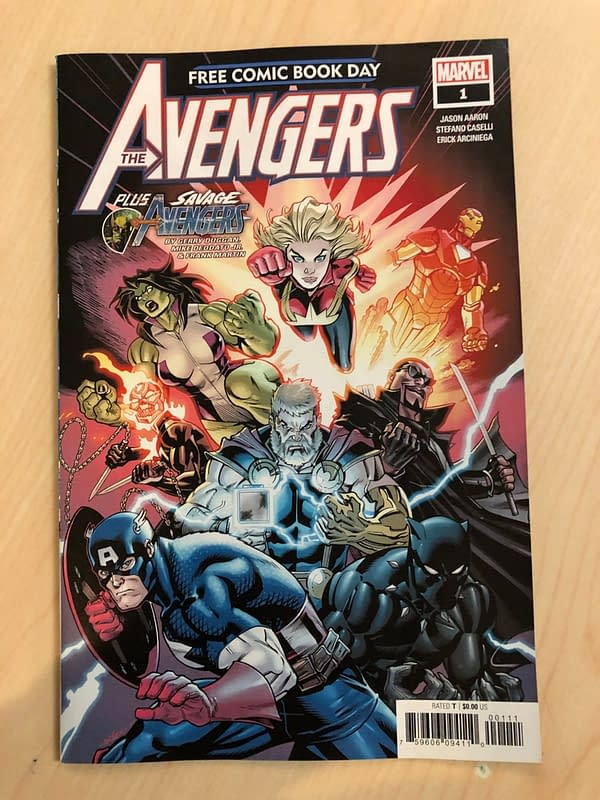 And so the comic gives us plemnty of details of what all the different Avengers teams are up to – pretty much anyone who takes claim to that name. But it also gives us something a littke cosmic. A look at a new space-faring Avengers. Clearly inspired by the looks of the Avengers in Avengers: Endgame, this comic too seems to take them out of their comfort zone and create some new identities in the process. Or brings back some old ones…
So that's a Thor infected and impregnated by a Brood, a Captain Marvel looking more like her cosmic identity of Binary, a normalised She-Hulk and Steve Rogers is… Captain Corsair? Corsair being the title previously held by Major Christopher Summers, Scott Summer's father in the Starjammers team. But here, with Captain America wearing the bandada and having some kind of tech-souped up shield…
And out on May the 4th, a couple of weeks after Avengers: Endgame… the contents of this comic were created at the end of last year, but you get an idea of where the Marvel Comics creative and editorial team thought the movie may be going, at least enough to play off it a little.
FCBD 2019 AVENGERS
Free Comic Book Day 2019 is the perfect chance to dive deep into the Marvel Universe with new stories and exciting adventures alongside some of Marvel's most acclaimed creators – and this year, Marvel is bringing you the biggest and boldest stories yet! FCBD AVENGERS #1 features a story by industry superstars Jason Aaron and Stefano Caselli that sets the stage of the main Avengers series just in time for Marvel's highly anticipated movie Avengers: Endgame, while an all-new thrilling 10-page tale from Gerry Duggan and Mike Deodato creates one of the most unique, dynamic, and deadly versions of the Avengers ever- the Savage Avengers!In Shops on Free Comic Book Day 2019!