It was one of the more controversial comic book events that Marvel have published. Hated by one side for what was seen as glorifying fascism, hated by another for implying that Trump was fascist, I kinda liked it because lots of superhero comic book stories are a little bit fascist whether they acknowledge it or not. And this seemed to acknowledge it. Anyway, maybe it was a case of no one wanting to see or acknowledge how the sausage is made and Secret Empire having it on display. A sausage with a little swastika flag on it.
Anyway, that was a long, long time ago. And Ta Nehisi-Coates is the one following it up at the moment over in Captain America. But Nick Spencer can't entirely let go.
Which is why the Secret Empire history of Black Ant and Taskmaster has to be brought up in today's Amazing Spider-Man #5 when they are going for interview…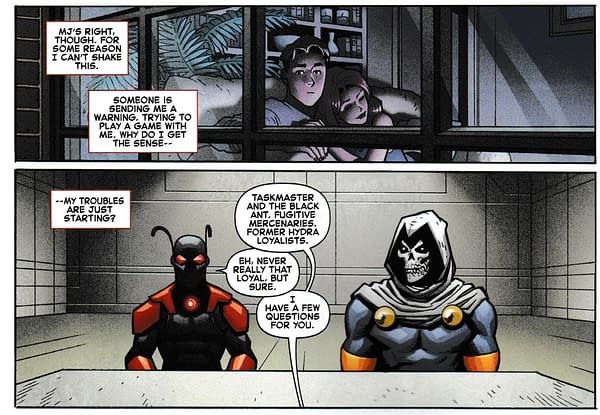 You know, I can see this being the form for certain people in years to come. Maybe Taskmaster could write an anonymous op-ed piece in the New York Times about how Hydra is out of control and they are doing their best to stem the tide from within?
AMAZING SPIDER-MAN #5
(W) Nick Spencer (A/CA) Ryan Ottley
• Things look bad for Peter Parker…
• …but GREAT for Spider-Man!
• The first arc of the epic new run on ASM comes to a climactic finish!
Rated T In Shops: Sep 12, 2018 SRP: $3.99
At least that's one Marvel doppelganger problem that is going away…
Enjoyed this article? Share it!