No One's Looking For A Fight: Torchwood #2.01
[rwp-review-recap id="0"] Let me just tell you this right off the bat. "Station Zero: Part One" throws you into the middle of the action. If you haven't read volume one of the comic series nor the novel The Exodus Code, you'll probably be as lost as I was. If you're a casual Torchwood fan (like I am) you'll easily recognize Gwen and Captain Jack, but the other characters are new to me. Hopefully, if you've done your homework like this comic expects it's readers too, you'll know what's going on. I did a quick Google search on the first comic and the novel, and while I'd like to tell you I'm now an expert on this comic…I'm not.
We open with Jack and Gwen in a standoff with Captain John Hart and a Lady Karina. We can surmise they're probably assholes with Gwen is usually level headed since she is the head of Torchwood. I guess Gwen eventually has enough of this crap, and shoots Hart in the arm. The cast retreats into the house and starts talking about an Iron Flux that can do a good bit of damage to a human. We then cut to The Ice Maiden, Torchwoods ship, where those characters have their own set of problems. They all tie in together, but obviously it'll tale some time for everyone to come together.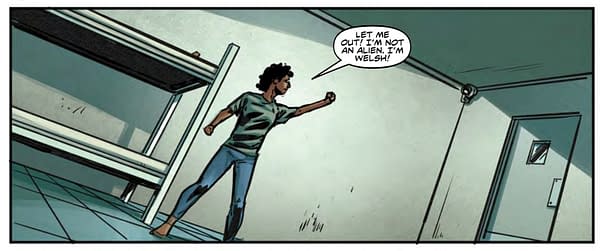 I guess not really being familiar with the previous two books that I mentioned earlier did nothing to help me through this. I stopped reading after a few pages. The story suffers from too much going on with too many characters (below). I know who Gwen and Jack are, but if you only have a base knowledge like me you likely won't get into this comic. It's a shame. This story has potential, but it's relying on core fans to keep up. Sorry to anyone who's new here I guess. On the plus side though, the art by Neil Edwards is great, and all of the covers for each issue are also a real treat. I could reasonably see collecting the photo covers to get signed by the cast of the show, which in this case is only two people. You wouldn't even have to break the bank!
[rwp-review-ratings id="0"]
[rwp-review-form id="0"]