Nostalgia Has Never Been So Fun – Giant Days Vol. 4 Review
Giant Days, the university comedy drama by John Allison, and in this volume featuring art by Max Sarin, Liz Fleming and Whitney Cogar, is quite simply a wonderful series coming out from Boom Box!
Here's why it works: it is wonderfully accessible, and at any time to any one.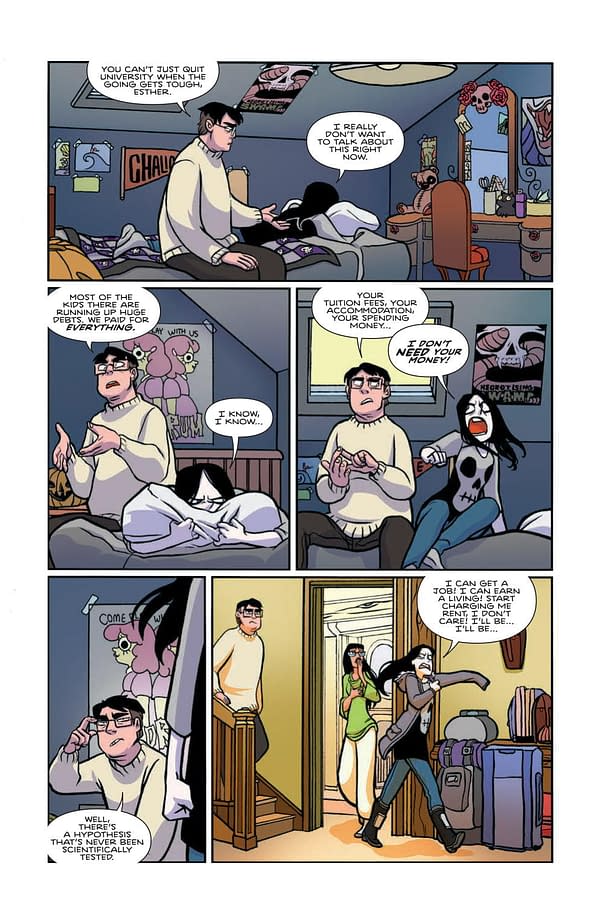 I've had a bit of a gap in my Giant Days reading, but this came up for review, and I jumped at it. But I'm missing at least a volumes worth of events. And yet, I had no trouble getting into this volume. No lengthy preamble was needed, nor really wanted, the story just gets off running, and is so relatable that you pick up exactly who these characters are and what has happened easily.
It works for those who look forward to the heady university days, those currently in university, or those long out of the education experience, and looking for that nostalgic trip down memory lane. Here's the thing: it doesn't seem to matter where you went to university, the comically heightened scenarios presented in Giant Days are so universal, that you can read them and feel like it is exactly how university was for you. Also, the story is not hampered by huge overarching plots. Sure, there's the overarching connection of the location and time of life, and sure relationships too, but otherwise, the stories are all self-contained, one and done vignettes that mean a reader can dip in whenever they like: every issue of Giant Days is a jumping on point.
It's refreshing. Add to this that it is hilarious fun, with fantastically witty banter for days, and characters so fully formed that you feel like you've known them for years, Giant Days makes for a delight to read. In this particular volume, the characters are approaching the last days of their first year in university, and the sense of mad scrabble, chaotic life and uncertain future (but in a funny way, nothing too depressing or crushing here) is palpable. The characters each tackle it in different ways to hilarious effect, and by the end of the volume you are left wanting more.
Add to this wonderful art from Sarin that really fits into the visual style of the series easily and is so wonderfully expressive and fun, it makes reading the volume a joy, as you scan through panels at various background characters, recognising them from your own memories. Giant Days continues to be an incredibly fun series, with a wonderful core friendship relationship and beautifully realised characters and world. Definitely well worth a read.