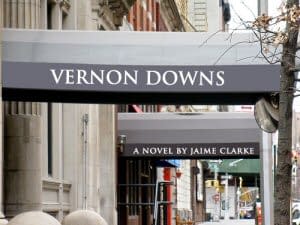 Author Jamie Clarke has his new book Vernon Downs about to come out. He also owns a an independent bookstore and worries about independent publishers. He asks for readers to bypass Amazon and pre-order books directly from the publisher. This isn't a ploy to increase his sales as all of the money made will go to the publisher. And if you put your local bookstore into the order, Roundabout Press will give half of the purchase price to that store.
Clarke seems to really not like the policies of Amazon and is willing to take nothing to keep the money out of the corporations pocket.
Dear Reader,

I hope you'll take a moment to consider this personal plea: If you're even remotely interested in my novel,Vernon Downs, please don't buy it on Amazon. Vernon Downs is being published by Roundabout Press, an independent publisher founded by the novelist Dan Pope. A day I've been dreading is soon upon Roundabout—the moment when they must apply for the barcode for the cover. Once the book acquires a barcode, it enters the publishing bloodstream, which generally triggers an Amazon listing.

As a bookstore owner, I see small presses come and go—they usually publish a book or two and then fold after running out of money. For many small publishers like Roundabout, Amazon accounts for a large portion of sales, but the publisher realizes very little of the purchase price owing to Amazon's discounting policies.

So if the description below makes you want to read the book (or if you're a fan of the famous writer the title character is based on), please don't buy it on Amazon. Or maybe you're not interested in Vernon Downs, but a fan of independent publishing and want to help by purchasing a copy for a friend, or donating it.

You can order Vernon Downs directly from Roundabout here:

http://www.roundaboutpress.com/books/vernon-downs-by-jaime-clarke/

If you want to support your local bookstore, enter their name and address in the Special Instructions field when you check out and Roundabout will donate 50% of the monies (excluding shipping) to that bookstore. You can't yet order Vernon Downs directly from your local bookstore because the distributor that fills those orders would also have to fill orders to Amazon.

In a further effort to thwart Amazon, if you order through Roundabout's website, Roundabout will ship your copy of Vernon Downs in December. Amazon can't start selling the book until next April. My ambition is to have the highest Amazon sales rank possible, the one just after the remaindered barbecue grill no one wants.

I'm also donating any royalties on sales between now and next April to Roundabout. So there's no money in it for me. I simply want Roundabout to succeed.

Thanks for considering it.

Best,

Jaime Clarke
www.jaimeclarke.com
You can go here to learn more about the book and see a video trailer.
Enjoyed this article? Share it!