Earlier today, Bleeding Cool reported that Image Comics had extended the final order cutoff date for Spawn #301, the record-breaking issue which will make Spawn the longest-running creator-owned comic in the world. The reason? Well, despite offering seventeen covers for the issue, Image hadn't yet revealed them all, so in an attempt to give retailers more changes to up those order numbers, they pushed the date back to next Monday and revealed some more of them.
And now, another, the variant by Clayton Crain, featuring Spawn with his foot stuck in a spikey red pipe. Oh, that's his shoe? Blame it on poor logo placement.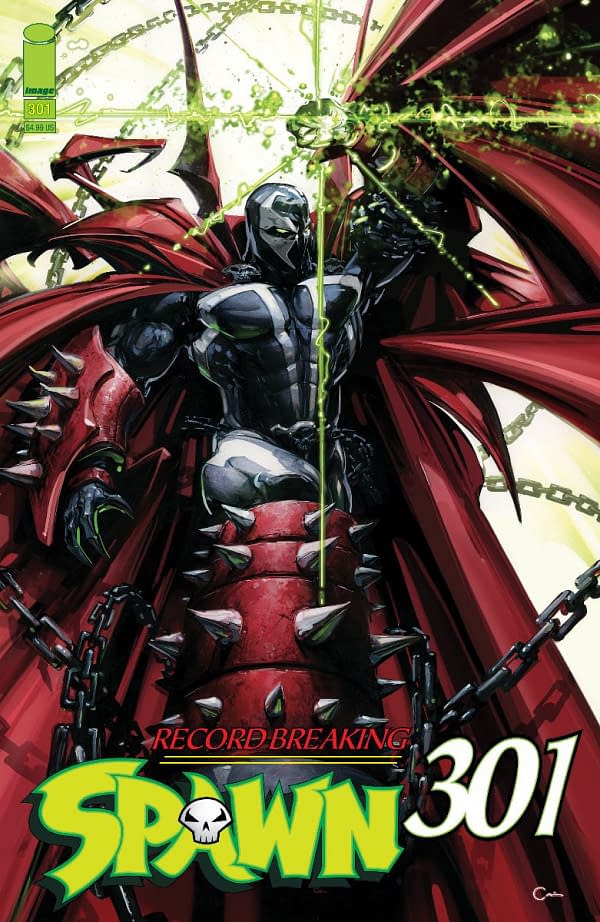 Get your orders in by Monday!
More from the press release:
PORTLAND, Ore. 09/12/2019 — Image Comics is pleased to reveal the Clayton Crain cover for the upcoming record-breaking, history-making SPAWN #301 issue by Todd McFarlane, President at Image Comics and creator of SPAWN.

This record-breaking SPAWN #301 hits stores on Wednesday, October 2.

SPAWN #301 CVR A MCFARLANE – JUL190084
SPAWN #301 CVR B CAPULLO – JUL190085
SPAWN #301 CVR C VIRGIN CAPULLO – JUL190086
SPAWN #301 CVR D ALEXANDER – JUL190087
SPAWN #301 CVR E CRAIN – JUL190088
SPAWN #301 CVR F OPENA – JUL190089
SPAWN #301 CVR G VIRGIN MATTINA – JUL190090
SPAWN #301 CVR H PARODY MCFARLANE – JUL190091
SPAWN #301 CVR I B&W MCFARLANE – JUL190092
SPAWN #301 CVR J 25 COPY INCV VIRGIN MCFARLANE – JUL190093
SPAWN #301 CVR K ROSS – JUL198671
SPAWN #301 CVR L VIRGIN ROSS – JUL198672
SPAWN #301 CVR M SIENKIEWICZ – JUL198673
SPAWN #301 CVR N VIRGIN SIENKIEWICZ – JUL198674
SPAWN #301 CVR O CAMPBELL – JUL198675
SPAWN #301 CVR P VIRGIN CAMPBELL – JUL198676
SPAWN #301 CVR Q BLANK SKETCH CVR – JUL198708
Momentum and frenzied buzz surrounding the classic antihero series continues to build leading into the record-breaking SPAWN #301 when SPAWN becomes the longest running creator-owned comic in the world.

SPAWN is currently being adapted for film—a gritty, R-rated reimagining—which will mark Image President, co-founder and SPAWN creator, Todd McFarlane's film directorial debut. McFarlane, an Emmy/Grammy-winning producer/director is also on board as screenwriter and producer.

SPAWN sold an unprecedented 1.7 million copies at the time it was released and is one of the world's best-selling and longest-running monthly comic books, with hundreds of millions sold worldwide in more than 120 countries, and 15 different languages.

The comic became an Emmy Award-winning animated series on HBO and a New Line Cinema feature film that grossed more than $100 million. McFarlane went on to direct and produce award-winning and critically acclaimed projects for top movie studios and record labels.
Enjoyed this article? Share it!