By Sofia Annunziata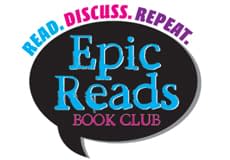 Upon entering what I thought was the Epic Reads Book Club panel, I soon realized that it was not quite what I had expected it to be. I was expecting your average panel where authors speak about their upcoming books and the YA genre as a whole, and maybe if you are lucky, you can aquire a freebie or two. What it actually ended up being, was a room with several round tables set up with assorted piles of books in the center of each. Being that this was first come first serve, i was lucky enough to get a seat at one of the tables, and thus the madness began.
With only nine of each of the books on the table, and more than nine people that jammed their seats trying to get a free signed copy, needless to say things got cut-throat. As authors came around to sign the books and answer questions, the tension alone was palpable. Then came the true horror: personalized signing. There was a hunger games-esque dash for post-its when one of the authors announced that in order for the signing to be personalized, you would have to write your name on one. Those who must have been well versed in the art of such signings, knew to just get a generically signed one, as this would guarantee you a copy. Sadly I was not privy to this and missed out on one of the copies when the books ran out, c'est la vie. Soon enough I was sucked into the ravenous world of YA book signings, and while I would hope that I came across as calm and collected (much unlike the person sitting to my right) I threw caution to the wind and jockeyed for those books like I meant business.
Enjoyed this article? Share it!