Obscure Comics: Spider-Man 3 The Black With Bendis & Bagley
There are comic book series almost every comic fan knows, there are comic book characters that most everyone knows, there are specific comic books most every comic reader knows, and then there are the more obscure issues that slip through the cracks. What makes obscure comics so interesting and vital is discovering those books that most don't know were ever printed, or that top tier creators worked on "that book" or on "that character." Obscure comic books are fun to find, interesting to know about, but that border between being great reads and terrible comics.
The Spider-Man Trilogy, Has Lots of Comics Associated With It
Following the trend of Marvel movies that are the "third" movie, released by movie studios that aren't MCU/Disney, that had a package in comics (Blade Trinity and X-Men The Last Stand being the other two), Spider-Man 3: The Black was part of an exclusive Walmart DVD collector's edition of Spider-Man 3 Widescreen (remember it was 2007) with a hologram sleeve that packaged the square-bound 52-page digest next to the DVD.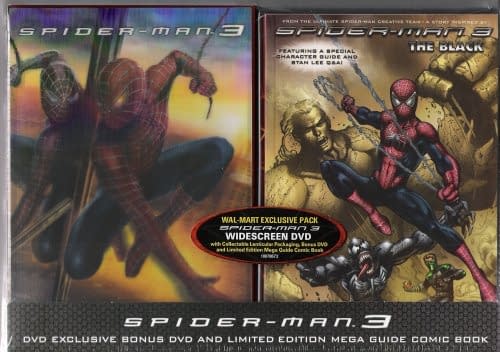 (Not to be confused with the other Walmart exclusive DVD package that came with micro reprints of 3 Spider-Man comics. There were so many Spider-Man 3 collector editions.)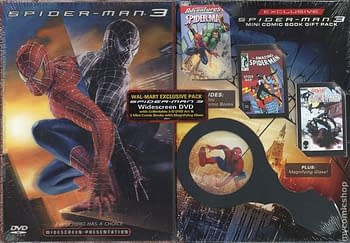 Now the Spider-Man Sony Trilogy had a consistent presence in comics with both Spider-Man (the last comic Stan Lee worked on with Marvel before the X-Men: The Unlikely Saga Of Xavier, Magneto and Stan in 2006) and Spider-Man 2 both receiving comic book adaptations.
However, Spider-Man 3 did not receive a comic book adaptation. Instead, it did get a prequel comic that was distributed exclusively at Target, and the Walmart exclusive comic Spider-Man 3: The Black.
Obscure Comics: Spider-Man 3 The Black
Spider-Man 3 The Black was a brand new story set during Spider-Man 3, focusing on the symbiote taking over Eddie Brock as they join to become the original movie version of Venom. It was created by Brian Michael Bendis and Mark Bagley, the team behind the first 111 issues of Ultimate Spider-Man.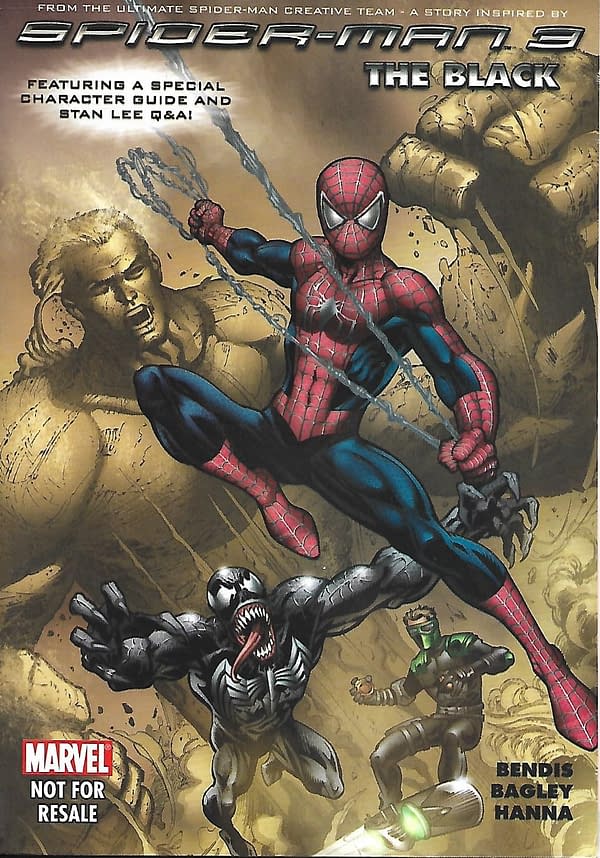 At this point in time, October/November 2007, Bagley had just left Ultimate Spider-Man with issue #111, so reuniting with Bendis on this movie tie-in comic was quite a treat.
In particular, for those who remember the movie, and those who want to forget it, Bendis and Bagley give us a genuinely good story that fits in the film perfectly. In particular, focus on one piece of dialogue, Peter Parker told Eddie Brock, "If you want forgiveness, find religion," that really gives more explicit motivation for Eddie to hate Peter Parker/Spider-Man.
Bendis gives Bagley's art a real chance to shine, and Bagley makes the Venom suit here reflect the Spider-Man movie suit in great detail. Plus, the Eddie Brock interior monologue gives Bendis the chance to really make the symbiote's bonding with Eddie more tragic and terrifying.
Referring to the symbiote as "the Black," the comic actually works incredibly well, almost making one want to re-watch Spider-Man 3, hoping it will be as good as the comic it spawned.
22 Page Story, 30 Pages of Extras
In addition to the new story, Marvel throws in 30 pages Marvel Handbook entries so that readers could understand what the comic book counterparts of the movie characters were like at this time. In the current day, it is a nostalgic look back, but a detailed one.
The best extra is a one-page interview on the back cover, as seen below, with Stan Lee.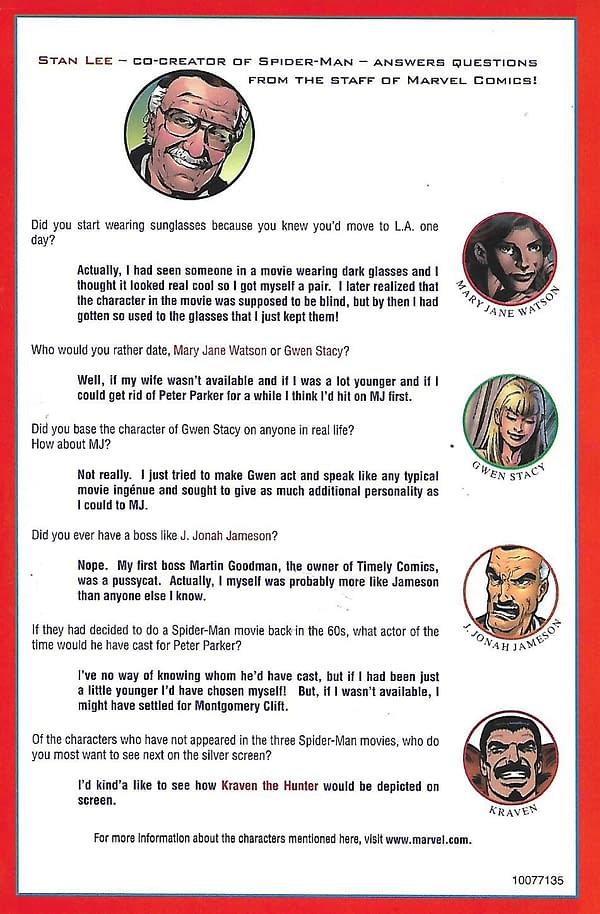 Obscure, but Online
Now the original format for this story was in the 96-page digest, issued initially in 2007 and only at Walmart. However, Marvel does have it online still with Marvel Unlimited, and it can be found in other places online as well. It has never had a physical reprint, but it can be found on eBay, Amazon, or MyComicShop.com, ranging from $5 to $20.