Just as we told you that you need to read Thor #15 before The War Of The Realms: Omega #1 today, so if you are reading all the Year Of The Villain: The Offer issues then you may not just want to save the Justice League Odyssey one until last, but maybe till the end of the month. Just a thought.
So, almost all of these titles see Luther's drones whizzing around, often with the first panel having a drone 'looking' right at camera hovering above an urban landscape. And the second, a hologram of Luthor, with his new Apex Lex look, making an offer to an individual, mostly villains, but not all. Ohh and frustratingly, just as last week, not a single detail f that offer, let alone the answer given. And Harley Quinn's prediction ringing true…
Batman & The Outsiders #3 has Luthor approach Ra's Al Ghul. Maybe detracting him from his Lazarus pits being used over in Batman #74…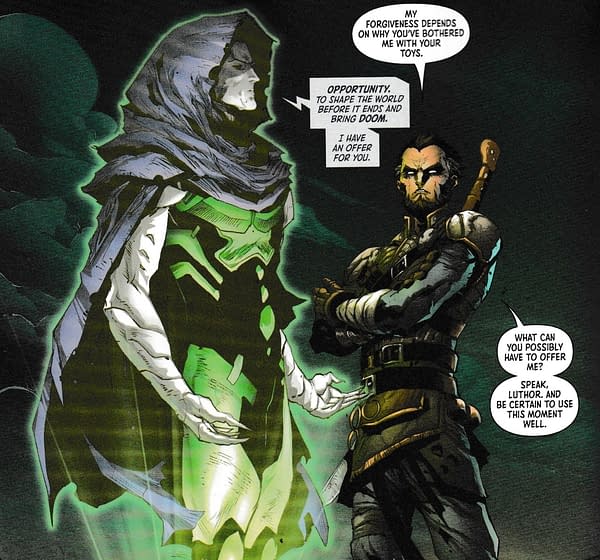 Catwoman #13 sees Lex Luthor do the same with Catwoman, trying to get her to go back to her old ways…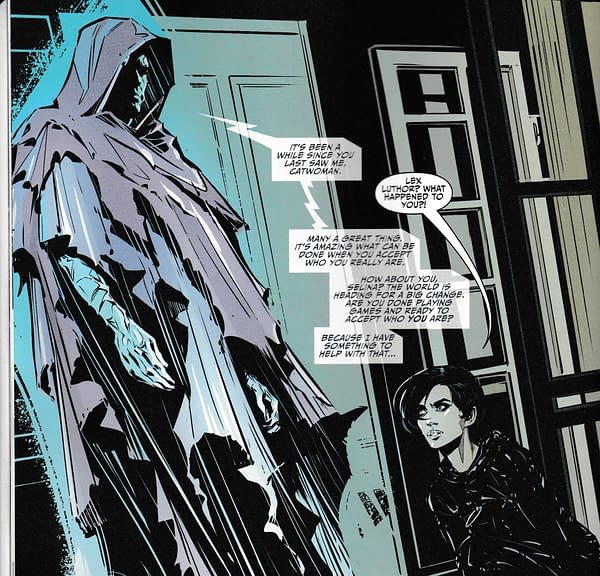 Superman #13 also doesn't go for the more traditional villain, but she is the most dangerous woman in the DC Universe. And it's not so much an offer as it is… a box.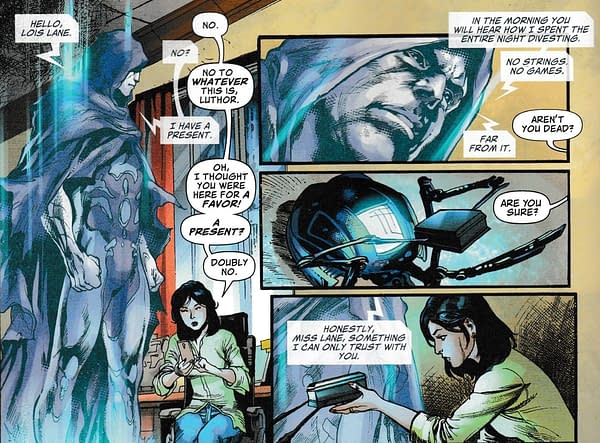 Supergirl #32 goes more along the traditional line, if not a traditional look, approaching Brainiac-1, the 'one true Brainiac'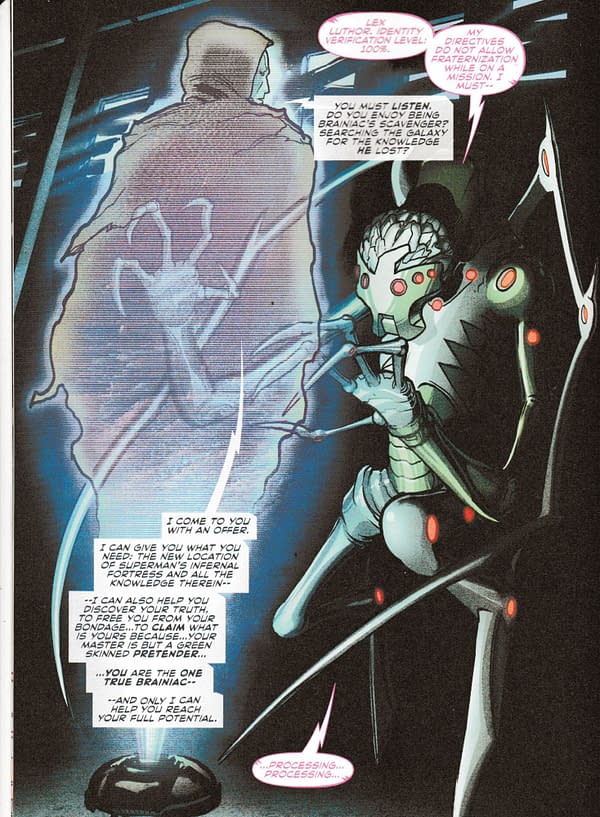 In Hawkman #14, Carl Sands, Shadowthief, gets an actual offer from Luthor… and accepts.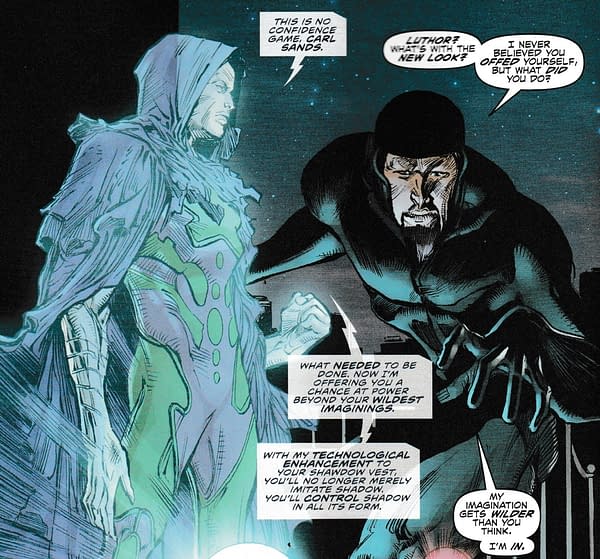 While over in Red Hood: The Outlaw #36, it's Red Hood himself to whom Luthor speaks. And it seems he is offering a tutorial role.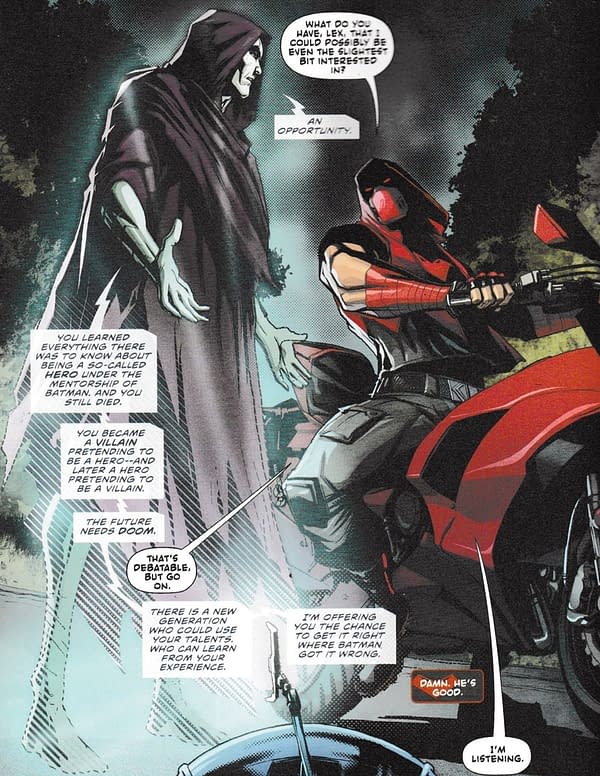 A quick divergence then to Event Leviathan #2, also out today…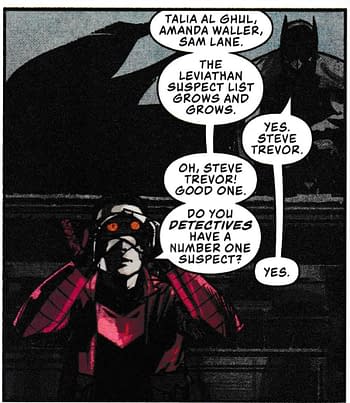 …where Damian's theory that the Red Hood is Leviathan get aired.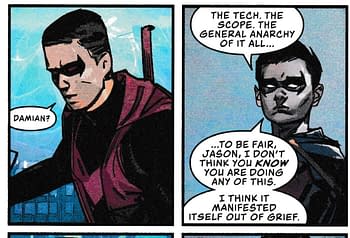 Even Plastic Man is joining in, pointing the very long, very wiggly finger.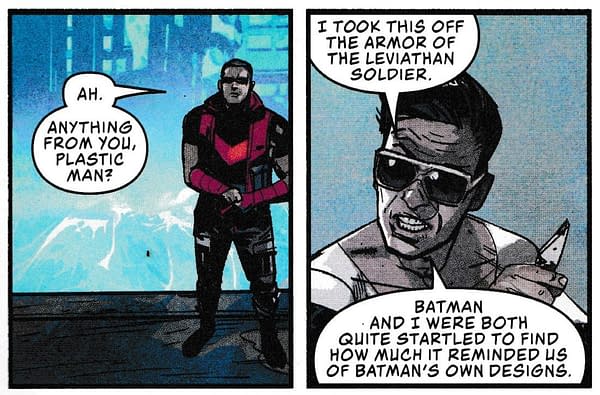 It's nonsense of course. Bleeding Cool has pointed you to a Sherlock episode to get a clue for who really is behind this new threat. come back in four months and check… still, if everyone thinks he's Leviathan, why bother with Luthor?
And, oh yes, that Justice League Odyssey tie-in. Rather than give a two-page ending, we get a two-page beginning, set after all those offers have been made. With Brainiac listening in.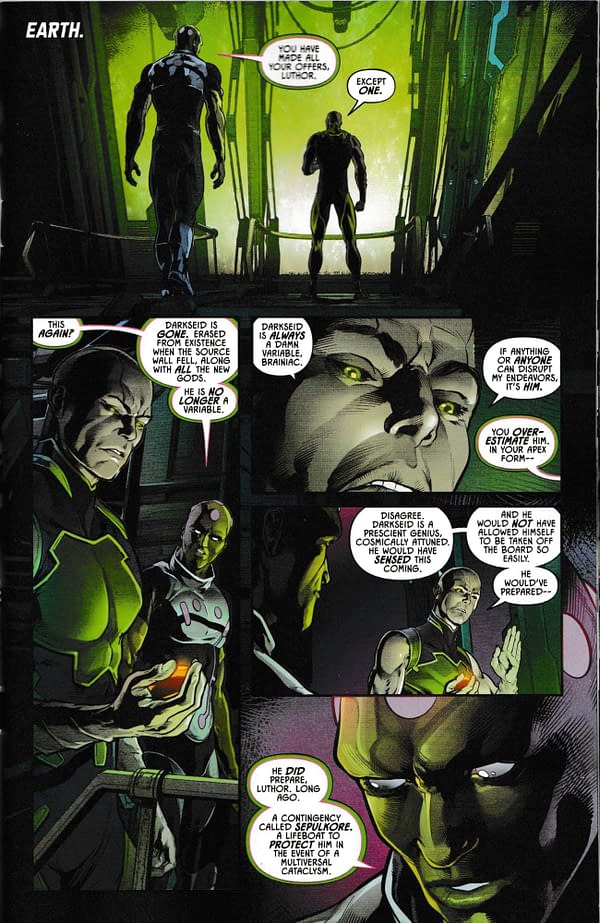 So no offer to Darkseid – but hey, didn't Brainiac hear the offer being made to Brainiac-1? About making him the one true Brainiac? Awkward much? Oh and all the offers still to be made for the rest of the month set before…
BATMAN AND THE OUTSIDERS #3 YOTV THE OFFER
(W) Bryan Hill (A/CA) Dexter Soy
In their first encounter with the powerful maniac who's pursuing runaway meta-human Sofia Barrera, Black Lightning and the Outsiders were absolutely humbled. Does everyone on this team have what it takes? Or did Batman make a catastrophic mistake when he entrusted them with Sofia's life? Plus, ousted from power and stripped of wealth, Ra's al Ghul is a broken man. But Lex Luthor has a plan for how the Outsiders could be Ra's' new League of Assassins!In Shops: Jul 10, 2019
SRP: $3.99
CATWOMAN #13 YOTV THE OFFER
(W) Joelle Jones (A) Fernando Blanco (A/CA) Joelle Jones
Things have come to a head for Selina Kyle in Villa Hermosa. Between taking care of her sister and contending with all the crooks who cross her path looking to give her some bad luck, it's enough to make a Catwoman go bad herself. So maybe she will? "Come now, Selina. Still playing the hero? Stop pretending you're something you're not." It's Lex Luthor's words versus Catwoman's will in this chapter of "The Offer"!In Shops: Jul 10, 2019
SRP: $3.99
HAWKMAN #14 YOTV THE OFFER
(W) Robert Venditti (A) Pat Olliffe, Tom Palmer (CA) Roger Robinson
Carl Sands returns as the new, improved Shadow Thief! Newly upgraded by Lex Luthor, he's now the undisputed master of shadows. Meanwhile, Hawkman continues to be haunted by horrific memories of his past lives. Could Shadow Thief be the cause of his nightmares? Or is it something more sinister?In Shops: Jul 10, 2019
SRP: $3.99
JUSTICE LEAGUE ODYSSEY #11 YOTV THE OFFER
(W) Dan Abnett (A) Will Conrad (CA) Carlos D'Anda
With the fate of the Ghost Sector and the trillions of lives it contains at stake, Darkseid begins the cosmic process to activate Sepulkore and restore himself to his previous immeasurable power. Can the Justice League crew stop him…or-unthinkably-must they actually help him?In Shops: Jul 10, 2019
SRP: $3.99
SUPERGIRL #32 YOTV THE OFFER
(W) Marc Andreyko (A) Sean Parsons (A/CA) Kevin Maguire
The conclusion to the SUPERMAN/SUPERGIRL team-up is here! As the House of El is united, Superman, Supergirl, Superboy and Jor-El struggle to defeat the seemingly unstoppable Rogol Zaar, who is now teamed up with General Zod, Jax-Ur and even Gandelo! New alliances are forged and betrayed, and Kara must fight battles on two fronts: alongside her cousins and inside herself, as she faces her own rage and the corrupting influence of Zaar's axe! If she survives it all, who will be the Supergirl who emerges on the other side? Join us on the epic finale to Supergirl's space-opera adventure! Also, if Brainiac is in the Hall of Doom, why is Lex Luthor upgrading an old Brainiac drone body? And why is the drone calling itself the true Brainiac?In Shops: Jul 10, 2019
SRP: $3.99
SUPERMAN #13 YOTV THE OFFER
(W) Brian Michael Bendis (A/CA) Joe Prado, Ivan Reis
Superman, intergalactic hero! A major chapter in the galaxy-spanning "Unity Saga" begins as Superman reluctantly takes the lead in a quest for peace bigger than he has ever tried before. It's Superman, Superboy, Supergirl and a cast of thousands in a fight to keep the universe intact. But it's this issue's final page that will have fans everywhere talking. It's a moment almost a thousand years in the making… Deadly plans, murderous schemes and evil dealings. Each of Lex Luthor's offers means doom for the heroes. So why is Lex now talking to Lois Lane?In Shops: Jul 10, 2019
SRP: $3.99
RED HOOD OUTLAW #36 YOTV THE OFFER
(W) Scott Lobdell (A) Pete Woods (CA) Dan Panosian
There's no way to plan for every contingency…even for a son of the Bat like Jason Todd. His goal was to take down the Penguin and assume his role as the prince of Gotham, but the best laid plans go awry when Oswald Cobblepot gets the last laugh-and the last bullet! And not even the Red Hood and his posse can stop him. (How could they with the Iceberg Lounge under siege and Bunker, Wingman and the Sisters Su too busy to help Jason deal with a Penguin ascendant?) Don't miss the startling conclusion to "Prince of Gotham!" What can Lex Luthor offer former sidekick Jason Todd? Sidekicks… broken, battered and catastrophically dangerous sidekicks. The Teen Titans they're not!In Shops: Jul 10, 2019
SRP: $3.99
EVENT LEVIATHAN #2 (OF 6)
(W) Brian Michael Bendis (A/CA) Alex Maleev
"The Detectives"! EVENT LEVIATHAN, the new miniseries by the award-winning team of writer Brian Michael Bendis and artist Alex Maleev, continues! As the mystery of Leviathan continues to rock the very foundations of the DC Universe, the world's greatest detectives gather for the first time anywhere to solve the mystery before it's too late! Lois Lane leads Batman, Green Arrow, Plastic Man, Manhunter, the Question and a couple of genuine guest sleuths in the search for who Leviathan is and how their plans have already unfolded. This issue also guest-stars Red Hood, Batgirl and more!In Shops: Jul 10, 2019
SRP: $3.99
Enjoyed this article? Share it!