Halloween is my favorite time of the year. The darkness, the spookiness, and oh, the horror! I've always been fascinated by themes of the unknown creeping in and terrifying us, or the repressed finally erupting into chaos. One thing growing up that I always wanted, though, was to see more characters of color as the main characters and not as the "other" where our background were the source of horror or we were relegated to the sidekick best friend who most likely died. And I'm sure other marginalized groups feel the same in terms of how we're represented and I'm always down for some subtext and social commentary if provided, horror serving as a great backdrop for such stories. So for this feature in the days counting down to Halloween, I wanted to showcase some independent works featuring leads of color, women, LGBTQ+, disabled, especially if created by creators of the like. So without further ado…
Oh, the Indie Horror! Day 5: InferNoct by Mina Elwell & El Peso Hero by Hector Rodriguez
Mina Elwell is the writer of the comic book series InferNoct and Hellicious. If it were possible to make a career out of sitting in a small room, drawing story diagrams on a whiteboard while having more caffeine than is necessarily safe for someone of her height and weight, Mina might do that instead. Since that isn't an option, she writes disturbing, amusing, and bizarre scripts for comics and TV.
Mina wrote and co-created the horror comic book series InferNoct with artist Eli Powell, Hellicious, a family comedy set in Hell, with A.C. Medina and Kit Wallis, and is currently working on a horror game called The Haunted Box.
GREG ANDERSON ELYSÉE: Can you give us a synopsis of what your book is about?
MINA ELWELL: InferNoct is about a girl named Sam who sets out to become a dangerously untrained homecare nurse and instead becomes a dangerously untrained monster hunter.
It's a four issue series. At the beginning, Sam is just trying to figure out why the old man that she's taking care of won't talk and why he always leaves the lights in his ramshackle house on. By the end, she's trying to hunt down a strange creature that has corrupted the landscape, her friends, and her own mind.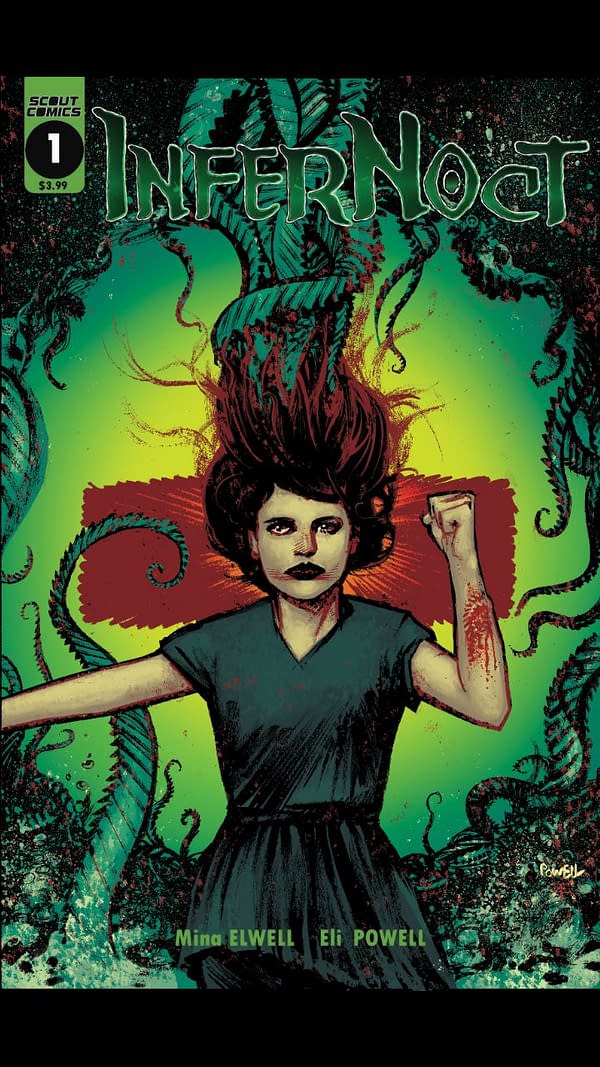 ANDERSON ELYSÉE: What were the inspirations to this story?

ELWELL: One of the first things I do when I'm coming up with a new story is write up a long list of things that spark something for me. The list for InferNoct had visual things like Patricia Piccinini statues and hagfish and specific concepts like "Your hometown best friend," "depression is contagious," or "crime scene cleaners."
Something I definitely had on that list was The Crying of Lot 49 by Pynchon. The protagonist in The Crying of Lot 49 appears to be discovering the truth about secret societies, but it's also possible that the clues are created by her own paranoia. I was looking to write an entirely different genre of story, but I was interested in the idea of how much reality matters. If the character learns something or becomes something else on their journey does it matter how many of the steps were real?
ANDERSON ELYSÉE: What's the process like for an untrained nurse to become a monster hunter? What are the trials that she goes through and how does she come to terms with something like that?
ELWELL: It's not a career move I'd recommend!
Sam is starting up her new home care nurse job to try to turn her life around after making some mistakes and not being the person she wanted to be in high school. Now it's like she's stepping out of her own world for the first time and discovering that her community has been corrupted while she wasn't paying attention. Sam is recruited to hunt down these creatures that are plaguing the town essentially because she's the person who is physically there. It's one of those "somebody has to do it" situations.
ANDERSON ELYSÉE: Ha! I got ya. Can you tell us a little about the creature(s) she encounters in the book?
ELWELL: They feed on a particular person and drain them of what makes them who they are (call it essence, sanity, energy, whatever you want.) We wanted the way the creatures looked to be personalized to that character's fears.
I'd send Eli these collections of vaguely unsettling images and he created genuinely disturbing monsters.
ANDERSON ELYSÉE: Do you have plans for a follow-up or is this a one and done? If more, where would you like to go with Sam?
ELWELL: I really like where Sam's story ends. Eli and I enjoy working in the InferNoct world and there's a couple minor characters that we always felt like had more story. I'd work with Eli on anything, though.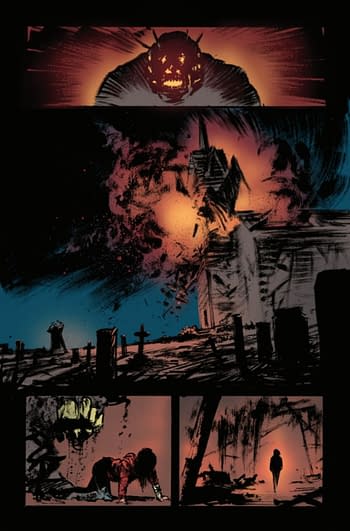 ANDERSON ELYSÉE: In time for Halloween season, what other horror series or popular stories/movies can you compare it to or which category of horror fans will feel right at home in checking out this book?
ELWELL: InferNoct is really an American love letter to folk horror. I love Witchfinder General and the original 1973 The Wicker Man. The way they show the British countryside, in the day, as a terrifying place is brilliant. I wanted to depict the strange, decaying, desolate places in America that I know like that. I took a lot of pictures in abandoned buildings for InferNoct, but Eli Powell really brought those bleak settings to life and made the environment itself feel malevolent. Every page is covered in hidden messages, in everything, down to the grass. There are things even I haven't found yet.
InferNoct gets called cosmic horror more than anything – especially the "Trauma Reports," which are prose stories at the end of each issue (and at the back of the trade.) There's existential dread, lots of creatures, and some have tentacles, so there's definitely things for fans of Lovecraft's writing to enjoy. Personally, I'd rather call it Ligottian than Lovecraftian – I read Songs of a Dead Dreamer for the first time while I was working on the series.
ANDERSON ELYSÉE: Where can people find this story if they're interested in reading and purchasing?
ELWELL: It's always available from the Scout Comics website! It may also be in stock at your local comic shop. If you're looking for a signed one, I still have a couple comps and I'm pretty good about checking my messages on Facebook and Twitter.
________________
Hector Rodriguez is the creator of El Peso Hero and co-founder of Texas Latino Comic Con. El Peso Hero is a comic book heavily influenced by the modern-day challenges people from both sides of the U.S.-Mexico border face. The main story is centered on El Peso Hero, a rogue hero who is standing up against Mexico's cartels, corrupt officials, and human traffickers. El Peso Hero has been one the most internationally talked about Latino superhero in decades. With modern social issues such immigration, human trafficking, and institutional corruption, El Peso Hero have garnered attention and praise from the Latino community and been featured on American Way Magazine, Univision, CNN, Telemundo, NPR, CBS, NBC and countless of other media sites worldwide.
GREG ANDERSON ELYSÉE: Can you give us a synopsis of what your book is about?
HECTOR RODRIGUEZ: In El Peso Hero: Frontera de Terror, Rio Bravo Comics is introducing two horror stories based on myths, folklore and legend from the Southwest in honor of Dia de los Muertos. Starting with "El Peso Hero vs La Lechuza," in Texas' Rio Grande Valley, there's a well-known tale of a witch who transforms into a giant owl, La Lechuza. As the story goes, an old woman shape-shifts La Lechuza to take revenge on people who wronged her during her life. Sometimes the owl is variously depicted as black or white and sometimes with the head of the old woman. She lures her targets, often children or drunk people, out of houses by crying like a baby or by swooping down on cars late at night. In El Peso Hero vs La Lechuza, while patrolling the border wall, two border patrol agents come across a distress call from a nearby border militia outpost, only to become unwilling victims of La Lechuza's wrath.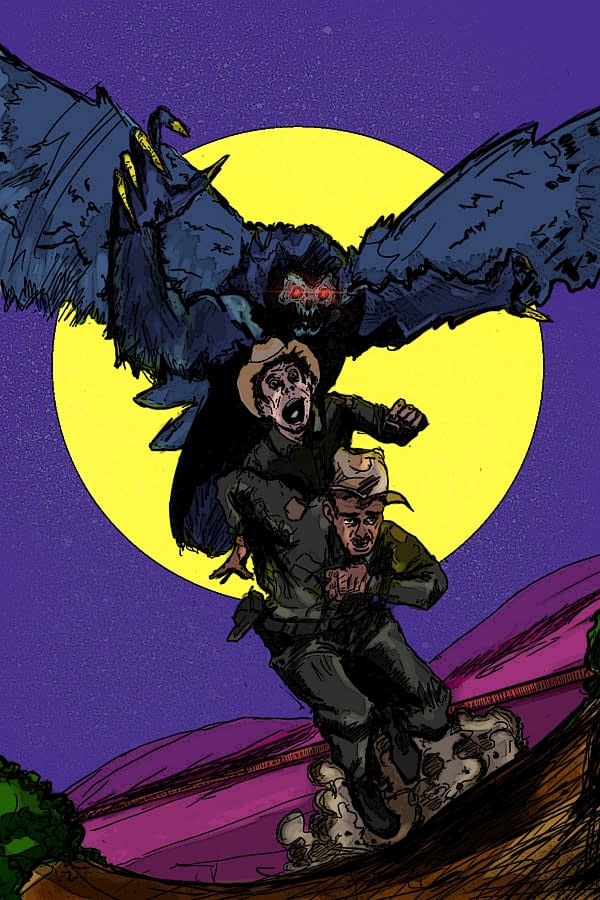 The new book also features an amazing cross-cultural border story written by my good friend and co-founder of Texas Latino Comic Con, David Doub. The Woman of Da Nang features a mysterious creature from a forgotten war that has now been weaponized to kill El Peso Hero. Being a fair and devout man, El Peso Hero has to overcome a fight from beyond the veil. [This story] features extraordinary pencils and inks from Vincenzo Sansone and vibrant colors from Randell Coffman.
And finally, El Peso Hero: Frontera de Terror is truly a collaborative book with a special cover created by Godzilla IDW and horror artist extraordinaire, Jeff Zornow!
ANDERSON ELYSÉE: Wow! You guys have a lot going on with this hero. But who is El Peso Hero and what is his backstory and background?
RODRIGUEZ: El Peso Hero is the Defender of immigrants, hero to the disenfranchised, growing vexation for the Mexican cartels, corrupt officials and human traffickers, making waves along the border. As a young boy, El Peso Hero assumes his powers of super strength and unbreakable skin by accident and reluctantly enters the role of hero for the unseen and unheard. Through the unintentional influences of his family and community, El Peso Hero becomes aware of the need for a local hero. Crime waves are sweeping the city, cartels have lay of the land, and El Catrin, the local cartel boss, holds the puppet strings to the local government officials. El Peso Hero steps out to defend the powerless, [which is] influenced by the modern day realities of those living on both sides of the U.S.-Mexican border; the results of which are often destructive and deadly.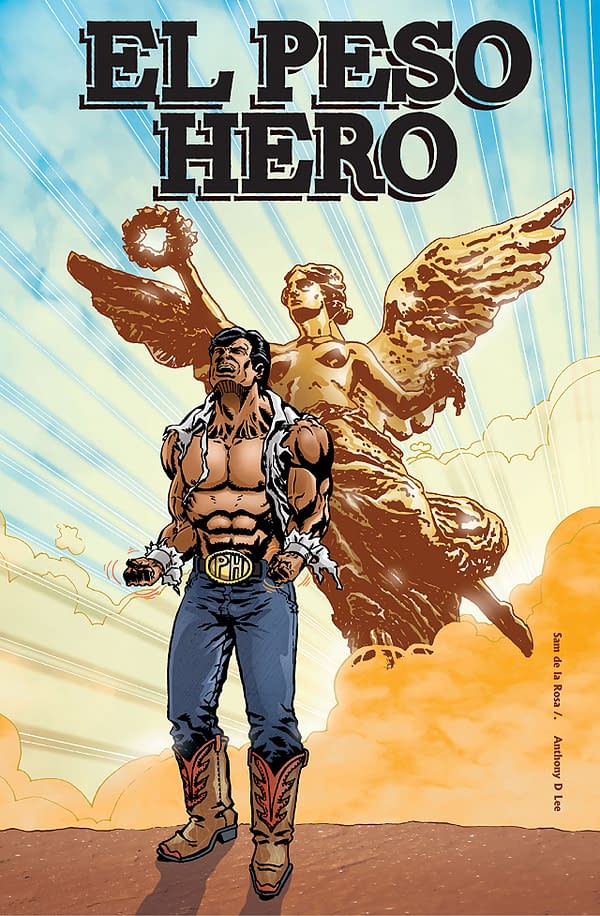 ANDERSON ELYSÉE: What inspired these stories?
RODRIGUEZ: The story of El Peso Hero began earlier. When I was young, my father who was in the military introduced me to comic books. He was an avid follower of Kaliman, Chanoc, Mad Magazine, Sgt. Rock, and Captain America. I grew up on the border in a small town of Eagle Pass, Texas. Comic book stores were hard to come by so I resorted to watching Santo el enmascarado de plata, Mario Almada and Capulina movies for greater than life heroes. Watching novelas with my mother also has given me a great sense of character and story at a young age.
It wasn't until I was 8 years old and we move to central Texas where I had access to comic books stores and started becoming an avid consumer of them. I was always interested in drawing and I began to draw my own stories, preferably horror stories. I liked Batman, Superman, and all the Marvel superheroes but I wasn't really interested in following their exploits. Culturally they didn't connect to me. Have you ever seen Batman eat empanadas de calabaza?
ANDERSON ELYSÉE: I can't say I have!
RODRIGUEZ: It wasn't until 2003 that I wrote the story draft of El Peso Hero. While I was visiting my grandparents, my grandfather told me a rumor of a renegade group of Mexican commandos creating a criminal organization. I began to imagine a local super hero of Mexican descent fighting the group. I wanted to create the name using Spanglish. Spanglish is used a lot in the border culture. I gave him a belt buckle with the initials PH and cowboy boots to represent the norteño culture. I wanted the hero to be unique and embody the border culture and combat its problems.
In the summer of 2011 with the increasing rise of webcomics, I decided to start drawing and creating El Peso Hero. The independent webcomic format gave me the liberty and the flexibility to share the story. I knew my gritty loose artistic style were not mainstream appropriate hence my plan was not to court any major comic book publisher. I really enjoyed gritty stories and my goal was to portray the border feel into the comic.
ANDERSON ELYSÉE: Which cultures are you guys drawing from exactly?
RODRIGUEZ: With Frontera de Terror we are drawing Northern Mexican horror lore. The original Southwest's creepypasta. With the Woman of Da Nang, we infuse Viatmase folklore into the border world, which is interesting because the border has been home for some Vietnamese, Japanese, and Chinese families for generations.
Some of the research naturally involves our own background, knowledge, and love for the fusion of genre. We draw from our own personal works and research for this fusion of border lore.
ANDERSON ELYSÉE: You mentioned the Woman of Da Nang a few times. Tell us about that particular story?
RODRIGUEZ: This is from the writer, David Doub, "So just like I was out of my element, I decided to get El Peso a bit out of his element but still play with themes that are universal. I knew Hector was big into Asian culture like I was [like] anime, Kaiju, manga, so I decided to draw on that but make it more obscure. That's why I picked a legend from Vietnam. I also picked Vietnam and it's people because that country has had a toxic relationship with the U.S. which is sadly something relatable to the stories in El Peso Hero. I hope the layered messages in the ending of the story come across well. Hector has been great on drawing on Latino and Native myths and legends and I was afraid I wouldn't be able to do El Peso Hero Justice."
ANDERSON ELYSÉE: What about Frontera de Terror? You said it's a collective? Tell me more about this one!
RODRIGUEZ: It definitely is. It is important for the world of El Peso Hero to be creatively broadened. Bringing different creatives brings great perspectives. The plan is to have special guest creators take part of the horror border lore in El Peso Hero.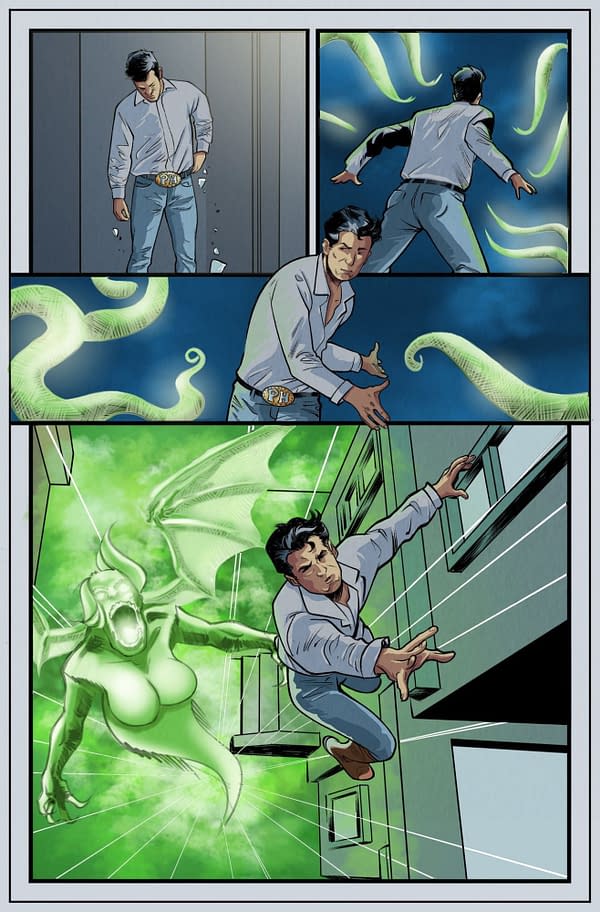 ANDERSON ELYSÉE: In time for Halloween season, what other horror series or popular stories/movies can you compare it to or which category of horror fans will feel right at home in checking out this book?
RODRIGUEZ: Definitely the Vault of Horror and some Junji Ito for good measure. I'm planning to make Frontera de Terror (Border of Terror) a yearly Dia de los Muertos/Halloween special event in the world of El Peso Hero.
ANDERSON ELYSÉE: Where can people purchase El Peso Hero books ?
RODRIGUEZ: They can be found through Riobravocomics.com and through ComiXology.
---
Day 1: Diary of the Mad, Black Werewolf by Micheline Hess
Day 2: Home by Kalani Caraballo & Crescent City by Newton Lilavois Monsters
Day 3: WitchDoctor by Kenjji Jumanne-Marshall
Day 4: Boston Metaphysical Society by Madeleine Holly-Rosing & Nightmare Cafe by Chris Johnson
Enjoyed this article? Share it!