Halloween is my favorite time of the year. The darkness, the spookiness, and oh, the horror! I've always been fascinated by themes of the unknown creeping in and terrifying us, or the repressed finally erupting into chaos. One thing growing up that I always wanted, though, was to see more characters of color as the main characters and not as the "other" where our background were the source of horror or we were relegated to the sidekick best friend who most likely died. And I'm sure other marginalized groups feel the same in terms of how we're represented and I'm always down for some subtext and social commentary if provided, horror serving as a great backdrop for such stories. So for this feature in the days counting down to Halloween, I wanted to showcase some independent works featuring leads of color, women, LGBTQ+, disabled, especially if created by creators of the like. So without further ado…
---
Oh, the Indie Horror! Day 6: Sin Eaters: Devotion Books by Kai Leakes & Man of Sin by Andrew Guilde
Author Kai Leakes was an imaginative child. Writing didn't seem her path, but with the goal of sharing tales that entertain and add color to a gray literary world has become a part of her DNA. She resides in her hometown St. Louis, MO. Her passion for romance with a touch of darkness and vampires led to her popular series, Sin Eaters Devotion Books and companion novella with additional stories. Leakes was featured in the HWA award-nominated horror anthology Sycorax's Daughters, and sci-fi anthology The City. Hopelessly romantic, Leakes is releasing Love, Trust & Pleasure: A Brothers of Kemet Series.
GREG ANDERSON ELYSÉE: So unlike the other creators I've showcased for this feature who are comic book creators, you're presenting a novel! Can you tell us about Sin Eaters: Devotion?

KAI LEAKES: Khamun Cross has been assigned an objective that will change his life: to protect Sanna Steele from the dark forces that desire to steal her soul. Khamun is a member of a secret society of Guardian Angels whose battle against the Cursed has been raging for centuries. The Cursed roam the earth to harvest souls for the Dark army, while the Guardian Angels desire to protect the Light. Khamun has been commissioned to watch over Sanna, but in doing so, he also satisfies his secret cravings for the sins of the Cursed. Like a vampire, he feeds off of his enemies. What was now tainted is purified by his touch, and he returns them to The Light.
Unbeknownst to Sanna, she is the key to the war, and the Cursed are desperate to have her at all costs. They hunt her, as well as her family and friends, relentlessly.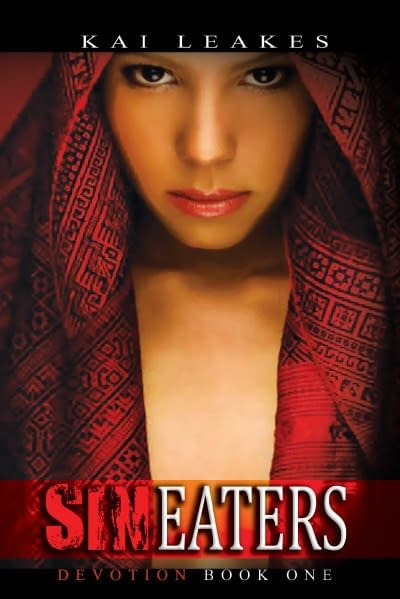 ANDERSON ELYSÉE: What inspired you to write this story?
LEAKES: I grew up being a bibliophile who adored everything fantasy, romance, and eventually horror, due to my obsession with vampires. This story was a long process towards writing that changed my life. Growing up reading, I never saw young Black love in stories (rarely saw it in the adult romance books that I was allowed to read in my library). Never saw Black girls desired, fawned over, fought for or fought with against a common threat (some of these things I would never see until my 20's and mind you I'm a 80's baby). I never saw Black vampires (until Blade and Kendra in Buffy. But by then I was in my mid to late teens). It wasn't until I was suggested to read L.A. Banks that I finally got to see what I craved, my Black culture in horror/pararomance and as vampires/vampire hunters. So, eventually, my goal to see myself in the stories I enjoyed, which included romance, led to Sin Eaters. I literally had a dream about it. The intro to SE is the visual breakdown of what I saw in my dreams, how I was introduced to my dark world and it's many characters.
ANDERSON ELYSÉE: Can you tell us a bit about the world-building? Because there seems to be a pretty thought out story with a lot of mythology crafted into the story.
LEAKES: My world-building came from my dreams and education. Once I started to write it out, I knew that I wanted to base the story in my hometown of St. Louis, Missouri. At the time I also was living in Chicago, so I knew that I wanted to blend the two. Essentially showing what it's like for Black Midwest folk, who move back and forth between St. Louis and Chicago. Other influences came to play, such as the stress I was going through at the time/my annoyance with not seeing Black speculative stories (especially L.A. Banks) being represented in media. My other influences such as my love for education in history, mythology/fables, then my lovely nerdy love for movies, TV, music, cartoons, and books pushed me forward to finally write this story.
I grew up in a family that loved educating its younger generation. So I absorbed everything from learning my familial Black lineage from the area my grandmother and family grew up within, to what I learned from the southern roots that still lingered in the Alton, Illinois area via my elders (some family, some not). Sin Eaters shares a bit of that world. It fuses Black city urbanite culture, to the Black Riverbend culture in the area.
Listen, my background is quite interesting, but ultimately it's also simple. Sin Eaters world came about because I was obsessed with vampires, witches, all things X-men, mermaids and more. As a black girl child back in the day, I used to want to be those super-powered/natural beings, so as an adult to honor my younger self, I created a gritty-world that felt full of life, a life I could see myself and my friends experiencing even as an adult. A lot of the drama in SE reflects our current climate as well. I could go on for days about the influences.
ANDERSON ELYSÉE: In time for Halloween season, what other horror series or popular stories/movies can you compare it to or which category of horror fans will feel right at home in checking out this book?
LEAKES: I'd say that Sin Eaters fits in the gritty Blacktastic cinematic world of Marvel's Blade 1-2 as well as a mashup of the movie Legion, Hellraiser, Resident Evil, Underworld meets CW's Supernatural if it were urban with a hot soundtrack. Outside of the battle between good and evil, demons, possessions, ghouls, blood, chaos, and spewing innards, there's witches and gargoyles. Oh, and sex and love.
I'd also say it fits in with the anime Tokyo Ghoul, Blood +, and Hunter x Hunter.
ANDERSON ELYSÉE: You can purchase Sin Eaters on Amazon.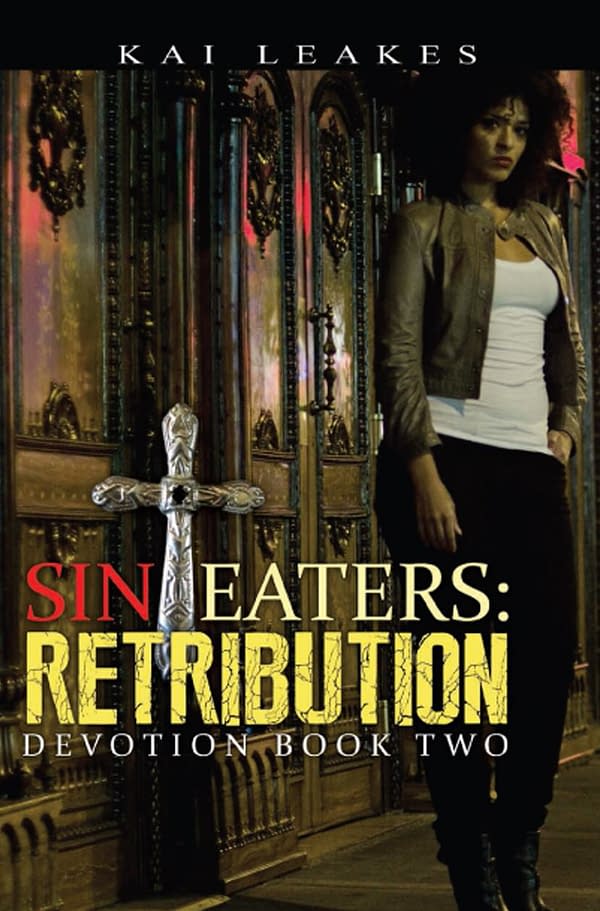 ---
When he's not creating comics, Andrew Guilde moonlights as a high school English teacher, with a BA in creative writing, an MA in teaching, and an MA in Literature. Guilde has stories published by Grayhaven Comics and Insane Comics as well as work published as a freelance editor. Most recently, he's successfully funded his first graphic novel, Man of Sin, through Kickstarter.
GREG ANDERSON ELYSÉE: Tell us about Man of Sin!
ANDREW GUILDE: Torment follows a grieving father as every step he takes to find the truth about his dead son brings him that much further into madness. Manipulation, lies, and betrayal play out as current events are juxtaposed with the past, creating a world where nothing is what it seems and everyone has a hidden agenda. Unable to forgive himself after his son's death, everyman Damien Nero is at the end of the line until the "Man in White," Mr. Lived, promises that Damien will find the person responsible for his son's death, only if he can stay alive for another twenty-four hours. As he struggles to stay alive, Damien discovers that those he trusted the most not only killed his son, but did so to manipulate him because he's so much more than he ever imagined. Feeling lost and betrayed, Damien decides to enact revenge on those who ruined his life.
Basically, it's Taken meets the Exorcist.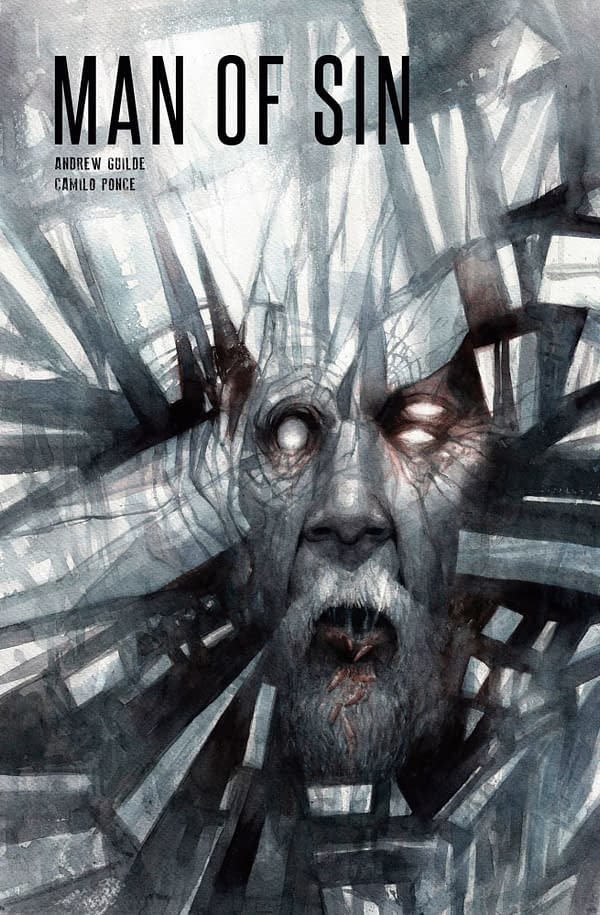 ANDERSON ELYSÉE: Jeez, man! Where and how did this story come about?
GUILDE: Two things kind of happened simultaneously. First, I lost both my grandfather and step-father to cancer just months apart. During that time, I saw first hand the destructive power tragedy. As a way of catharsis, and as a lesson for others, I knew I wanted to write some sort of story about tragedy. I just didn't know what. Interestingly, around this same time, I was up late one night and stumbled upon one of those really cheesy History Channel documentaries about The End of Days, Armageddon, the Antichrist, and all that jazz, and it all sort of clicked. I realized right there that the best way to tackle tragedy was the horror genre and to do it with all the window dressings of the supernatural, biblical, and religious stuff that I saw on the History Channel documentary. So, before I started writing, I went back to my favorite movies in that supernatural/religious psychological horror sub-genre, like the Exorcist, and just sort of took them all in. What I realized was that most, if not all, dealt with family, loss, and this outside force that threatened to destroy them. Once I realized that, I was off to the races.
ANDERSON ELYSÉE: Speaking of the Exorcist, going through some information I do notice a lot of Biblical elements or inspirations, including the title itself. Can you talk a little about that?
GUILDE: I really like this idea of something external threatening to highlight the domestic cracks that can destroy the inner-workings of the family. In a lot of horror, especially supernatural horror, that external force is usual something biblical, like the Devil. That said, when I was watching the Exorcist, I realized that some of what makes this movie scary is the religious ideology it's rooted in. I'd imagine that because of this, someone from any other religion, other than Christianity, wouldn't think the Exorcist is as scary as Christians do. I started to think how could I use these religious themes and tropes without alienating readers and without relying on their ideology to produce the scares? That brought me to one of my favorite stories in any medium, Neon Genesis Evangelion. That anime uses a lot of Judeo-Christian references and allusions, but they're in the background, they're window dressings. So, I used Evangelion as my blueprint, to use religion as the backdrop to tell the story of how tragedy can destroy a family. The title, Man of Sin, is a double entendre; yes, it connects to the religious backdrop of the story, but it also directly connects to how our protagonist, Damian Nero, feels about himself after losing his son.
ANDERSON ELYSÉE: Can you tell us about the art, the process, and working with the artist? I've always been a fan of psychological horror and the art in this gets under my skin.
GUILDE: Oh man, I'm so glad you asked this question! Any time I get to rave about series artist, Camilo Ponce, I will! His art is absolutely stunning, and I'm so lucky to have him on board for this project as his art is what makes Man of Sin something special. I love that you said the art gets under your skin! That's something that we talked at length about before we started. One question was how are we going to approach the scares, the psychological horror? In horror movies, they have the added bonus that they can play with the audience through the use of diegetic and non-diegetic sounds. While comics are a visual medium as well, we don't have that luxury. So it all comes down to what they experience on the page. Obviously, we could shock and grotesque the reader with the images that they see. And we do some of that, but does that really play with someone's psyche? Does that truly scare them? The answer we came up with was no, it doesn't. What we wanted was an emotional response to the story, and how we decided to accomplish this was through the use of color.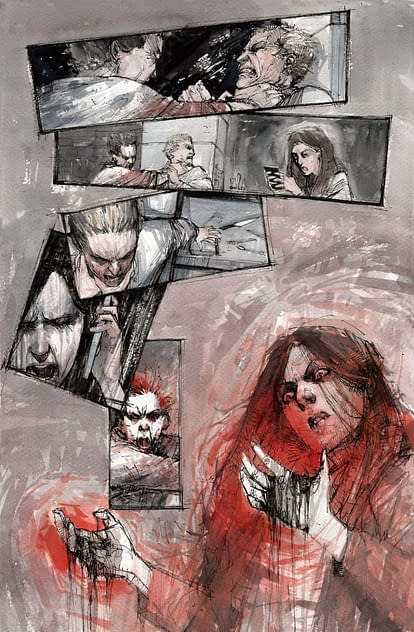 The color changes depending on the emotional response we want the reader to feel in that scene. When we see our protagonist in deep emotional turmoil, Camilo washes the entire page in deep blues. When there's danger or death, Camilo uses red. The result we were going for was a story that was sticky, we wanted the story to stick with the reader long after they put our book down. It's really incredible what Camilo is able to accomplish because this type of storytelling could go south really quick, but Camilo is an absolute master at storytelling. From the panel layouts to the ebb and flow of his line work, it's really something special, and he captures each moment perfectly. Our process for this has evolved over time.
Originally, my script was extremely detailed. I didn't know who my artist would be and I overwrote my panel descriptions to compensate. However, over time, our process has become more casual. Camilo understands exactly what we're trying to accomplish with each and every page, and I trust him completely as a storyteller. I think that is a testament to what makes comic books so unique and amazing. It's truly a collaborative medium.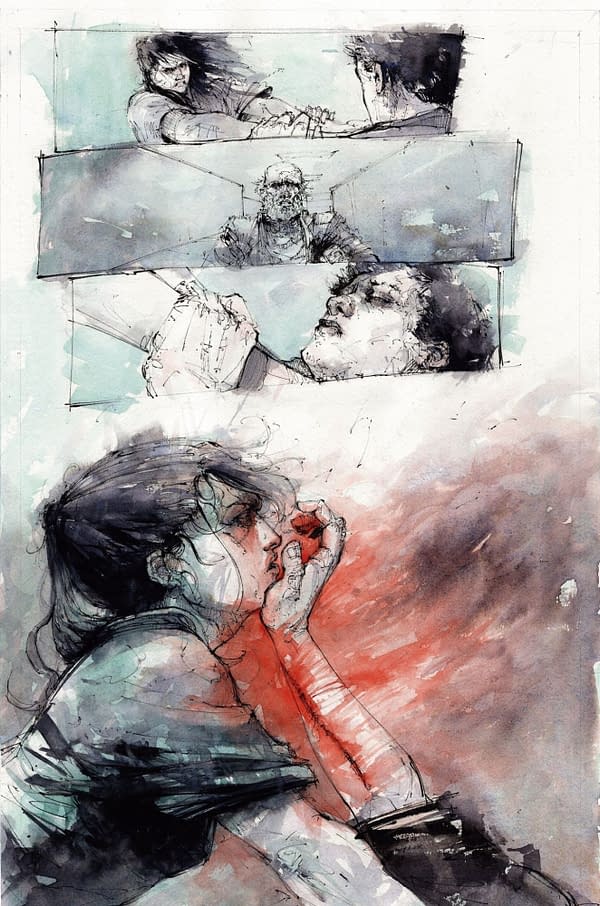 ANDERSON ELYSÉE: In time for Halloween season, what other horror series or popular stories/movies can you compare it to or which category of horror fans will feel right at home in checking out this book?
GUILDE: Any fan of psychological horror thrillers, like the The Babadook or Hereditary will love Man of Sin. The best comparison in the comic book world I could compare it to would be Echoes from Image comics by Joshua Hale Fialkov and Rahsan Ekedal.
ANDERSON ELYSÉE: And if people wanted to get into the series? Where can they find it?
GUILDE: I'm giving away issue #1 for free! All you have to do is sign up for my newsletter. You can do that right here: https://tinyurl.com/y3l3s5y8.
The graphic novel is currently in production and will be out by the end of the year. They can grab a copy at my website: aguilde.com.
---
Read more Oh, the Indie Horror!:
Day 1: Diary of the Mad, Black Werewolf by Micheline Hess
Day 2: Home by Kalani Caraballo & Crescent City Monsters by Newton Lilavois
Day 3: WitchDoctor by Kenjji Jumanne-Marshall
Day 4: Boston Metaphysical Society by Madeleine Holly-Rosing & Nightmare Cafe by Chris Johnson
Day 5: InferNoct by Mina Elwell & El Peso Hero by Hector Rodriguez
Enjoyed this article? Share it!