Only One Barnes & Noble DC Exclusive Coming So Far, Batman Last Knight on Earth HC
November saw four DC exclusive edition hardcovers arrive at Barnes & Noble bookseller last year, following up on the release of two earlier exclusive offerings. Then there were no exclusive graphic novel releases of any kind in December 2019, and none in January 2020 from Barnes & Noble. Maybe sales didn't justify trying to get more exclusives (though a exclusive release of Harleen would have made sense…) but April sees one more DC / Barnes & Nobles Hardcover exclusive coming on April 7th.
Batman The Last Knight on Earth Hardcover, set to be in Local Comic Book Shops on April 1st, will get a deluxe edition exclusive hardcover from Barnes & Noble.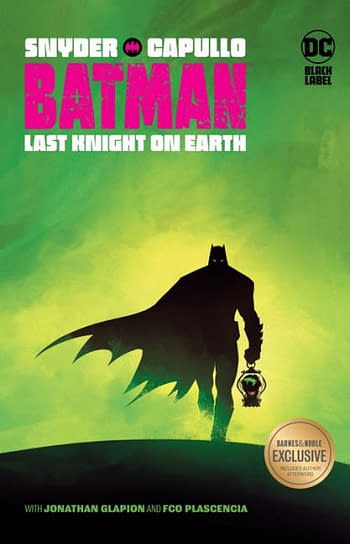 "This Barnes & Noble Exclusive Edition includes an afterword by Scott Snyder, a lithograph, an alternate jacket, and bonus design pages.

New York Times best-selling author Scott Snyder reunites with Dark Nights: Metal artist Greg Capullo for their final Batman epic. Twenty years in the future Bruce Wayne wakes up in Arkham Asylum. Young. Sane. And…he's never been Batman."
The Barnes & Noble Exclusive Edition will be the same price as the edition released in Local Comic Book Shops.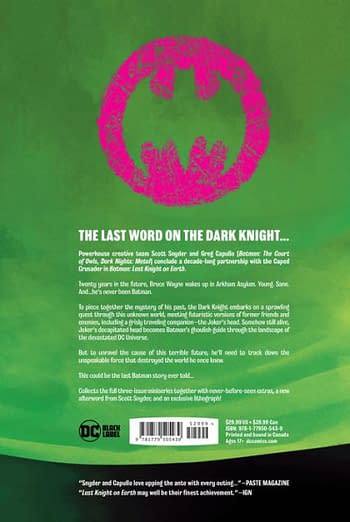 The question becomes will we see more DC "exclusive editions" from Barnes & Noble at the rate they were being done at the end of last year, or are the exclusive editions going to be a rare event now?