Move over, Final Crisis! Get out of the way, Crisis on Infinite Earths! DC Comics is tackling the biggest Crisis event of our time in November: the Opioid Crisis!
That's right, DC will reprint a facsimile edition of Green Lantern/Green Arrow #85, famous for revealing that Green Arrow's ward and sidekick Speedy had become a heroin junkie! Oh no! This 1971 comic claimed to attack "youth's greatest problem," but as we know the opioid crisis has only gotten worse since then, so it's a good thing DC is bringing it back. Unfortunately, this issue was only the first part of the two-part story, which means Speedy's addiction will go unresolved… which, now that we think about it, is the perfect metaphor for the opioid crisis facing America today.
Check out the solicit below (but don't tell Dan Didio, he hates these facsimile editions), and the full November solicitations here.
GREEN LANTERN #85 FACSIMILE EDITION
written by DENNIS O'NEIL and JOHN BROOME
art by NEAL ADAMS, DICK GIORDANO, GIL KANE, and JOE GIELLA
cover by NEAL ADAMS
In this award-winning tale from 1971, Green Arrow discovers that his former sidekick, Roy Harper, is hooked on heroin! Plus, Sinestro tries to exert mental control over Hal Jordan in a story originally published in Green Lantern #11!
ON SALE 11.20.19
$3.99 US | 48 PAGES
FC|DC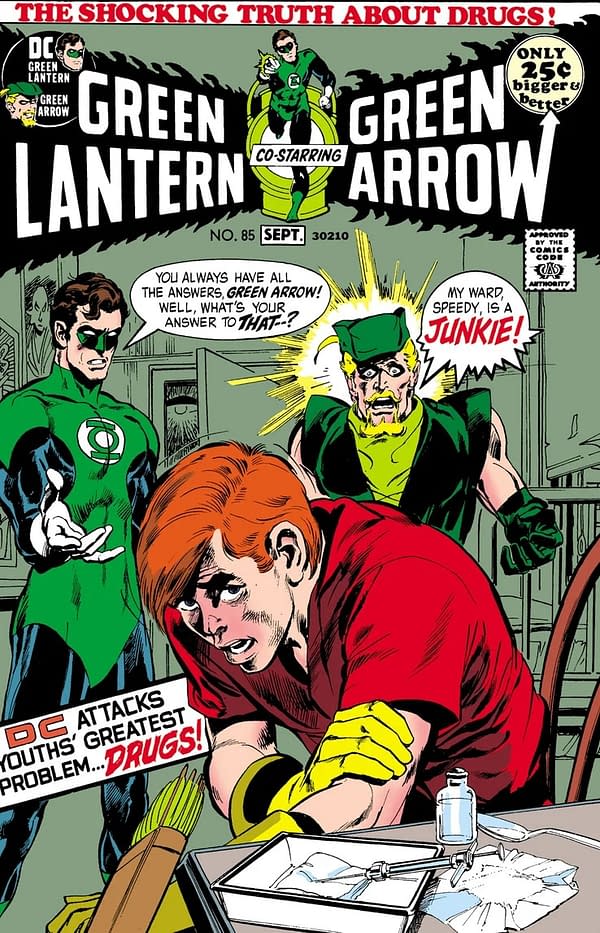 Enjoyed this article? Share it!