In writing about comics, sometimes what we actually enjoy gets lost in the weeds. I wanted to do something quick that counteracted that. Thus: What'd you like most this year? This is how we responded.
---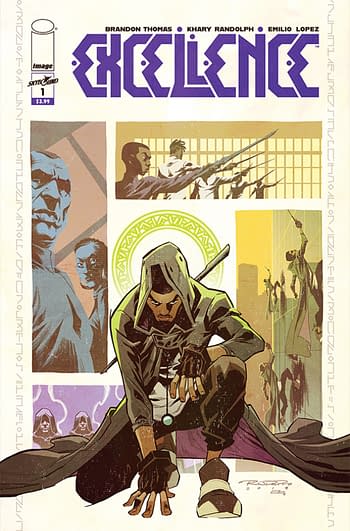 Image Comics' Excellence would have to be the comic I recommend the most so far in 2019. Brandon Thomas created a contentious world for the Aegis, a magical organization strict in hierarchy and compiled completely of people of color. Social issues are rife in this hidden-in-plain-site society, where women are not allowed to practice magic and a man's worth is based on his ability to manifest power. Excellence will give you what you need to get from it; a fun story with magic and fighting, or a bitter social commentary that is not too far from our current status quo.
-Chelsy Bloomfield
Invisible Kingdom is only three issues in, but has already tackled religious persecution, corporate greed, and the plight of the average person in an indifferent universe. The series has two strong female leads, and G. Willow Wilson brings a richness to this sci-fi universe that is only deepened by Christian Ward's lushly vibrant art.
-Leigh George Kade
Punchline by Bill Williams and Matthew Weldon is a superheroine comic that's a pleasant surprise. It has two engaging heroines and avoids grimdark, pretentious seriousness while telling a fun, entertaining story that doesn't ignore the darker parts of its characters or plot. It tells its story with an elegant economy and sense of fun that's missing from a lot of Big Two comics these days.
-Adi Tantimedh
My favorite debut of 2019 is one that was thirty years in the making: Rob Liefeld's Major X! Yeah, it took three artists to complete this six-issue series, but that just adds to its historical authenticity. Major X's time-travel, alternate universe storyline is a little silly and a lot convoluted, but it's done without irony, and that's what makes it work as a time capsule of the classic X-Men era from which the idea spring. Plus, Storm and Cable have sex. The point is, this Liefeld kid is probably gonna go far in this business.
-Jude Terror
When I Arrived At The Castle by Emily Carroll scared me when I didn't think I could be scared: Before my morning coffee. I knew what was coming, I knew how it was coming, but it didn't matter. I cracked open the pdf, and Carroll's tale absorbed me fully all the same. I entered expecting to take a couple notes and a screenshot or two. Instead, the characters and setting overwhelmed me, plunging me back into work, perhaps deeper than before.
-James Hepplewhite
Enjoyed this article? Share it!