Comic book writer Jay Faerber of Noble Causes, Titans and Copperhead has a new original graphic novel out from Image Comics in January. With art from his collaborator on Image's Near Death, Simone Guglielmini and Gigi Baldassini, coloured by Ron Riley and cover by Jacob Phillips. Jay posted to Twitter saying,
I've got a new graphic novel out in January. It's a novel-length thriller called OVER MY DEAD BODY, about Markham, a hitman who switches sides after a near death experience. If you like John Wick or Jack Reacher, I think this is gonna be right up your alley.

It's ALL-NEW and it's sort of a sequel to my old book, NEAR DEATH.
And we've found a handy dandy Amazon listing that says more and comes with an equally handy cover quote from Brian K Vaughan.
A prison warden's daughter has fallen in with a separatist militia, and the warden's only chance to rescue her is his most dangerous inmate: Markham, a notorious contract killer. Markham claims that after a near death experience gave him a glimpse of Hell, he wants to atone for his past sins and start saving lives instead of taking them. So the warden's giving him one last shot at redemption. But is Markham ready to die for that shot?

OVER MY DEAD BODY is an all-new original graphic novel, a fast-moving, pulpy thriller for fans of Jack Reacher and John Wick, featuring characters from the acclaimed NEAR DEATH comic book series.

"A killer crime book with a very sharp hook." —BRIAN K. VAUGHAN (SAGA, PAPER GIRLS)
Here's that Jacob Phillips cover…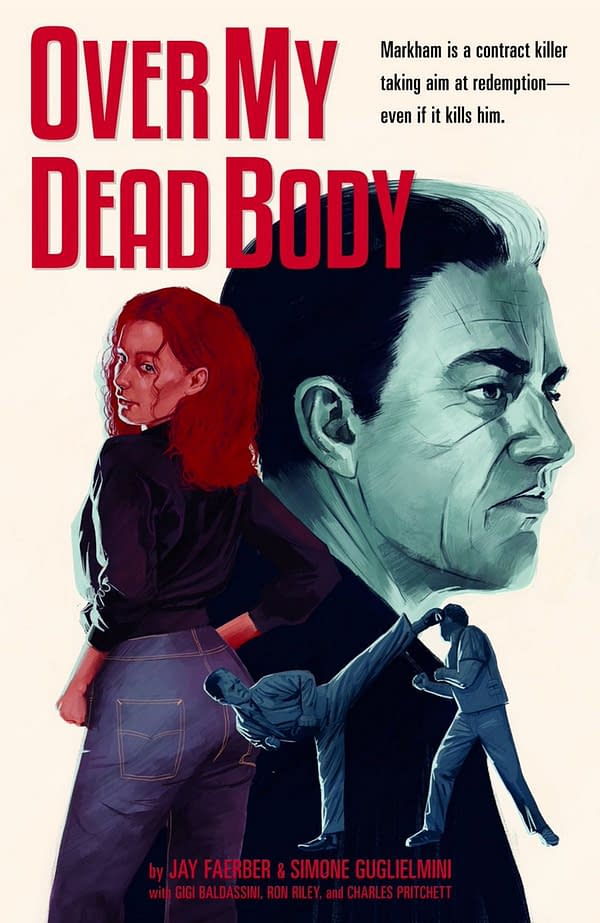 .
Enjoyed this article? Share it!