Peter Krause and Chip Mosher Are Blacking Out For 70s Grindhouse Noir
Chip Mosher used to be the marketing guy at Boom Studios when Peter Krause drew the Irredeemable comic book there. Now Chip Mosher is at ComiXology Originals, and Peter Krause is, well, still drawing comics. But they are working together on a new comic book graphic novel, Blacking Out, being crowdfunded through Kickstarter. A descent into '70s grindhouse noir—pure grit and ash baked into the story of an alcoholic ex-cop looking for redemption as he attempts to solve the unsolved murder of a child during the Southern California fire season. It will be presented in a European album hardback style with spot gloss. The book will be coloured by Giulia Brusco, lettered by Ed Dukeshire and designed by Tom Muller.
But unlike many graphic novels in such a situation, this one is complete. The pair have been working on it together for four years. The Kickstarter works as a promotional and pre-order tool, for readers and retailers.
Well, Chip knows all about promotion. The Kickstarter will be kicking off today. It will be published with lobby cards (mini movie posters popular till around the late '80s) based on scenes from the book by Francesco Francavilla, Eduardo Risso, Jamal Igle, Emma Rios, Mirka Andolfo, Jacob Phillips, Dan Panosian, Ryan Kelly, Patric Reynolds, Elise McCall and more. Here is Jamal Igle's.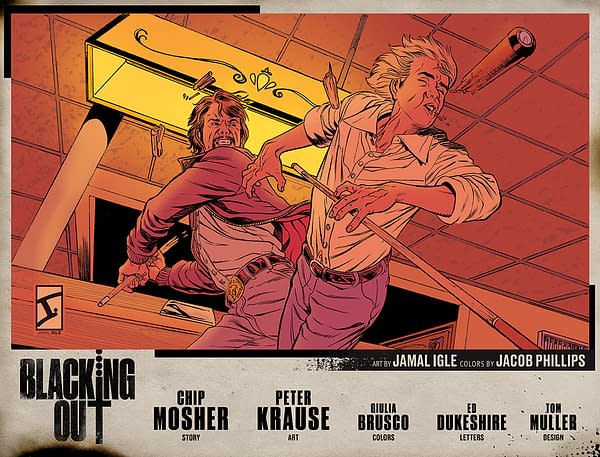 "If you like stories about bad people doing bad things, this one's for you," writer Chip Mosher says. "The book is completed and we are looking to raise funds for printing. Pete took my story and transformed it into this seductive, dark vacuum of self-destructive characters attempting to make sense of a violent world. Each page overflows with menace. Pete's a master at the top of his form. Similarly, Giulia, Ed, and Tom worked in tandem to make this comic shine in every way—the art, colors, lettering, and design, all perfectly harmonize."
In Blacking Out, Conrad follows a lone clue—a discarded crucifix—to unravel the death of Karen Littleton, whose body was found amid a blaze that scorched 10,000 acres. Conrad's search leads him to clash with the victim's father and prime suspect, Robert Littleton, as well as hostile former colleagues in the local police force. All the while, Conrad combats his consuming alcoholism and fading faculties.
"Chip is one of my best buds in the comics biz, and he's a fun, jovial guy," Krause says. "So when he gave me the Blacking Out script, I was taken aback—such a dark story! But I began to envision the tale and how fun it would be to draw, so of course I said yes—I can't say no to Chip!"
Though most known in the comics industry for his work in marketing, publishing, and editorial, Mosher has been developing Blacking Out for years. In late 2016, Mosher recruited Krause to bring the twisted, self-immolating characters to life in a tight 56-page one-and-done graphic novel. Dukeshire then provided lettering, Brusco added colors and Muller designed the logo and trade dress, completing this new creator-owned graphic album. The finished book will include gorgeous endpapers and spot gloss on the case wrap, making Tom Muller's weathered logo pop against the inferno consuming the SoCal horizon illustrated by Peter Kruase.
"I love crime stories. Dark alleyways, bad decisions, a shady rendezvous—they are all lovely fodder for a comic book artist," Krause says. "Chip gave me a lot of freedom with Blacking Out—the script wasn't broken down in traditional pages and panels. Being able to pace the story and take the time to get it right really paid off. The result was a book that I'm very proud of—even if it's creepy as hell."
"My adopted hometown of Los Angeles is so dense with crime lore and in my 20 years living here, I haven't stopped falling down that rabbit hole," Mosher explains. "That legacy and the emergent southern California wildfires led to Blacking Out and I was fortunate to find talented collaborators willing to fuel my buzzkill vision."
The Kickstarter platform offers the creative team the chance to celebrate the traditions of film noir with the greater comic book community through this project's rewards. The print set of 11 cinematic lobby cards featuring characters from Blacking Out will be offered as rewards. Other rewards include an original drawing from Peter Krause, with the top-tier reward being a tour of LA's most notorious crime sites with Chip Mosher. Here's a preview, followed by some sketches.