Peter Tomasi is Going to Sell You a Graphic Novel About the Brooklyn Bridge
Peter Tomasi is best known amongst comic book fans right now for his riotous run on Superman and Super Sons in the wake of the DC Rebirth relaunch/reboot, cruelly cut short by Brian Michael Bendis asking if he could write the Superman comic books for a bit.
But before Tomasi moves onto his next project for DC Comics he has a new project, not with his oft-partner Patrick Gleason but with artist Sara Duvall.
It's a 200-page graphic novel coming out from Abrams on April 17th about the Roeblings and the building of the Brooklyn Bridge called… The Bridge.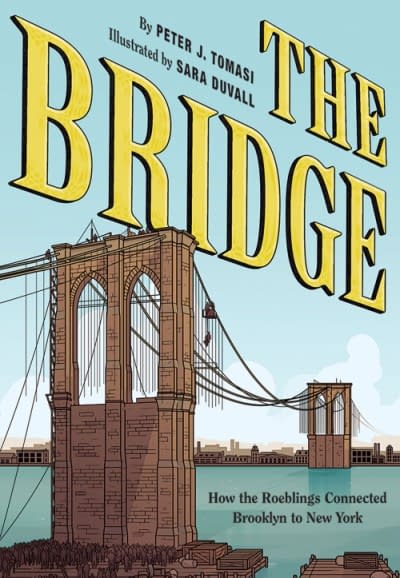 He tells Bleeding Cool:
"It's been an almost 20 year passion project and I've started pounding the pavement, dropping off preview copies with libraries and museum book buyers, and setting up a discussion day at the Roebling Museum in Trenton while Abrams has set up a night at the Mid-Manhattan Public Library too. We've also gotten starred reviews and editorial picks in Library Journal and Booklist so far and awaiting other glowing reviews (fingers crossed)!"
And we also have the following preview to give you a taste of what Tomasi and Duvall have planned.
More than 130 years after its completion, the Brooklyn Bridge remains one of the most extraordinary landmarks and symbols of Brooklyn and New York City—and the story behind this architectural marvel is just as extraordinary.

The Brooklyn Bridge was originally designed by John Augustus Roebling, but it was his son, Washington, and his daughter-in-law, Emily, who oversaw the bridge's construction. As work on the bridge went on, Washington developed caisson disease, leaving him bedridden for the majority of the bridge's 14-year construction. Washington's wife, Emily Roebling, took his place running the work site, deftly assuming the role of chief engineer, supervising the project and overseeing the workers, contractors, a hostile press, and greedy city politicians—an unusual position for a woman to take on at the time.

In this inspiring graphic novel, author Peter J. Tomasi and illustrator Sara Duvall show the building of the Brooklyn Bridge as it has never been seen before, and the marriage of the Roeblings—based on intellectual equality and mutual support—that made the construction of this iconic structure possible.