Phil Hester On Writing Dinosaurs When Your Kid Is A Paleontologist
Two of Dynamite's writers have gotten together to talk about the comics they work on. Here we have Corinna Bechko, writer of Miss Fury, asking questions of Phil Hester about Gold Key Alliance. We also have cover by Felipe Massafera and interiors are by Brent Peeples and Morgan Hickman.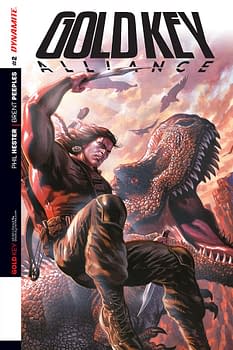 CORINNA BECHKO: I have to admit to a deep love of dinosaurs, so I'm thrilled they play a key role in this story. When writing non-human characters, such as animals (or androids), do you find yourself approaching them in a different way than you do their human counterparts?
PHIL HESTER: I try to be careful not to anthropomorphize animals. Monsters and robots seem more like literary analogs for human impulses, both high and low. Dinosaurs are even more inscrutable than contemporary animals since we have no direct evidence of their behavior, so I tend to try and find a similar modern animal to pattern them after. My kid is a paleontologist, so I can rest assured that I will hear it from him if I ever get too silly with dinosaur behavior.
CB: Cross-over books can be a challenge to write, but I find them to have a number of rewarding aspects as well. I'm really enjoying how you handle the multiple storylines here. Do you find serving so many interesting characters to be difficult?
PH: Just in terms of space, which I'm sure you've felt yourself. I have never, ever hit the page count on a first draft, and with so many characters pushing each other off the stage for the spotlight I never have enough pages. I've found that the limited space has made me really focus on making every scene count.
CB: It's really nice to see such a diverse cast! I find it liberating to write characters with wildly different background from my own, although sometimes that can be a challenge as well. What tips do you have for penning a variety of personalities in a limited number of pages?
PH: Just trust your imagination, I guess. I mean, I only understand my life (barely). I don't really know what life is like for someone who is a carbon copy of me demographically. Not really, anyway. We may have some common experiences, but how we process all that stuff is still a mystery. I just try to write what sounds like believable dialogue and relatable reactions, no matter how absurd the story situations become. And hopefully, at the core of each character is a kernel of truth a reader can relate to. No matter how different a character may be from me personally, I try to find one note in my past experience that will resonate within that character, like two tuning forks side by side. If you can harmonize just that one true note, readers will trust you to take them to unfamiliar places as the story goes on.
CB: To me, one of the hardest things about constructing a story using characters from different "worlds" is the problem of making all the "rules" fit. For instance, one character may wield magic, another science, and a third nothing at all. Where in the writing process do you tackle this question? Is it fundamental, or do you meet it as it occurs naturally thoughout the story?
PH: Haha. Well, thankfully comic book readers are predisposed to these sorts of chaotic universes. We really don't have to break down how a character can fly, or walk up walls, or pass through alternate dimensions. Comic book readers are like, "okay, cool– then what?" It's almost like folk stories or parables. Because these fantastical situations are givens we can cut through the noise and get to the magic of a situation right away, even the magic bubbling under the most everyday occurrences. Comics!
CB: Lastly, tell us a bit about what else you have coming up?
PH: I wrote a Deathstroke Annual that Mirko Colak is drawing and Mike Spicer is coloring that will be out in June. I'm writing Mythic with artist John McCrea and Mr. Spicer on colors again. I'm writing an unannounced sci-fi book for Oni, and a new horror book for Aftershock.