A lot of suckers waste time worldbuilding in the pages of their actual comics, but the upcoming DC Black Label series by Phillip Kennedy Johnson and Riccardo Federici, The Last God, has found a better way. In April, DC Comics will publish The Last God: Tales from the Book of Ages, detailing the history, locations, schools of magic, and creatures in the fictional world of Cain Anuun. Weighing in at 40 pages for five bucks, the book will also come with Dungeons and Dragons 5E compatible content for RPG fans. Well, that is, "5E compatible content." The press release is careful not to mention "Dungeons and Dragons" specifically. So it could be the fifth edition of anything, really.
Check out the press release below:
In Phillip Kennedy Johnson and Riccardo Federici's The Last God, the city of Cain Anuun serves as a rich and layered backdrop to a story of fantasy, adventure and horror. The evil armies of the Last God are marching across the mythical city, laying waste to everything in its path and a group of unlikely allies are the last line of defense against absolute destruction.

On April 29, The Last God: Tales from The Book of Ages is debuts in comic book retailers and participating digital retailers. This one-shot is written by series writer Johnson, with art by Federici, along with cover artist Kai Carpenter and others; this is the official sourcebook detailing the rich history of the people, locations, schools of magic and creatures found throughout Cain Anuun. For role-playing-game fans, this sourcebook also includes 5E compatible content to run your own quests with playable races, subclasses, magic items, monsters and more, courtesy of Nerd Poker podcast "dungeonmaster" Dan Telfer. The sourcebook also includes new maps and illustrations from master cartographer Jared Blando.

The Last God: Tales from the Book of Ages provides everything fantasy and RPG fans need to gain both a deeper understanding of the world of Cain Anuun, as well as all the tools to build campaigns and adventures within the world of The Last God.

THE LAST GOD: TALES FROM THE BOOK OF AGES #1
ONE SHOT
ON SALE 04.29.20
$4.99 US | 40 PAGES
FC | DC BLACK LABEL
AGES 17+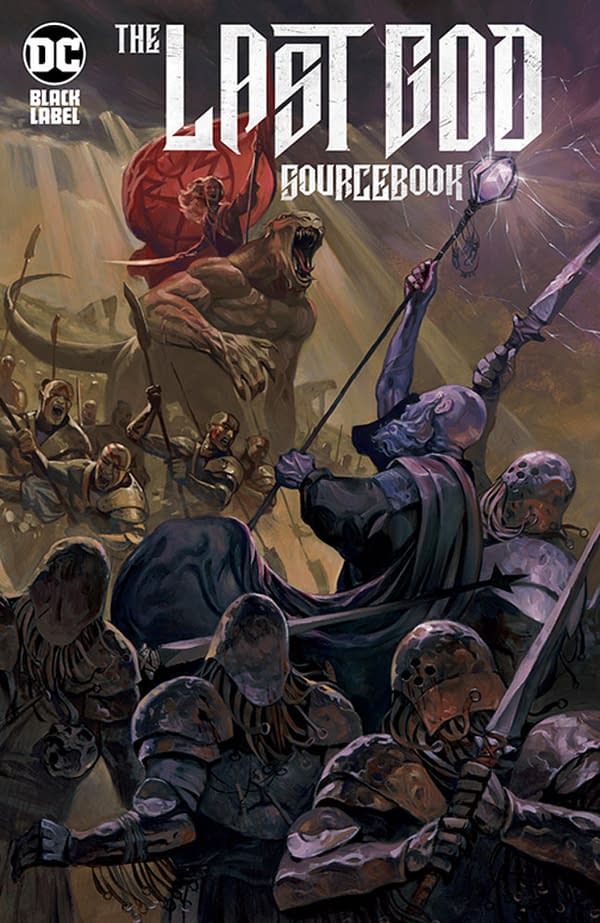 Enjoyed this article? Share it!