Pickle Rick Gets His Own Comic in Oni Press November 2018 Solicits
It is the episode of Rick & Morty that has inspired more merchandise than any other. When Rick, in order to get out of a family counselling session, turns himself into a pickle. Pickle Rick. Of course chaos ensues, turning the episode into the most action-oriented of the run and also introducing us all to the Jackal… and now Pickle Rick is back. Jaguar too. All in Oni Press' solicitations for November 2018
RICK & MORTY PRESENTS PICKLE RICK #1 CVR A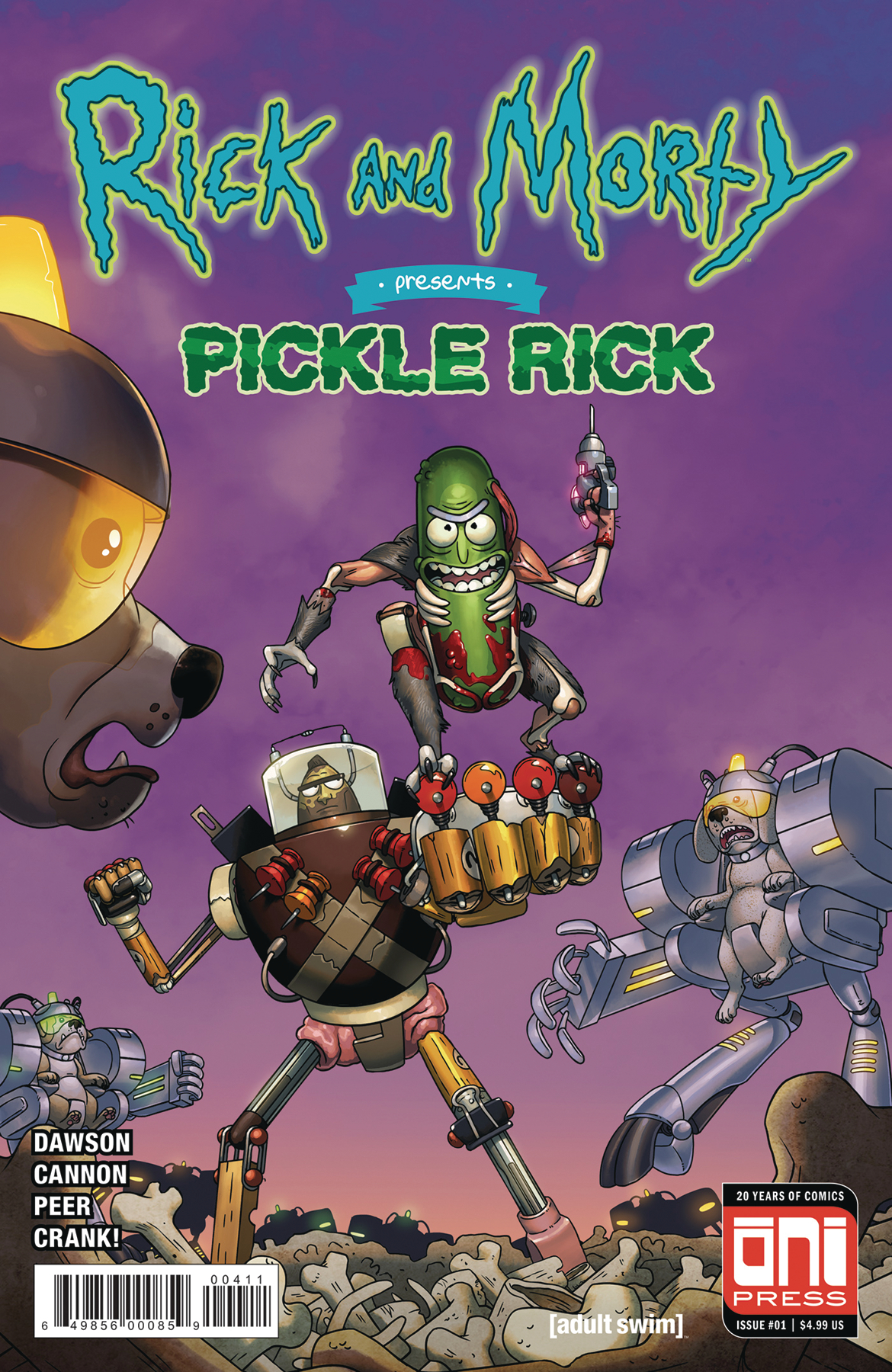 SEP181899
(W) Delilah Dawson (A) Nick Filardi (A/CA) CJ Cannon
The biggest pickle-sized character in pop culture comes to comics! In this reimagined version, written by Delilah S. Dawson (Star Wars) and with art from series artists CJ Cannon and Brittany Peer, Rick gets out of some much-needed family therapy time by inventing a fruit gun, which he uses on himself, and things go…poorly. Yes, cucumbers are fruits! Plus, Jaguar's back and he's on a mission to save his daughter.
In Shops: Nov 21, 2018
SRP: $4.99
RICK & MORTY PRESENTS PICKLE RICK #1 CVR B DEWEY VAR
SEP181901
Time is a fickle creature, especially when there's wormhole in the science cupboard. When a strange boy who seems far too entranced by cell phones appears, it's up to Lottie, Shauna, and Mildred to figure out his strange purposes.
The Case of the Forked Road, the seventh book in John Allison's award-winning Bad Machinery series, finds our young sleuths facing the intricacies of time and space itself. What is their science teacher hiding? Who is the mysterious Calvin, why is he dressed like it's 1960, and why is he obsessed with Communists? And another thing just what is going on with Jack, Sonny, and Linton?
In Shops: Jan 30, 2019
SRP: $12.99
KIM REAPER VAMPIRE ISLAND #4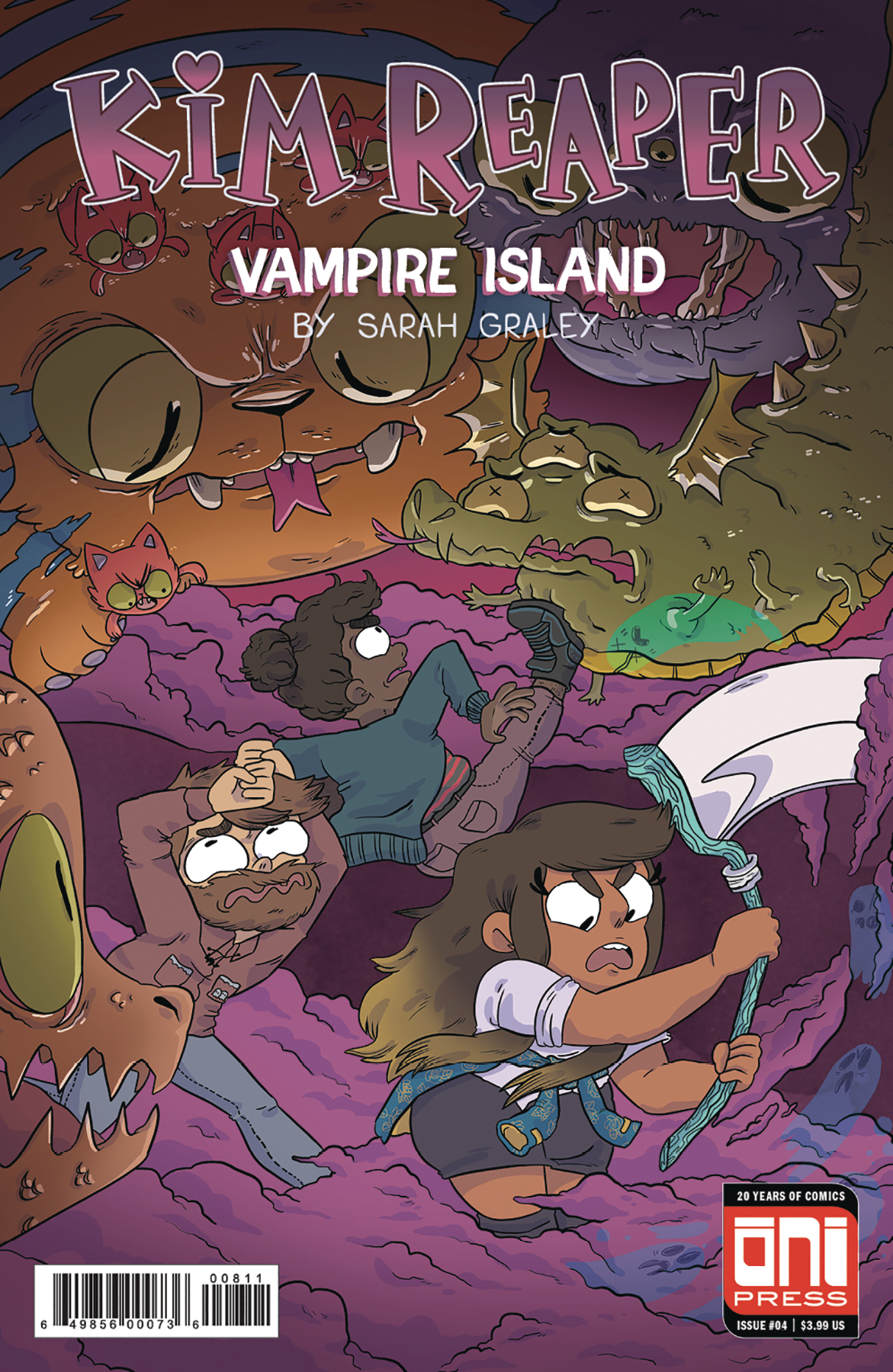 SEP181902
(W) Sarah Graley (A/CA) Sarah Graley
Becka, Charlie and Tyler are going on a mission to rescue Kim from the second layer of Hell, no big deal. It'd probably be a little easier without all this spooky mist though…The gang could also do without all these ghouls getting in the way, too. Ugh, who knew the second layer of Hell would be so unpleasant?! I wanna go back to Vampire Island.
In Shops: Nov 28, 2018
SRP: $3.99
INVADER ZIM #37 CVR A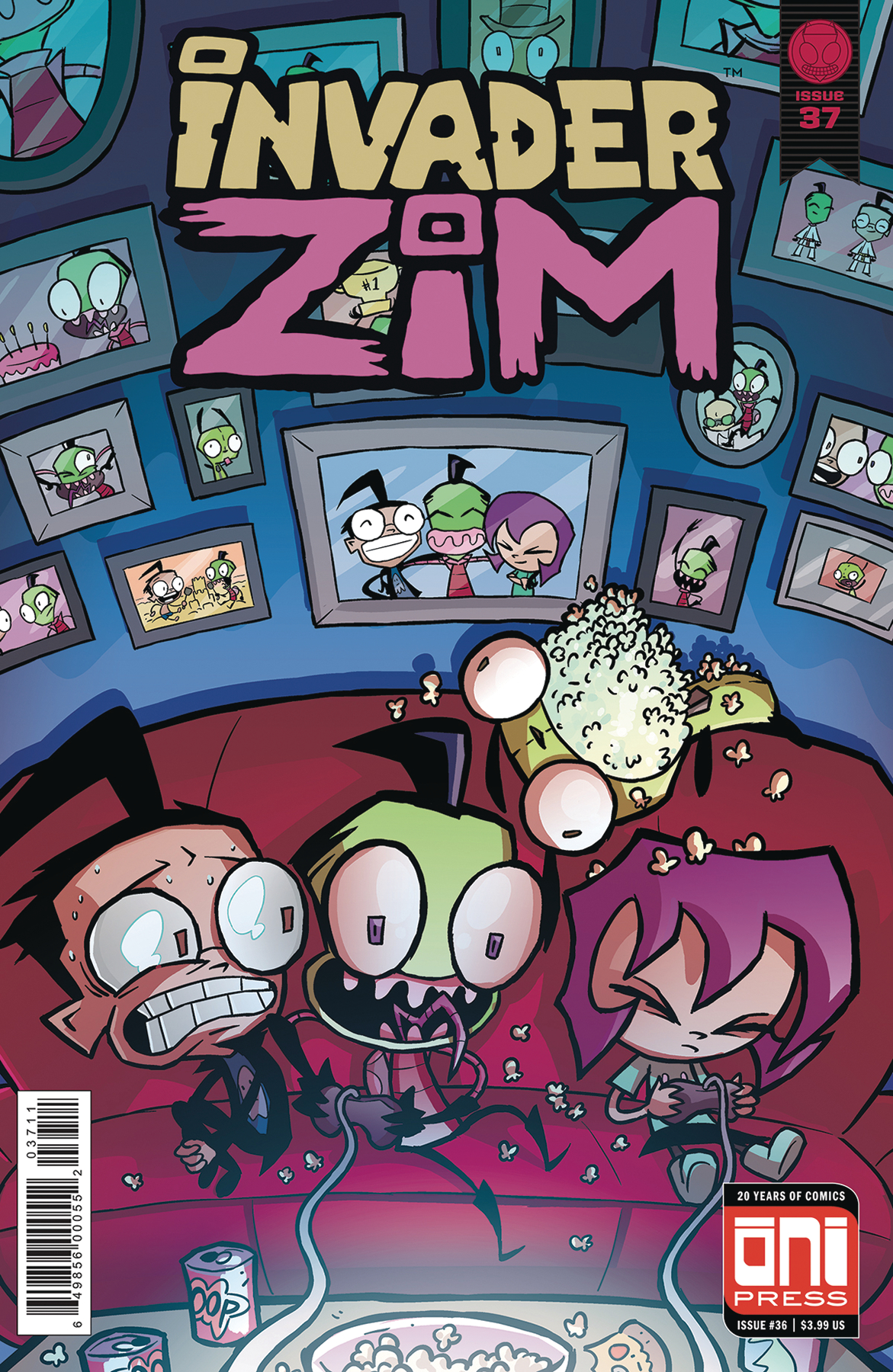 SEP181903
(W) Sam Logan (A) Kate Sherron (CA) Warren Wucinich (A/CA) Fred Stresing
When Dib wakes up one morning to find ZIM inside his house, eating breakfast with his family, he's confused. Even more confused when everyone refers to ZIM as Dib's brother. What horrible plot could ZIM be unfurling? But the more Dib looks into it, the more it seems like… ZIM might actually be his brother? Is that possible? Or will Dib lose his mind trying to unravel the vast conspiracy?
In Shops: Nov 28, 2018
SRP: $3.99
INVADER ZIM #37 CVR B STRESING VAR
SEP181905
(W) Cullen Bunn, Brian Hurtt (A/CA) A.C. Zamudio, Carlos Zamudio
The Hunter has stolen the power of the Crossroads for himself, and he uses it to battle Abigail, Henry, and Isabella around the globe. Not all of our heroes will survive this fateful, final encounter with the soulstealing monster!
In Shops: Nov 14, 2018
SRP: $3.99
LONG CON #5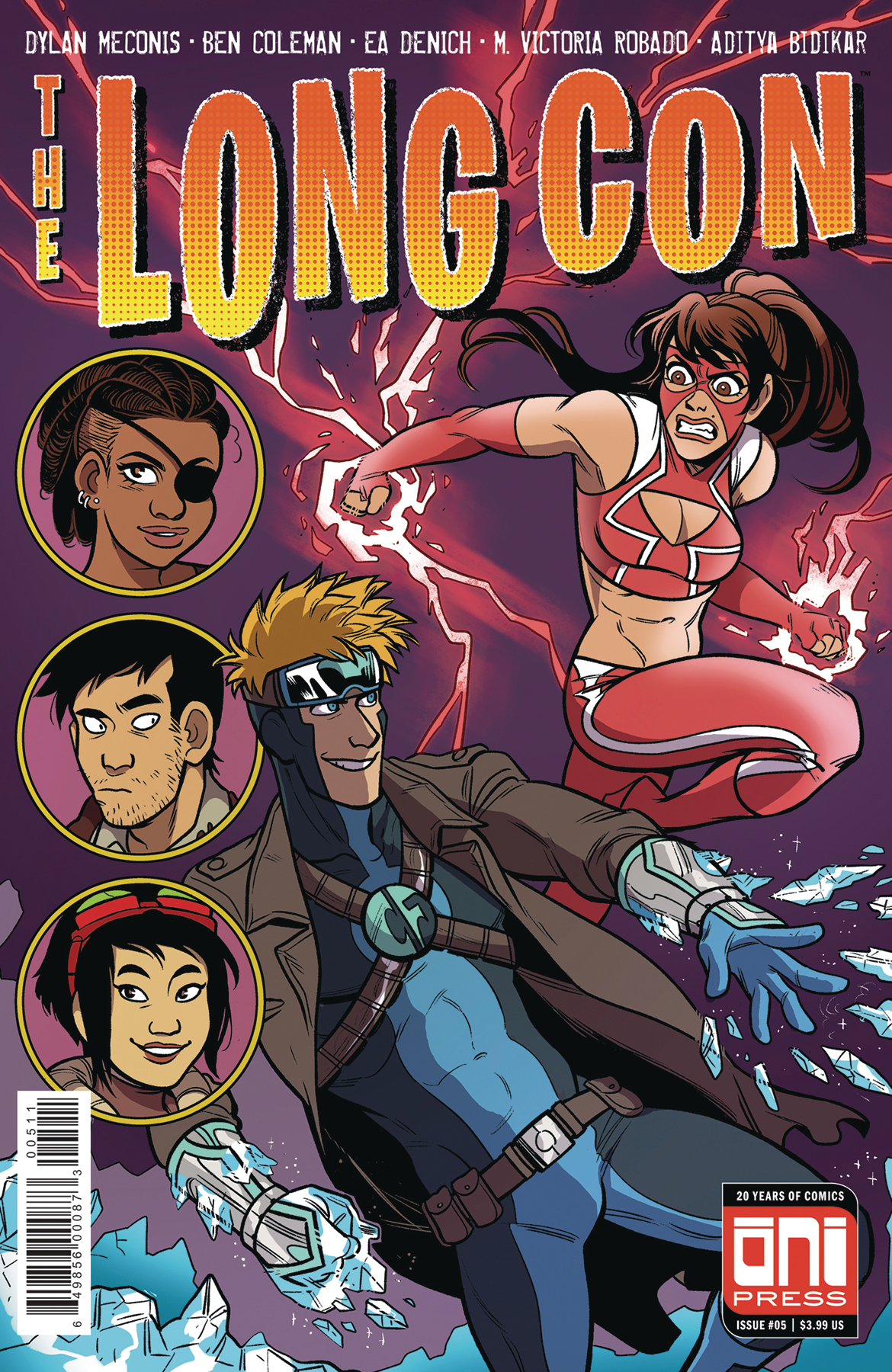 SEP181906
(W) Dylan Meconis, Ben Coleman (A) Emilee Denich (A/CA) M. Victoria Robado
GET READY FOR FIGHTS AND/OR TIGHTS. Saddled with obnoxious child actor gone to seed Flix Bixby, and pursued by con authorities and a cabal of cannibal celebs, Dez and Victor need allies, and fast! Enter Capetown: the genre-exclusive hall where superhero cosplayers act out their elaborate power fantasies, rooftop brawls and all. Who better to fight for truth and justice, right? Right??
In Shops: Nov 14, 2018
SRP: $3.99
RICK & MORTY #44 CVR A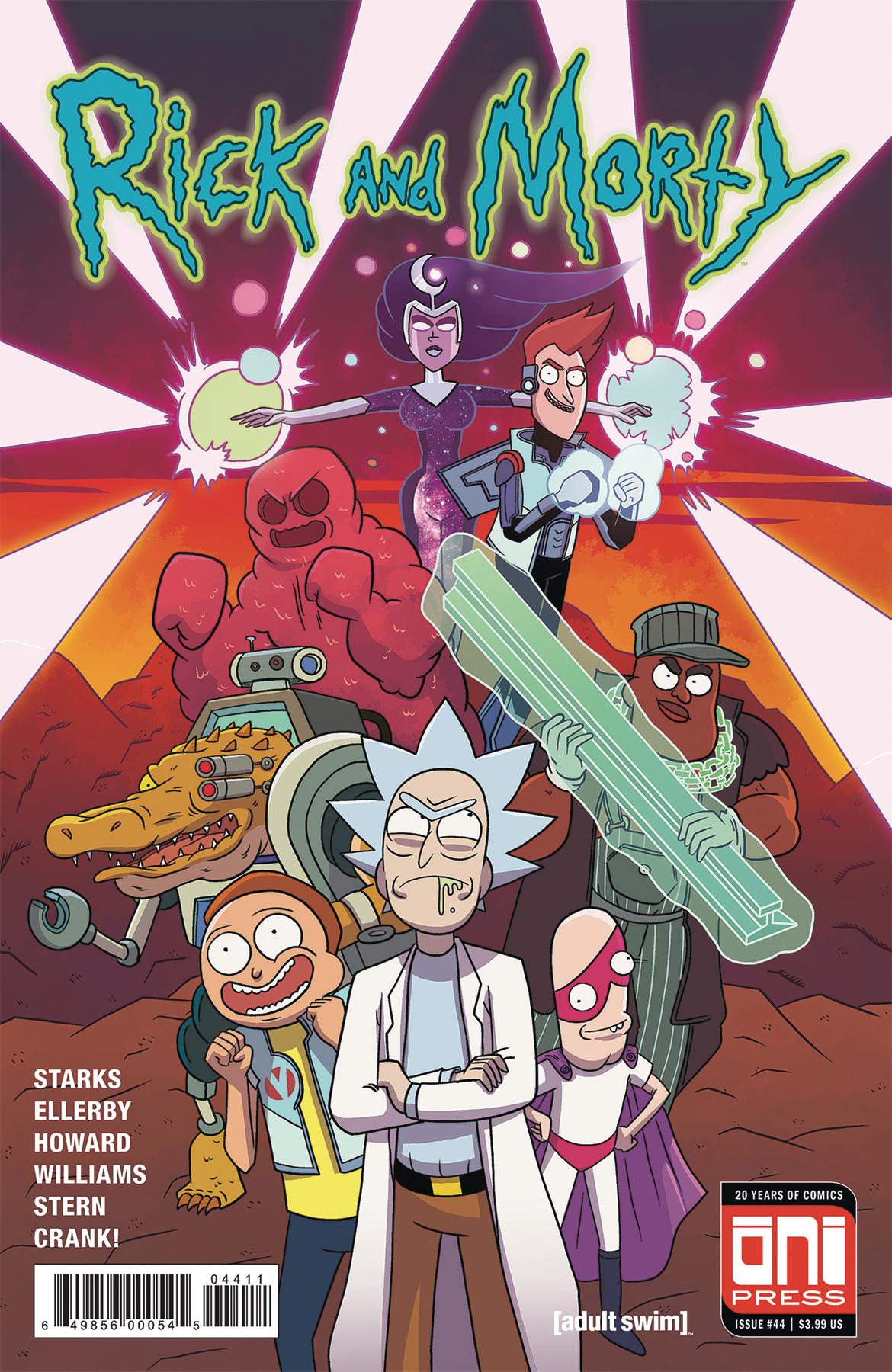 SEP181909
(W) Kyle Starks, Tini Howard (A) Jarrett Williams, Sarah Stern (A/CA) Marc Ellerby
A message from Rick Sanchez: "Oooh wee, bruh, haven't you been wondering about The Vindicators and how The Vindicators met Rick and Morty and what kind of a super-duper mess they got into? Well, guess what. Yeah, you guessed right. Here it is. Rick and Morty VINDICATORS. THE ISSUE." Editor's note: Raise your hand if you read that in his voice. I sure did. Also, this excellent issue is written by Kyle Starks, with art by Marc Ellerby and Sarah Stern, and features a back-up story by Tini Howard, with art by Jarret Wiliams and Sarah Stern.
In Shops: Nov 28, 2018
SRP: $3.99
RICK & MORTY #44 CVR B SCOTT VAR