Pinky Ring Returns to Ice Cream Man Digital Mini-Comics
In an effort to help brick-and-mortar comic shops during the current global crisis, the creative team behind Ice Cream Man will be posting all-new digital Ice Cream Man four-page mini-comics once a week on their Quarantine Comix page. Sold as PDFs, for $1.99 a popsicle, half of profits go to the Book Industry Charitable Foundation (BINC), which has formed the Comic Book United to help US-only comic book stores at this time of trial.
Ice Cream Man is a horror/sci-fi anthology series by W Maxwell Prince, Marin Morazzo and Chris O'Halloran, each issue a brand new story with brand new characters, each featuring disparate 'one-shot' tales of sorrow, wonder, and redemption. On the periphery of all of them is the Ice Cream Man, telling stories, serving up frozen fear, friendship or fantasy. Compared to Tales Of The Unexpected, Sandman and Inside No 9, it has been a critically acclaimed sleeper hit for publisher Image Comics. And this seems to be a way that the series can continue, and help raise money for comic book stores.
Four digital mini-comics are currently available. Here is what is in each.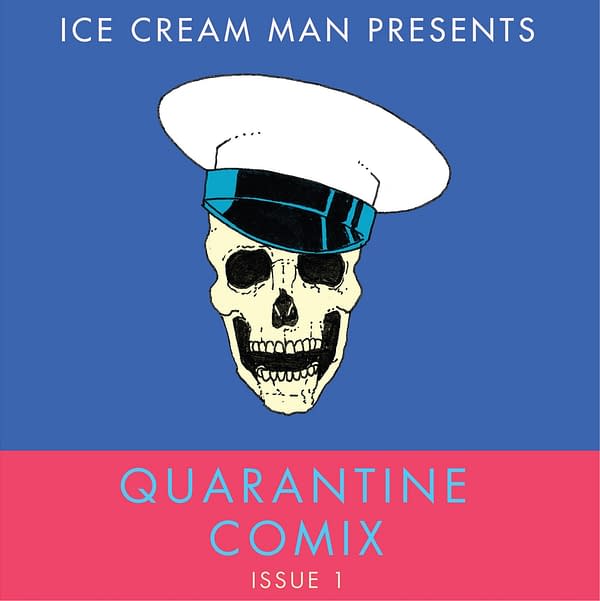 ISSUE 1, 4 pages
"I AM WHAT I AM"
Apparently ol' Willy Shakespeare wrote King Lear while in plague quarantine? Bully for him. This premier issue of Quarantine Comix is an English sonnet, sequentially told (in iambic pentameter, natch), about getting less done than one would like during times of isolation.
ISSUE 2, 5 pages
"TRUE ORIGINAL"
You know the story: two naked lovers. trapped in a garden, happen upon a bad apple—and the rest is history. This second issue of Quarantine Comix checks in with Mr. Adam and Ms. Eve as they learn the price of a good dessert.
ISSUE 3, 4 pages
"CONVENTION OF MIKES"
Though you may not be a Mike yourself, you are invited to this, the first ever Convention of Mikes. Watch as Mike after Mike interacts with Mike and Mike alike.
ISSUE 4, 4 pages
"SECRET ORIGINS: PINKY RING" See here the super secret, super sticky origin story of PINKY RING!Who the heck is that, you ask? Good question! Also known as the Savior in Salmon (or the Masticatin' Man, or the Guy Who Ruined Tammy's Birthday Party That One Summer), Pinky Ring (first appearance Ice Cream Man #17, 2020) is the intergalactic torchbearer of Bubble Gum Justice, standing proudly alongside Ice Cream Man and his candy-coated coterie of crime-fighting compatriots. You've completely lost my meaning in all that alliteration, you say? Well, sorry, Karen! Guess you'll just have to read this here mini-comic to witness what awaits one woebegone wallflower who's whole world is warped by a whopping, windborne wad of wax!
We also get a look ahead at where Ice Cream Man #19 would have been if the industry hadn't crashed in on itself, over on their Instagram…