Printwatch: Dracula, Motherf**ker Graphic Novel Gets A Second Printing
Printwatch: Dracula, Motherf**ker was one of my favourite graphic novels from last year, from two of my favourite comic book creators, Alex De Campi and Erica Henderson. Apparently, Alex and I are part of some giant whisper network in the comics industry. I wish that was true as a) I might get better stories for Bleeding Cool that way and b) I might have known before time from Alex that Dracula, Motherf**ker had sold out and was getting a new printing, in the upcoming Image Comics solicitations.
The graphic novel takes seventies horror pulp fiction as its base and expands upon it to create a new take on the classic character, as interpreted through movies as well as Bram Stoker's original novel. It is so much fun and has clearly become a bit of a perennial for Image Comics – stand-alone graphic novels only go through multiple printinhs when they reach outside of the usual comic store market. Clearly, Dracula, Motherf**ker has done so.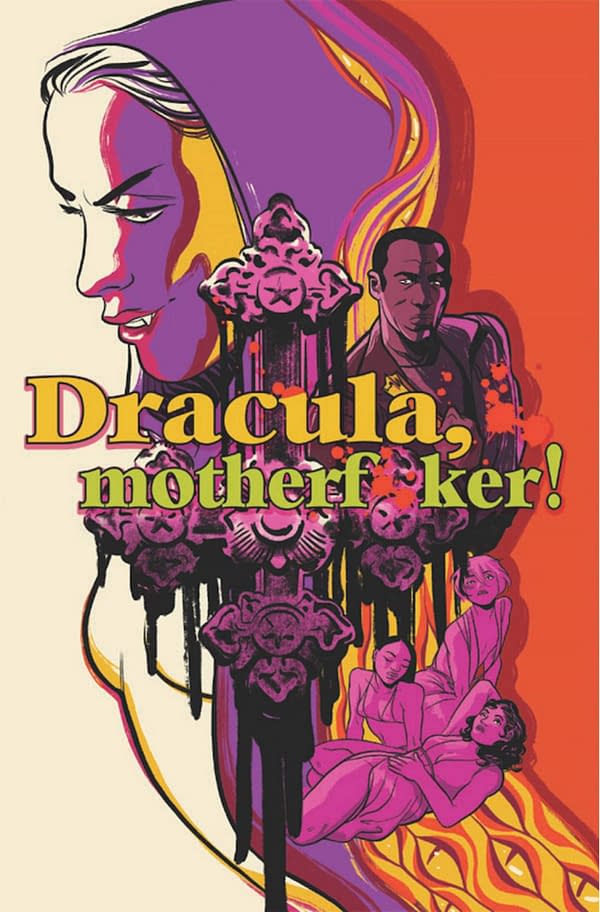 It's also joined by a new printing of the Excellence Vol 1 trade paperback as the series by Brandon Thomas, Khary Randolph and Emilio Lopez continues from Image Comics… here are the solicits.
DRACULA MOTHERF**KER OGN (NEW PRINTING)
WRITER: ALEX DE CAMPI
ARTIST / COVER: ERICA HENDERSON
JUNE 9 / 72 PAGES / FC / M / $16.99
BACK IN PRINT!
Vienna, 1889: Dracula's brides nail him to the bottom of his coffin. Los Angeles, 1974: an aging starlet decides to raise the stakes. Crime scene photographer Quincy Harker is the only man who knows it happened, but will anyone believe him before he gets his own chalk outline? And are Dracula's three brides there to help him…or use him as bait? A pulpy, pulse-pounding graphic novel of California psych-horror!

EXCELLENCE, VOL. 1: KILL THE PAST TP (NEW PRINTING)
WRITER: BRANDON THOMAS
ARTISTS / COVER: KHARY RANDOLPH & EMILIO LOPEZ
JUNE 9 / 160 PAGES / FC / T+ / $16.99
Collects EXCELLENCE #1-6
BACK IN PRINT!
Spencer Dales was born into a world of magic. His father belongs to the Aegis, a secret society of Black magicians tasked with bettering the lives of others—with higher potential—but never themselves.
Now it's time for Spencer to follow in his father's footsteps, but all he sees is a broken system in need of someone with the wand and the will to change it. But who will stand beside him in this fight for a better future?
KHARY RANDOLPH and BRANDON THOMAS ignite a generational war in this action-fantasy series, made entirely by creators of color, and committed to one truth above all others—Excellence is Real.