Every month the comic book companies send out folded promotional posters to the Local Comic Book / Diamond accounts. During the month different posters show up for LCBS to display and promote upcoming titles. Or at least that's how it used to be.  With Diamond's hiatus, the loss of DC upcoming, things are weird all over, and the release of promotional posters is no exception. Now, most customers are familiar with the stores putting up new posters to show off upcoming titles, but which ones are out now for this month?
This month we'll start with Marvel, who unlike past months for years, put out one promotional poster. That's it. To promote the Empyre #0 Avengers coming out next week, one poster was sent with a unique image of Kree / Skrull propaganda.  Not one of the covers for the upcoming issue, this is a very unusual poster for Marvel to release, especially since it doesn't seem to be in Previews to be ordered normally for purchase rolled.  As usual, it is 24" x 36" and came folded as usual for a Marvel promotional poster.
The remaining seven posters that came out this month arrived on June 10th and June 17th, two separate batches with the first three posters showcasing three different titles being released that week, and the second batch of four posters all promoting the same book that was released last Wednesday.  What is odd is that all seven posters were sent by Diamond from DC, promoting DC books.
DC followed their normal pattern of either sending posters that are 24" X 36" folded or posters that are 11" X 34".  What makes this month so unusual for DC is that they never send out this many promotional posters in the same month.  In addition to sending them all through Diamond when they are cutting ties with Diamond seems like DC is trying to get Diamond to promote their books more before they leave.  Though, none of the posters sent are for books that Diamond isn't releasing at least the first issue for.
The first poster was for Batman The Adventures Continues #1 using the cover art by Dave Johnson and promoting the follow-up mini-series to the Batman Animated Series.  The only poster sent out this month from DC that is 11" X 34", but definitely a great image.
Of more interest to collectors is the poster, measuring 24" X 36", of the Artgerm Batman #93 variant cover showing Punchline. A great image and one probably many collectors would love to display, but sadly not for retail sale.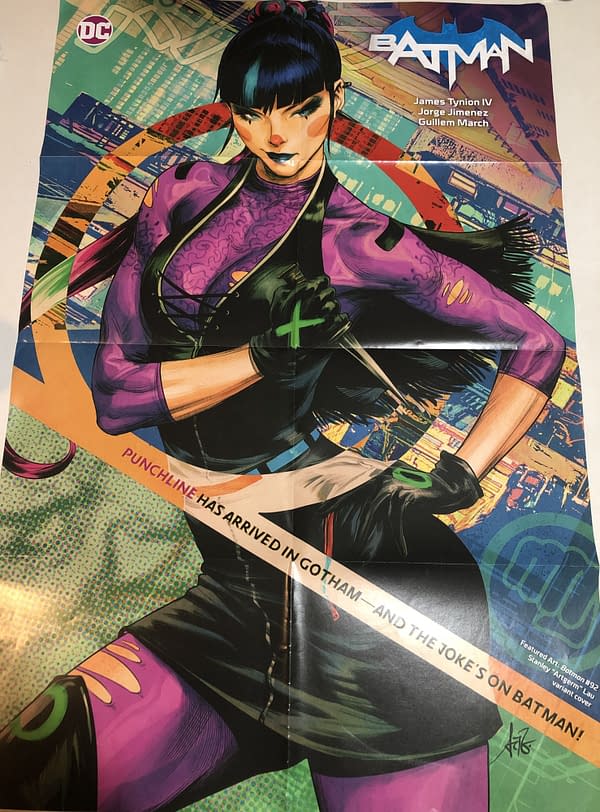 Then, also released June 10th, DC put Greg Capullo's artwork for the Joker 80th Anniversary Special #1 Main Cover on a 24" X 36" poster. A Robin 80th Anniversary Special #1 Main Cover poster was released last month, but sadly the Catwoman 80th Anniversary Special #1 did not get the same love.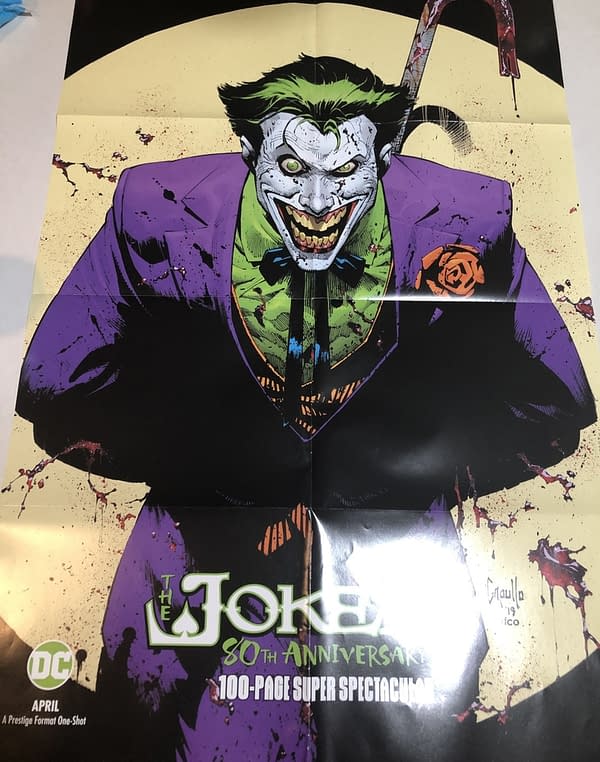 Finally, DC released this last week four posters all promoting the same one comic Dark Knights Death Metal #1.  All four posters are 24" X 36" and featuring all four covers for the Event Crossover including the main cover art by Greg Capullo.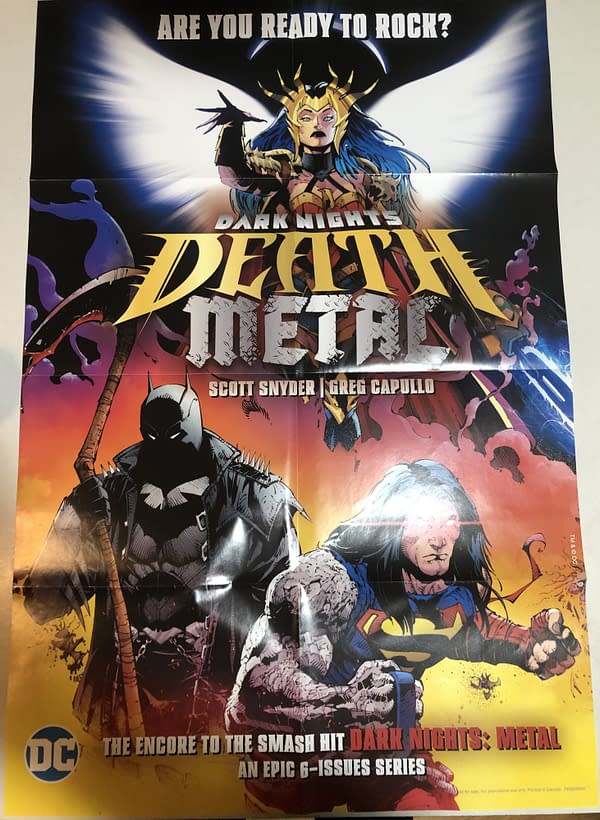 The other three posters have the artwork for the three main variant covers, the Wonder Woman Variant Cover by Artgerm, the Superman Variant Cover by Franceso Mattina, and the Batman, Superman, Wonder Woman Variant Cover by David Finch.  Four huge posters all for the same comic, not even Marvel puts out that many promotional posters for one comic, but considering DC is leaving Diamond maybe it is the last hurrah for their promotional posters.
So is any of this artwork worth having up on your wall at home?
Enjoyed this article? Share it!