Take Krakoan Pryde in Today's Marauders #7, X-Men/Fantastic Four #1 and Savage Avengers #0 (Spoilers)
Today in the Krakoan comic books, there is a mystery. Where oh where is Kate Pryde? Well in the last issue of Marauders, we saw her and Lockheed dumped in the sea. And in this Marauders… she still hasn't turned up. Not for Callisto and Bishop…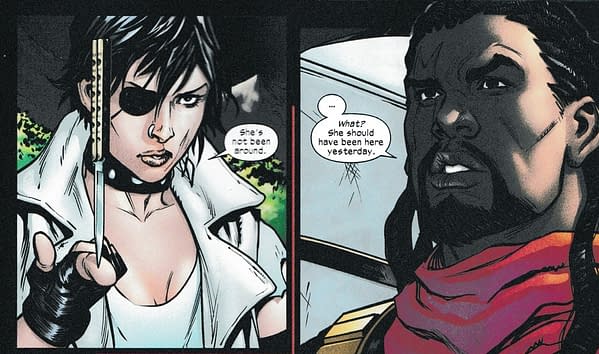 And not for the Quiet Council.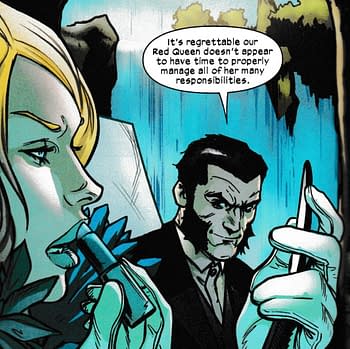 The answer, sadly, is not that she's jumped over to X-Men/Fantastic Four, where she's looking less like a pirate, with her hair down, no nose injury and she's covering her tattoos with gloves. Suitable for remembering a time from the eighties…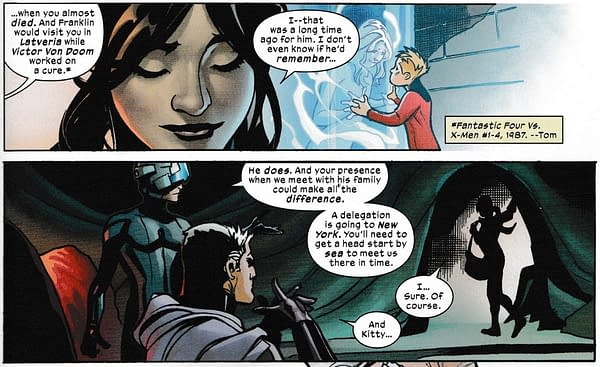 You know, she's called Kate now, Erik? Kitty is for those days long gone, such as with Claremont and Bognadove in the comic being referenced.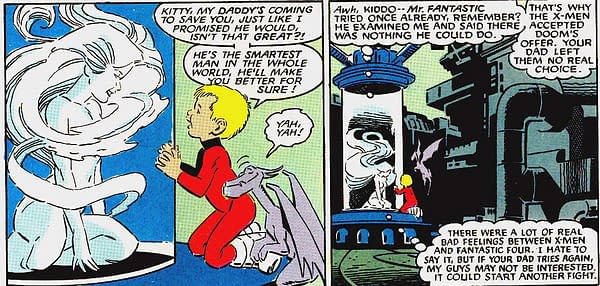 And now reprised. Okay, Franklin is probably allowed to call her Kitty, still.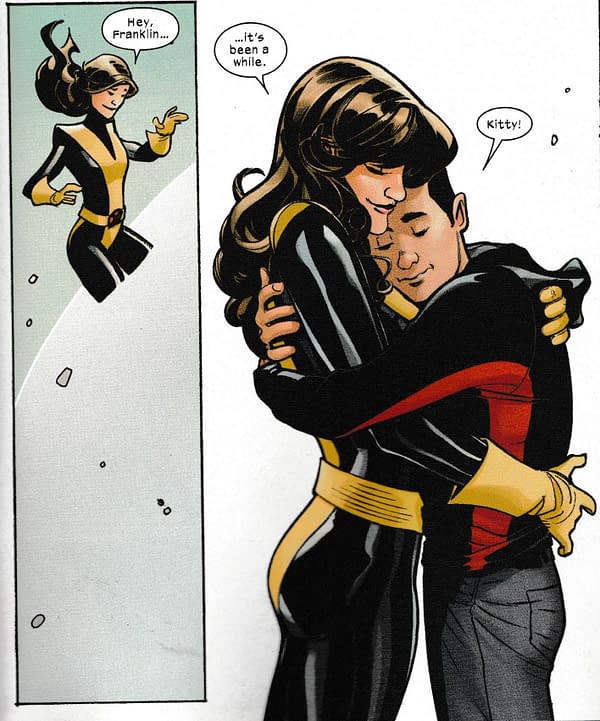 Still in the red and black. Though what Franklin from then…
…will make of the (SPOILERS) fate of Lockheed, is unknown.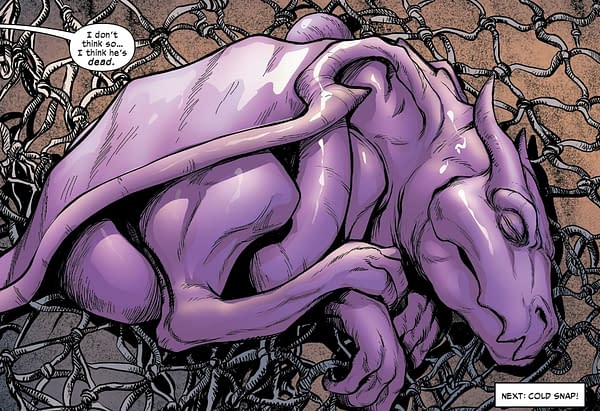 Let alone what has happened to Kitty Pryde – though in what world is she actually able to drown? And as for the old Fantastic Four Vs X-Me…looks like X-Men/Fantastic Four has a revival for one of their cliffhangers as well. And while the Beast may be ignoring Krakoan law in X-Force, in Savage Avengers #0, Doctor Strange has ways and means around that…
Also if no humans are allowed on Krakoa, how will they cope with a certain stowaway?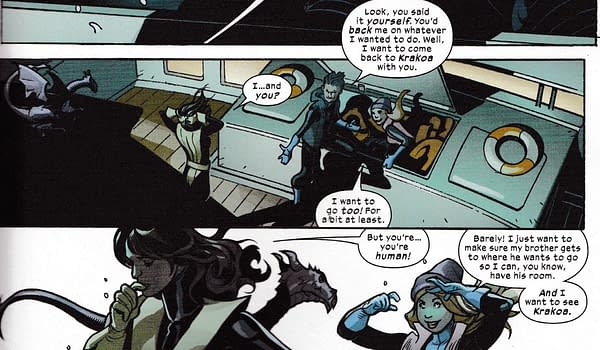 Can Valeria find a way to float in the air as well?
MARAUDERS #7 DX
(W) Gerry Duggan (A) Stefano Caselli (CA) Russell Dauterman
THE TREASURE OF ISLAND M!
As Verendi's plans against Krakoa grow, the Marauders find themselves missing something vital… something that brings Storm and the White Queen to blows. Artist Stefano Caselli (AVENGERS, AMAZING SPIDER-MAN) joins the crew of the craziest X-series of them al!
Rated T+ In Shops: Feb 05, 2020 SRP: $3.99

SAVAGE AVENGERS #0
(W) Gerry Duggan, Chris Claremont (A) John Romita (A/CA) Greg Smallwood
The looming threat of Kulan Gath reunites Dr. Strange and Magik on Krakoa. The fate of the world will rest in what they discover. Re-presenting a pair of classics, UNCANNY X-MEN 190 & 191 by Chris Claremont and John Romita Jr, in the context of a great new sequence illustrated by the impeccable Greg Smallwood.
Parental Advisory In Shops: Feb 05, 2020 SRP: $4.99

X-MEN/FANTASTIC FOUR #1 (OF 4)
(W) Chip Zdarsky (A/CA) Terry Dodson
KRAKOA. Every mutant on Earth lives there … except for one. But now it's time for FRANKLIN RICHARDS to come home.
It's the X-MEN VS. the FANTASTIC FOUR and nothing will ever be the same.
Rated T+ In Shops: Feb 05, 2020 SRP: $4.99
Savage Avengers #0, Marauders #7 and X-Men/Fantastic Four #1 are out today from Marvel Comics… I bought mine from Piranha Comics in Kingston-Upon-Thames. Piranha Comics is a small south London comic store chain with a small south-east store in Kingston-Upon Thames's market centre, which runs Magic The Gathering nights on Fridays, and a larger south-west store in Bromley, which also runs Magic: The Gathering nights and has an extensive back issue collection and online store. If you are in the neighbourhood, check them out.