Publishing Dates for DC Zoom and DC Ink Titles Locked Down
Revealed at the comic book retailer advocacy summit, ComicsPRO, being held at Portland this week, DC Comics laid out the schedule for some of the DC Zoom and DC Kids titles they revealed earlier in the month at the American Libraries Association event. And while some of the months were mentioned, we didn't get the days and dates. And now we have them.
DC Comics SVP John Cunningham was on hand to talk through the titles, and was as enthusiastic and passionate about these books as he was at the end of this DC video.
Upcoming DC Zoom titles include:
DC Super Hero Girls: Search for Atlantis by Shea Fontana – October 18th, 2018
Superman of Smallville by Art Franco and Baltazar – February 19th, 2019
Super Sons by Ridley Pearson – April 19th, 2019
Black Canary: Ignite by Meg Cabot – May 19th, 2019
Dear Justice League by Michael Northrop – May 19th, 2019
Batman Tales: Once Upon a Crime by Derek Fridolfs and Dustin Nguyen – July 19th, 2019
Batman: Overdrive by Shea Fontana and Marcelo Di Chiara – August 19th, 2019
Green Lantern: Legacy by Minh Le – October 19th, 2019
Superman Smashes the Klan by Gene Luen Yang (TBD released monthly).
Upcoming DC Ink titles include:
Harley Quinn: Breaking Glass by Mariko Tamaki and Steve Pugh – September 18th, 2018
Mera by Danielle Page – November 18th, 2018
Under the Moon: A Catwoman Tale by Lauren Myracle – February 19th, 2019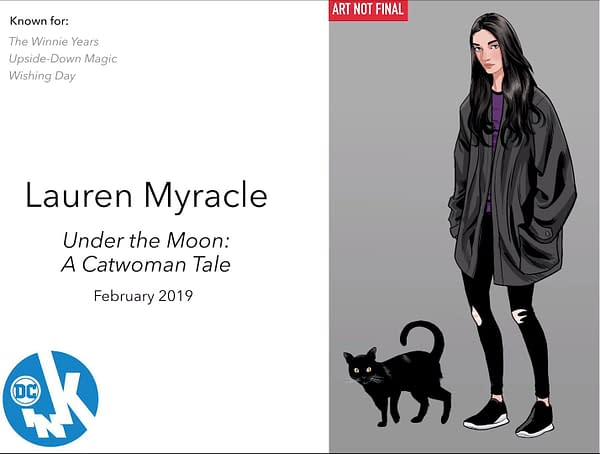 Teen Titans: Raven by Kami Garcia – March 19th (the first in a six-book deal covering Teen Titans), 2019
Gotham High by Melissa de la Cruz – August 19th, 2019
Wonder Woman: Tempest Tossed by Laurie Halse Anderson – November 19th, 2019
Batman: Nightwalker by Marie Lu – November 19th, 2019