Judge Dredd Megazine and 2000 AD trudge onwards this July, with the latter bringing the story, "Elevator Pitch," which brings Judge Dredd to Hell itself. This story will be brought to life by creators Rob Williams and Chris Weston. Full solicits from Rebellion are available below.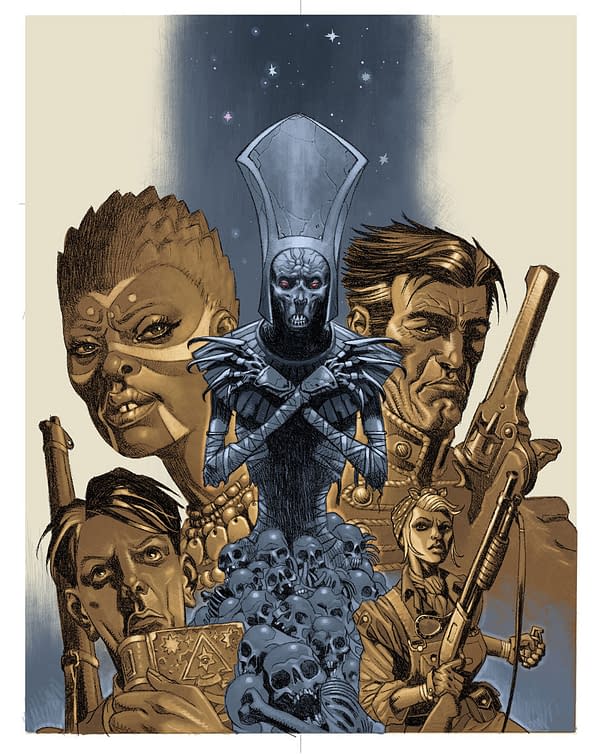 JUDGE DREDD MEGAZINE 398
398 on sale 18 July 2018
More action and adventure in the future-shocked world of Judge Dredd! The epic Razorjack crossover 'This Corrosion' by Michael Carroll and John Higgins comes to explosive conclusion as the lawman fights for his life to escape the demonic dimension; Devlin Waugh's date night goes from bad to worse in 'Kiss of Death' by Rory McConville and Mike Dowling; secrets are revealed in 'The Returners' by Si Spencer and Nicolo Assirelli; Oz faces destruction in Chopper: 'Wandering Soul' by David Baillie and Brendan McCarthy; and there's the start of a special Strange Brigade story by Gordon Rennie and Tiernen Trevallion to tie in with this year's must-have action-horror videogame. Plus the usual interviews and features – and in the bagged supplement this month, a former Chief Judge dispenses justice in Mega-City One in The Streets of Dan Francisco by Arthur Wyatt and Paul Marshall!
64pp (+ bagged 64pp graphic novel), monthly, £5.99
UPC: 9 770960 181187 98
ISSN: 0960 1813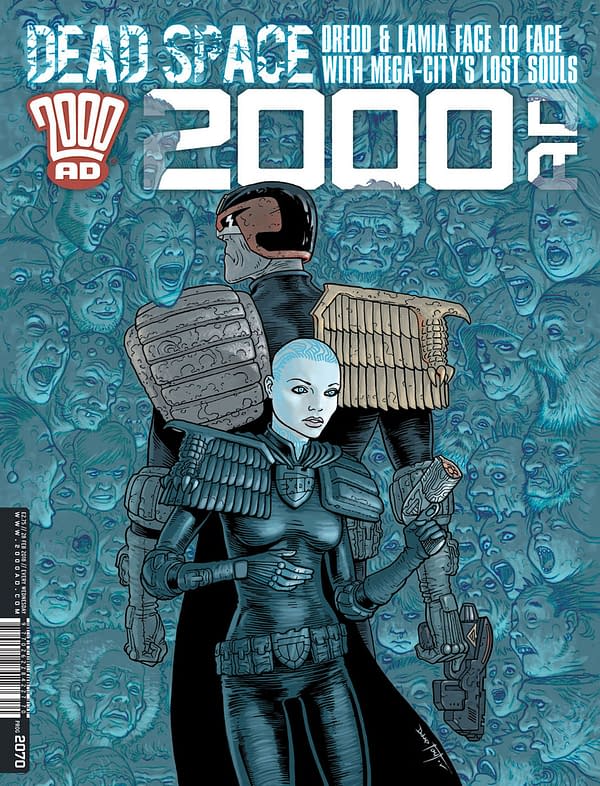 2000 AD PROGS 2088-2091
2088 on sale 4 July 2018
2089 on sale 11 July 2018
2090 on sale 18 July 2018
2091 on sale 25 July 2018
Incredible SF action from the Eisner-nominated UK anthology! Judge Dredd's on a high-speed elevator straight to hell in 'Elevator Pitch' by Rob Williams and Chris Weston; young Jess attempts to save Fairfax in Damned: The Fall of Deadworld by Kek-W and Dave Kendall; Nolan Blake learns the truth behind the 'Crown' in Skip Tracer: 'Heavy Hangs the Head' by James Peaty and Paul Marshall; and two new series start: Grey Area's back, and the Exo Transfer Control cops battle murderous aliens, courtesy of Dan Abnett and Mark Harrison, and we journey to the New World in the time-shift fantasy saga The Order by Kek-W and John Burns!
32pp, weekly, £2.75
UPC: 9 770262 284227 88
UPC: 9 770262 284227 89
UPC: 9 770262 284227 90
UPC: 9 770262 284227 91
Enjoyed this article? Share it!