Rebellion to Publish the Lost Hugo Pratt War Picture Library
Bleeding Cool gets the word at MCM London Comic Con that Rebellion, the publishers of 2000AD, are to publish a new line, The Hugo Pratt War Picture Library, reprinting war comics by the legendary comic creator Hugo Pratt. Rebellion has been buying up a lot of archives of old comics, as well as the intellectual properties they represent, and this is one of their big finds.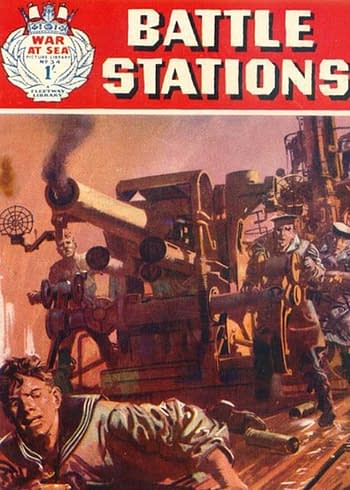 They will start with the comic book Battle Stations and continue from there.
A history of Hugo Pratt and Fleetway
Hugo Pratt, born Ugo Eugenio Prat was an Italian comic book creator working through the twentieth century and best known for his classic Corto Maltese.
From the summer of 1959 to the summer of 1960, Pratt moved from Buenos Aires where he was living and working to London where he drew a series of war comics for Fleetway Publications, called War Picture Libraries, with British scriptwriters, though they, like Pratt, were not credited. The series ran from 1958 to 1984 with over 2000 issues.
After moving back to Argentina and then back to Italy, in 1967, Pratt met Florenzo Ivaldi; the two created a comics magazine named after his character, Il Sergente Kirk, and in the first issue, Pratt's most famous story was published: Una ballata del mare salato (A Ballad of the Salt Sea), which introduced his best known character, Corto Maltese.
The art to many of these comics were lost – along with a number of the comics themselsves.
But as part of Rebellion's IPC/Fleetway archive buyout, they found a lot of materials. And are reprinting them in 2020…