By Olly MacNamee
Having grown up with the artwork of Steve 'The Dude' Rude through his work on Nexus, then Miracle Man and World's Finest at DC Comics as well as his work for Marvel with Children of The Atom at the turn of the millennium, it was great to finally meet one of my childhood (and adulthood) heroes in the flesh. Something I never thought I would ever do, given my only attendance to comic conventions have been limited to the British Isles. But, thanks to Shane Chebsey and company, the collective brains behind this Saturday's Birmingham International Comic Expo (ICE), that is what I was able to do at Birmingham's flagship comic store, Nostalgia and Comics. Birmingham was the last stop on his European Tour, leaving the best till last, of course. It's not often Britain's second city can trump London, so forgive me for waxing lyrical on his visit here ahead of his appearance on Saturday, when he will be hosting a master class at midday for professionals and would-be comic book artists.
They say you should never meet your heroes, but in my experience, I have never found that to be a rule of thumb that holds true. Steve could not have been nicer at this exclusive meet and greet for his Midlands' based fans and was happy to give us all his time generously and graciously. A gentle giant – and that's coming from someone who is 6'4" himself – Steve was happy to regal us all with highlights from his career we may not have known about before now. For instance, after the success of the first season of Batman: The Animated Series, he was signed on to work on season 2 by Bruce Timm personally, which was news to me, as well as his love for Prince Valiant. The latter I could understand, given his own style of line work and his nationality, but what did surprise me was his love of Mike J. Austin – he of the seminal British comic anthology, Warrior, home to Alan Moore's Marvelman. Austin's painted covers for these comics stood out from the dross and set a tone and a standard for Warrior that had many of us reminiscing about as old issues were pulled out of long boxes for those of us of a certain age to drool over and share the love. Oh, and he also brought along with him, French artist, Roland Boschi extraordinaire (Winter Soldier: Bitter March) who was happy to roll up his sleeves and join in on the art requests. I can only apologize for not speaking to him enough, but the inner geek in me took over and my eyes were fixed on 'The Dude'. Having only returned from a Tunisian holiday at three in the morning, I had to cut my visit short at 10pm as sleep deprivation began to take its toll, but Steve – himself having only arrived from Germany that day – was in full flow doing what he loved best, drawing and entertaining his fans. I look forward to catching up with him again at ICE and thank him for my daughter's belated birthday present; a full body shot of Starfire. Just not the Teen Titans Go! Starfire she's expecting.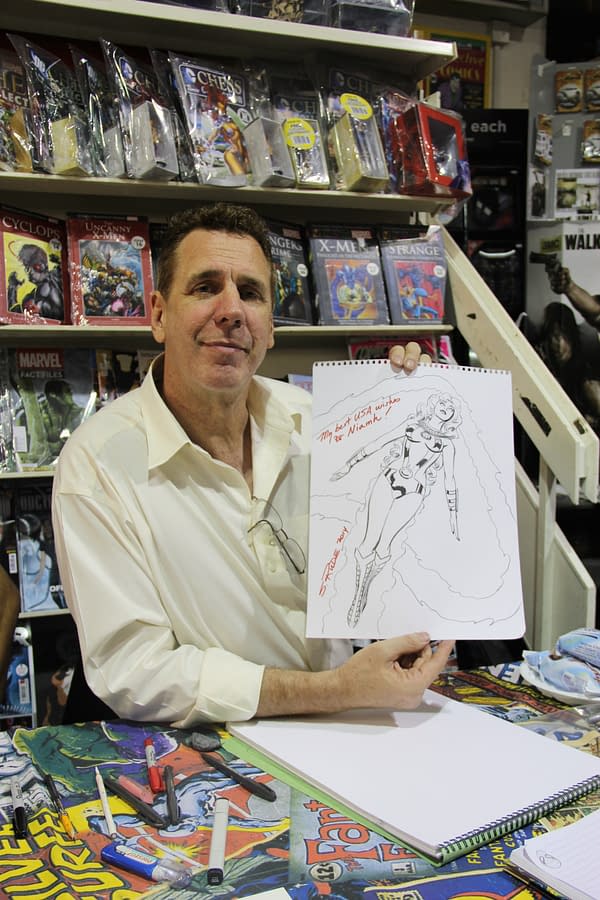 Starting at 10am, it's not too late to come and join in the fun of ICE's return to Birmingham. I do hope you can come.
Olly MacNamee teaches English and Media, for his sins, in a school somewhere in Birmingham. Some days, even he doesn't know where it is. Follow him on twitter @ollymacnamee or read about his exploits at olly.macnamee@blogspot.co.uk. Or don't.
Enjoyed this article? Share it!