Abe Sapien #16 is the first issue in a two-part arc that takes our amphibian back into a dark confrontation with his past in a town where he was once stabbed, slipped into a coma, an emerged a long while later as quite a different Abe. It set him on the path of wandering as far as he could from the B.P.R.D., a path that has taken him into strange territory and generated an even stranger cult surrounding his possible role in the apocalypse gripping the Mignolaverse currently.
With Hellboy in Hell, and nowhere to turn, Abe finally faces the only real source for answers–returning to the town of Rosario. Only Rosario has slipped deeper into decay. Covered in strangely meaningful graffiti, rife with gangs and groups of survivors of dubious intent, this strikes me as a story where Abe enters a town like the Man with No Name a la Clint Eastwood, but may not emerge as anonymously.
Earlier this week, Dark Horse Editor-in-Chief and co-writer on this series, Scott Allie, talked with Bleeding Cool about the significance of this storyline for Abe saying:
Abe ran away from B.P.R.D. and he argued with everyone he met along the way, saying, "No, no. I wasn't running away. I'm looking for answers. But he wasn't really looking for answers because he wasn't doing anything to find answers. But after a little while of being called out for his BS, now he is finally taking stuff head-on and he is looking for answers. And so the first place he thought to go to really find answers was the place where his latest transformation began. So he's not ready to return to the B.P.R.D. and doesn't think he'll ever want to go back, but he can't just hide in the desert. Well, he's a fish and he'll die. But he needed to take some affirmative action to figure out what happened to him, and to disprove what everybody thinks, which is that he is tied to the changes, the horrible changes, that are going on in the world.

He had a dream recently where he was talking to Hellboy, because he knows now that Hellboy's dead. And he was saying, "Haha. Now with you dead, I guess people think that I'm the beast of the apocalypse". Hellboy says, "No, Abe. You're something else altogether". And that didn't really comfort Abe. Looking at the changes he's gone through and the terrible stuff that sprang out of Texas, he's gone back to that town to try to figure out what happened there. And he'll get very small pieces of the answers, but he will start to get more useful perspective on things and he'll find himself in a better position to act. He'll meet a bunch of interesting people. Some characters that John [Arcudi] and Mike and I talked about him meeting a while ago, and that'll set him on his path.
So, this issue is clearly part of the long-game that's been in the works for quite some time in revealing Abe's character and future role in the Mignolaverse. His interaction with the people in Rosario, and his encounters with its roaming beasts raise questions. Is he some kind of messiah hero? Or is he something darker, facing a fate he must resist?
Allie said:
Well, usually when people talk about Abe as a messianic figure, they are not talking about a good one. There are a bunch of people, including this character Gene, who Abe finds in this town—who believe that Abe is a messiah of sorts, and have built this cult around him, to Abe's great surprise and horror. What they believe isn't anything Abe himself wants to believe. It's not so much that Abe wants to reject the role of leader or hero, it's that the particular version of leader or hero he's being cast as is terrifying. There was a character quite some time ago in a story called "The King of Fear", the climactic story in the Plague of Frogs arc, who said, "Your'e the next step in human evolution", or at least non-human evolution.

And Abe said, "No. That's terrible. Of course I'm not". But a couple of other people are perceiving that, looking at Abe, looking at the frog-men, looking at what's happening in the world, saying, "You're unique in all of this. Clearly you have some major role in it". And that major role, just like with Hellboy, is not a role that Abe embraces.
So, like with Hellboy, it's kind of never been a worse time to be a hero–the implications of that role are just far too precarious in a world on the brink of collapse. Sebastian Fiumara's artwork on Abe Sapien #16 is just stunning, as well as the bold color choices by Dave Stewart that pit Abe against a desert of a town and set him up, just in these action scenes below, as a tremendous physical force to be reckoned with–particularly when he's finally facing down his own personal demons.
Here's our rather lavish preview courtesy of Dark Horse: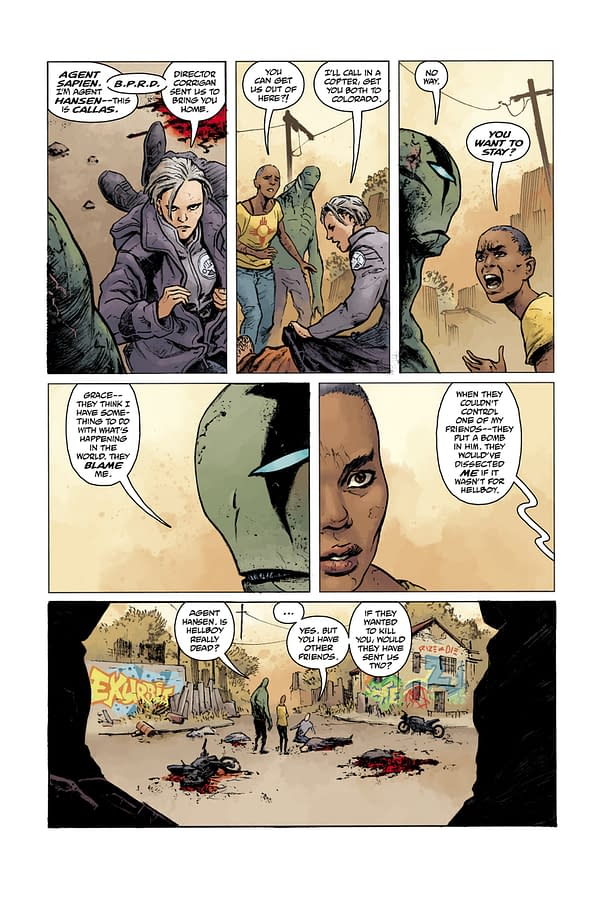 Abe Sapien #16 is currently listed in Previews with item code JUL140123
Enjoyed this article? Share it!